Bitcoin markets have continued pushing prices up as the bullish market sentiment has remained persistent. Yet, throughout the past trading session, the fact that BTC/USD rates had started reaching closer to new resistance levels started a wave of volatility. However, with prices peaking at $1290 levels and selling pressure becoming apparent after that point, the market's sentiment remains positive even after a small correction.
Major Signals
Heavy selling pressure came forth but was briefly countered shortly after BTC/USD rates broke above $1290 price levels
Support has not managed to form yet, but the price the market settled to after the correction signals a market sentiment that's still bullish
Resistance close to the lower $1290 levels doesn't seem particularly strong at the moment so another rise wouldn't be too unlikely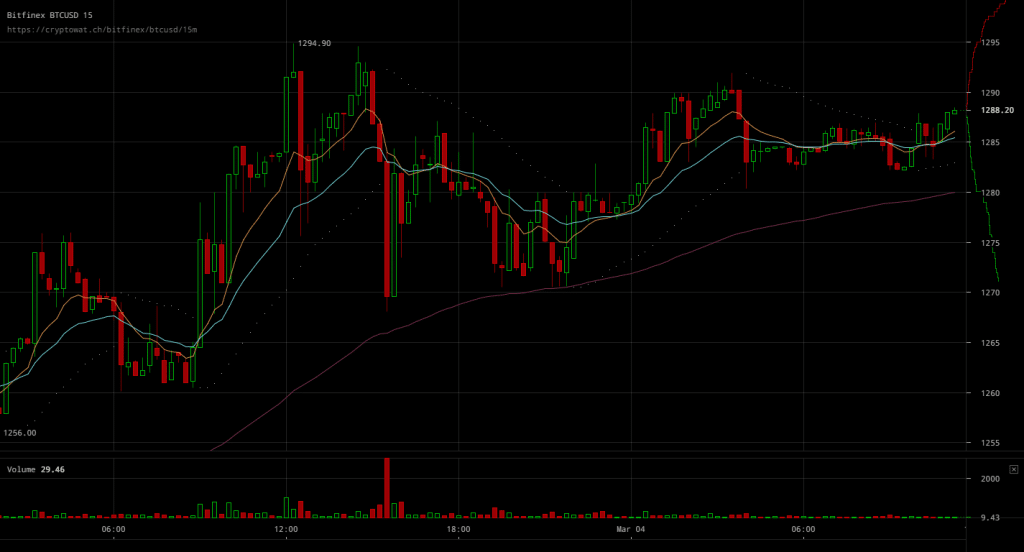 Bitfinex BTC/USD charts showcase how traders maintain the bullish market sentiment by continuing to push bitcoin prices up. Whilst selling pressure is also making its presence felt in the market, the effect it's been having on bitcoin rates keeps being minimised amid the current market setting. The still bullish market sentiment is surely contributing to recovering from downward price spikes caused by selling pressure and perhaps even profit taking from some traders.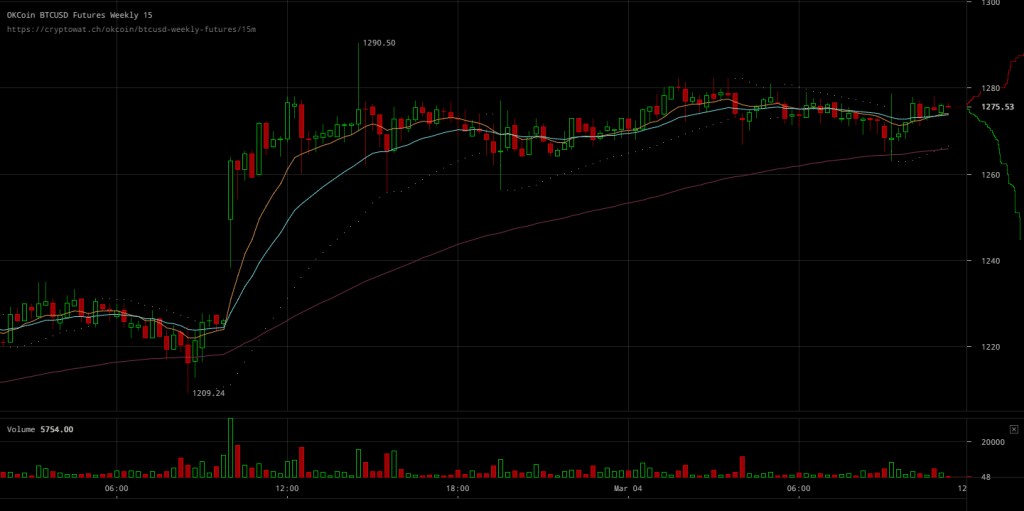 OKCoin BTC/USD weekly futures seem to finally have started waking up from the hibernation that was plaguing them through the last few trading sessions. The negative margin between futures rates and live BTC/USD rates shrunk considerably today, with a surprise spike pushing futures rates up only for this development to be welcomed by the market.
Overall, the market's sentiment continues being remarkably healthy and bullish even after reaching new highs. Such signals show that the effect of the ongoing rally is having an impact, with more and more traders believing in its potential as the price continues rising from day to day.