Fujitsu Direct Store has introduced the "Fujitsu Intelligent Society Solution Blockchain Asset Service" on June 6th, 2018. The newly introduced system tokenizes coupons and loyalty points and makes them storable and usable by transferring the information onto a blockchain. This implementation should provide faster data transfer and storage on customer's transactions in a decentralized register.
The company is a daughter company of Fujitsu Ltd., a Japanese ICT and business leader and blockchain-wise, which is also a participant in the Hyperledger project. Many great things are expected to come from this implementation, and it is essential that big brands keep joining the blockchain industry.
Testing the system
During the test period, Fujitsu installed blockchain software in companies from the public services enterprises like the telecommunications provider, transportation sector, and shopping malls. They also conducted a pre-launch trial in the locally famous chains of convenient stores "FamilyMart" for the purpose Fujitsu itself explained best in this statement:
"With this service, users can collect digital points or stamps by reading QR codes located in specific areas with smart devices, and then exchange them for coupons and other benefits that can be used in stores… Also, collection and usage data for the points, stamps, and coupons, which are recorded on the blockchain distributed ledger, can be linked with user information for analysis."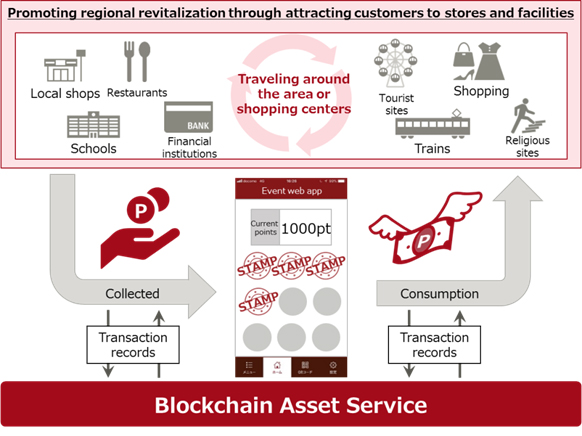 The innovation they are bringing is allowing customers to buy something in one store, get reward points, and spend them anywhere they want in the same ecosystem. Fujitsu is connecting the various businesses and creating a service layer culture of sharing. The developed system can be installed on android operated mobile phones in the form of an application. Thus, no particular knowledge of the ledger technology or operation is required by the customers, nor from the retail merchants.
Fujitsu has been funding a variety of blockchain research projects that have led to different real-world implementations in the past and is very supportive of the improvement of blockchain technology. This implementation only adds to the perception that Fujitsu is a global player in the blockchain industry, one that is producing results for the worldwide community.
Featured Image via BigStock. In article artwork via Fujitsu.