In light of the Google Ban, followed by Facebook and Twitter, we've reached out to advertising companies working with cryptocurrency related traffic. The idea behind the interview is based on a simple premise: "Evaluate the effects of mainstream social media banning cryptocurrency advertisements." For this, we've met with three different advertising companies: BitMedia.io, CoinTraffic.io, and Coinzilla.io.
We've asked them the same 5 questions:
What is your name, background, and business?
What was your involvement with mainstream social media prior to the ban?
With the ban in place, what changed for you?
What is the most difficult part of the change?
What are the long-term implications of the ban for your business?
The interview was done in isolation, which means that each company representative gave their own answer, without any interference. This is not a sponsored article, it is a market research about the current status of the blockchain advertising industry.
---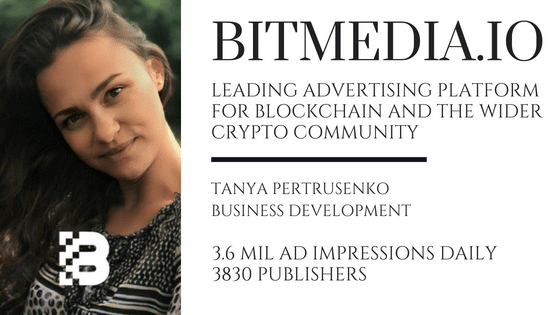 CN: What is your name, background, and business?
Hey there, my name is Tanya Petrusenko, and I am a business developer for BitMedia. Working for more than three years with cryptocurrency and blockchain. I am very interested in the technology, and especially its applications for digital advertising, but also about the legal regulations behind ICOs.
I represent BitMedia for this interview, and they are a leading advertising platform for blockchain and crypto community. We deliver more than 36 million ad impressions daily, over a network that consists of 3830 cryptocurrency publishers.
CN: Thanks for the introduction! Please let our readers know about your involvement with Google, Facebook, and Twitter? Did you use their services, and if so, in which way?
We had some Facebook advertising going on at the time when the ban activated. Safe to say that our advertisements were canceled. We are not affected too much by this crypto ban, because we don't depend on these mainstream websites to attract traffic.
CN: What changed for you with the ban in action?
We can see this being very good for us because many other companies have started to look for different methods of positioning their messages to crypto audiences. We have a strong presence in the niche and well-priced ads. We can already feel an influx of new customers, people that want to invest in ads for crypto audiences. Companies such as BitMedia.io will get a significant increase in business now that the ban is active.
This increase in customers will place significant pressure on us to improve our technologies but also enable us to earn more in both the short and long-term. Our goal is to keep on decentralizing advertisement, so that censorship like this is difficult to facilitate. It's a moment of restructuring for the general ecosystem and we are ready.
CN: What is the most difficult part of the change?
We don't see anything difficult in this change. Challenging yes, but not difficult. This is a great opportunity for any crypto and blockchain advertising company. We are looking to explore different communication channels, and also to focus on creating new alternative communication channels for our clients.
CN: What will be the long-term implications of this ban for your business?
We see this as a limitation of our ability to communicate and express ourselves. Big corporations can censor the industry at their own whim, which is a significant indicator that we need to change and decentralize further.
Through decentralization, their influence will become weaker, as we will become very resistant to censorship. BitMedia sees this ban as a great opportunity to increase cohesion with the crypto community. It also represents a necessary push as we will all have to improve our technologies. In a way, it has marked the beginning of a race between advertisement companies in the crypto and blockchain niche.
CN: Thank you very much Tanya! Your participation in our interview helps us inform our readers about the reality for advertising companies.
---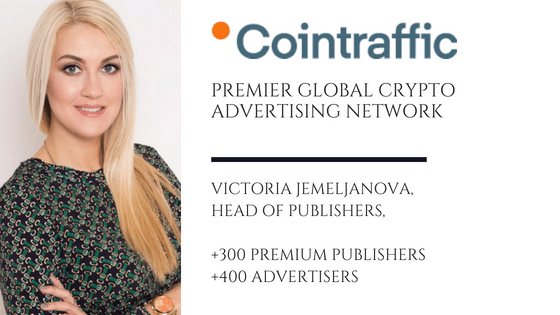 CN: What is your name, background, and business?
First of all, hello to you, CryptoNews audience! Thank for this opportunity to talk with you about the crypto ban and its medium to long-term impact on our community. We are CoinTraffic.io, a premier global crypto advertising network. We are helping crypto businesses to achieve their project goals, get more customers and get noticed in the community. Only in 2017 over 80 ICO projects raised over $800mln thanks to us.
Working in one of the fastest growing sectors of the tech industry is really exciting for us. The core of our product range is our proprietary banner network, which allows us to launch ad campaigns on hundreds of leading blockchain related websites – with on average over 500mln qualified impressions every month. Besides that, we also support the blockchain marketing community through strategy development, content, Press Releases, and re-marketing.
CN: Thank you very much for the shout-out and the thorough introduction. I want to ask, how have you been involved with these companies prior to the ban?
We work directly with our publishing stakeholders and partner websites – we do not rely solely on social media such as Twitter and Facebook or the majors such as Google, but we use our own high-level sector partnerships.
We do use some of the tools offered by Google and other social media platforms, but they don't play a significant role in what we do and how we help our clients to achieve results. Our relationships have been built up over a long period of time and we value working with the leading stakeholders in the sector directly.
CN: What has changed for you with the ban in action?
Ultimately nothing has really changed, apart from the realization that we have ensured our technological offering is even better. It is good for our business in a way – client demand is increasing for our services and whilst this is good for Cointraffic.io the crypto sector faces ongoing challenges.
CN: Do you foresee this ban being a difficulty for your business?
Nothing was difficult by itself, as we mentioned. But we would have to admit that we are disappointed. The ban itself is not responsible, but rather the underlying "miss" by tech giants to understand the benefits of blockchain technology. Many other industry sectors are viewing blockchain with an open mind, although without the informational support of the traffic majors, the market development will take longer time.
CN: What will be the long-term implications of this ban for your business?
Since crypto is now banned by the traffic giants, many start-ups may review their investment into blockchain based projects. Many will continue to proceed ahead with their projects, but this will be with an increased understanding of the challenges faced by the crypto community. Marketers today will have to be more vigilant, but good opportunities are still available.
CN: Thank you very much for your participation in our interview, Victoria. We appreciate your involvement and the sharing of your knowledge.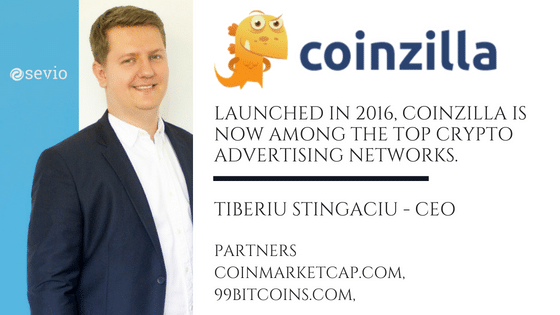 CN: What is your name, background, and business?
Hey there, my name is Tiberiu Stingaciu and I am the CEO of Coinzilla. We launched Coinzilla in 2016, and we are now in top crypto advertising networks. Our main objective is to provide valuable advertising solutions for our customers. We provide high-quality floating and standard banners that are designed to deliver the exposure that all the advertisers are looking for. We place our customer's ads on the top crypto-websites from the industry, such as coinmarketcap, 99bitcoins, coinranking, coincodex, and others.
We strive to deliver high quality and converting traffic for all of our advertisers. It's also very important for us to offer fast results and placement. Moreover, we would love to use this opportunity to announce to everybody that knows us because this summer, we prepared a big surprise for both advertisers and publishers. Stay in touch to take advantage of everything we can offer regarding crypto-advertising.
CN: How were you involved with these companies prior to the ban?
Coinzilla was not affected in any way by the decision of Google and the social media networks to ban crypto ads. We are not connected in any way with them. We have our own advertising system, targeted only toward cryptocurrency enthusiasts. In this way, we deliver the best results for our clients. We had some clients realize that they've been paying a much higher fee for our traffic, because they purchased through Google's DFP service.
CN: How has your business changed since this ban?
Well, more clients came to us and realized that we're a better option for cryptocurrency or finance advertising than Google or Facebook. Why? Because we carefully selected our webmasters and kept only the ones that brought results to our clients, while also rewarding them with the highest CPM in the industry. Since then, our business is doing better than ever, and our clients are impressed with the results provided.
CN: What about any difficulties as a consequence of the ban? 
Personally, I think that the ban was not justified. And this was difficult to accept. Both Google and Facebook claimed that they did this because of the ICOs that turned into scams. However, they failed to see the projects that succeeded and are working hard to grow their business more. I think the decision was too harsh and disrespectful towards the cryptocurrency communities. Also, with this move, they reduced the adoption of cryptocurrencies worldwide. Our team from Coinzilla is working daily to help the cryptocurrency market, and we will continue to provide value for the developing markets.
CN: What will be the long-term implications of this ban for your business?
The long-term implications regarding this situation are related to the increasing number of users on Our staff is prepared to offer all the support that users need. We prepared a lot of new features to attract them, and we try to be a suitable alternative for Google AdWords in the crypto-world. We hope that Coinzilla and its competitors will bring crypto-advertising to a new level and that this competition will be constructive, for the benefit of all the advertisers and publishers.
CN: Thank you very much for your participation in our interview, Tiberius. We appreciate you taking the time to share your perspective with our readers.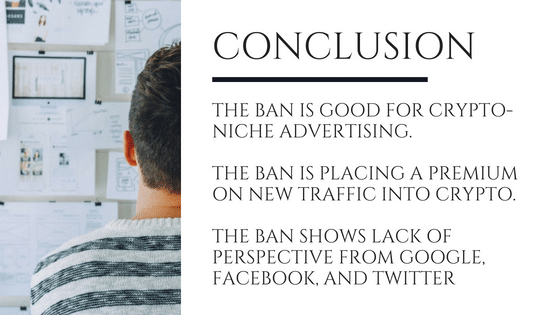 The results from the interview were very streamlined towards the same goals. Everybody is disappointed in Google, Twitter, and Facebook, but at the same time, this is good for the advertising business. Without the traffic giants, the true competition of blockchain and crypto advertising platforms begins.
We are likely to see these companies coming up with various new solutions and ways to generate fresh traffic to the crypto economy. Some websites and companies have already started to implement "old-school" solutions by dealing flyers or printing posters.