KyotoProtocol.io is the world's first decentralised multilayer carbon credit finance protocol. The project's technology improves the slow and outdated carbon credit industry by implementing a host of solutions that utilise smart contracts on a secure, fully transparent blockchain ledger, creating the ultimate standard for the carbon credit industry.
KyotoProtocol.io's mission is to make the carbon credit industry more transparent, efficient, accessible and profitable, making a real difference in the fight against climate change and the users' wallets. The project's technology makes it profitable for both retail and institutional investors to create certified offset whilst staking funds or holding its own native Kyoto Token.
The Kyoto Token fair launch is an exciting way to own a share in the project's network of decentralised applications. The token distribution offers an eye-watering Fixed APY of 916,474% to Kyoto Token's most loyal holders. To find out more about the fair launch, consider joining KyotoProtocol.io's Telegram channel here.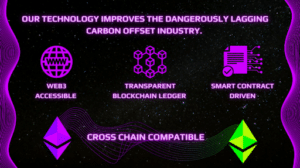 Why is this important?
Globally as a collective, humanity is falling behind carbon offset targets. These targets are set by the governments as a guideline to stop catastrophic damage to the planet, which will directly affect the sustainability of human life. Humanity is less than ten years away from getting to a point of no return. Putting that into a scary perspective, humans only have 0.005% equivalent of their total time on Earth to fix 100% of the damages it has caused. The only way to do this securely and fully understand the data metrics is on a transparent blockchain ledger. If used correctly, carbon credits will become the most powerful tool humanity can create to combat climate change.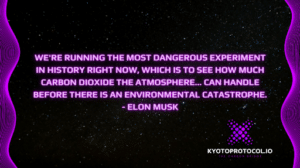 How does KyotoProtocol.io improve the carbon offset industry?
KyotoProtocol.io is not a single piece of technology but a network of decentralised cross-chain applications run on a fully transparent blockchain ledger, specifically designed to improve the dangerously lagging carbon offset industry. KyotoProtocol.io's technology solutions improve every aspect of the carbon credit industry such as accessibility, transparency and liquidity. The team strongly believes that carbon credit offsetting should occur on a blockchain ledger with certified carbon credits as synthetic assets only. KyotoProtocol.io technology not only creates a new planet-saving standard for the carbon credit industry but a profitable one for Kyoto users by using the latest web3 de-fi technology, the possibilities in which to create lucrative ways of generating certified carbon credits broadens massively.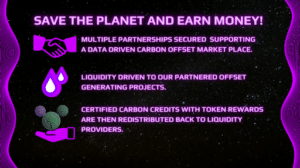 KyotoProtocol.io team and initial partnerships.
The team at KyotoProtocol.io brings core experience and stability to the project's business model and has a direct reach to many of the overlapping sectors that the protocol serves. Collectively the team has raised, traded and secured over 3.5 billion dollars in cryptocurrency, renewable energy and fundraising.
The Kyoto Team understands that being transparent with investors is integral to success and that Doxxing is a key differentiator in building trust. The team plans to fully dox prior to announcing the Kyoto Token fair launch date, to reassure its community and to demonstrate that it has nothing to hide.
The team has already secured a group of very credible and innovative partners who believe in the project's vision in making a difference, together it will deliver something great to the community, planet and the user's wallet. Collectively KyotoProtocol.io and its partnership ecosystem will work together to bring its vision into fruition.
Read about Kyoto's planet-saving partnership with CUDOS here.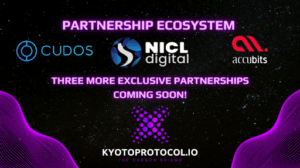 If you would like to consciously make a positive change to the planet whilst earning money, consider joining KyotoProtocol.io in their community.
Twitter- https://bit.ly/3ORxf69 
Telegram- https://t.me/KyotoProtocol
Website- https://kyotoprotocol.io
Gitbook- https://bit.ly/3EKhDg9