Recent news reports on both cryptocurrency focused and mainstream media yet again painted a wrong picture by omitting and misrepresenting facts. On August 3rd, Starbucks published a blog update with the title "Intercontinental Exchange Announces Bakkt, a Global Platform and Ecosystem for Digital Assets". The post describes that the coffee chain is partnering up with tech giants such as Microsoft through Intercontinental Exchange.
The role of Starbucks is to provide a testing ground for implementation of the solutions that will be connected to the conversion of digital assets to fiat, which then can be used to purchase a coffee, tea, or whatever product the retailer offers. The picture painted by media was that Starbucks would accept cryptocurrencies and manage ownership of these currencies, similar to how Overstock and Microsoft do, which is very far away from the truth.
A spokesperson from Starbucks said in an interview Jordan Pearson from Motherboard: "It is important to clarify that we are not accepting digital assets at Starbucks. Rather the exchange will convert digital assets like Bitcoin into US dollars, which can be used at Starbucks." The newly announced venture called Bakkt represents a collaborative effort to come up with meaningful and pragmatic ways to increase the usage opportunities for digital assets. The Intercontinental Exchange is a real big player in the financial markets, which is easily understood once we discover that they are the owner of the New York Stock Exchange.
Together with Starbucks, BMG, and Microsoft they plan to launch regulated Bitcoin futures, which will be physical and storable. They intend to have this exchange launched in November this year and will be instantly ready for consumers to trade and convert Bitcoin into fiat currencies.
What's Bakkt to cryptocurrencies?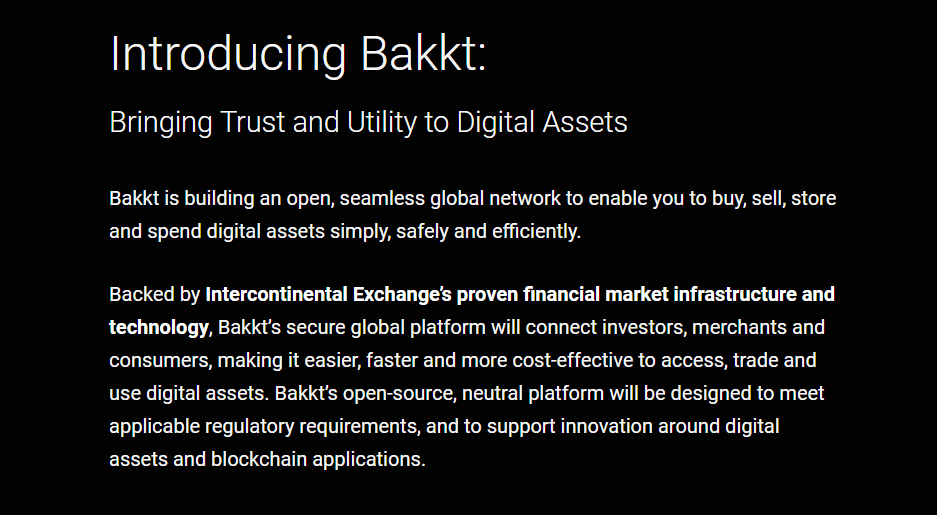 While I am not a financial expert, the following is my own opinion. Bakkt gives me the impression that it will enable companies to accept Bitcoin and eventually other cryptocurrencies in a very safe manner, leading to an increase of companies that are comfortable incorporating digital assets in their business models through Bakkt.
The goal is noble and it strives to leverage the upward trend of cryptocurrency adoption worldwide. If successful, Bakkt will spearhead the crypto to the next level, even though some of the decentralized and privacy values will get squashed along the way. This is not tragic at all, because Bitcoin will continue to be immutable and fixed in its core, regardless of what regulators have to say about it. Satoshi is long gone, and so is the possibility of reverting Bitcoin, or somehow damaging it. We've already won.
My hope is that Bakkt will endear digital assets to the wider public and protect them from the dangers of participating in bad ICOs or investing in weak cryptocurrencies. All in all, I expect Bakkt to protect investors and create a safe environment for companies and consumers alike.
Headline culture dominating journalism, and not in a good way
Unfortunately, news end after the headline. Maybe some truth leaks in the first paragraph, but often coverage lacks good journalistic practices. The audience is demanding, but that is no excuse for a lack of reading a simple press release. Read and write, do your research before publishing, it seems like the common sense thing to do. Here I am wishing we had a "Truth" metric, that would hopefully provide an incentive to actually assess the real situation before publishing "news" to millions of people.
One more unfortunate thing is that media outlets do not lose that much reader trust when they publish wrong information, and often these situations are simply "swept under the rug." In the case of this information, there was a clear-cut press release that contained all of the necessary information for reporters to make a very short, but informative piece that would position the truth as it is.
Featured Image via Pexels.