Nine hours ago, the president of the foundation behind NEM shocked everybody when he posted his tweet. According to the message, Coincheck, one of the largest Japanese cryptocurrency exchanges was hacked.
It's unfortunate that coincheck got hacked. But we are doing everything we can to help. https://t.co/AH3lEDDG71

— Lon Wong (@2017Lon) January 26, 2018
It is confirmed that 500 Million XEM tokens have been stolen from the exchange, mainly by Bloomberg's tech reporter in Tokyo, Yuji Nakamura, who's attended the press conference and made a couple of significant posts that allow us to better understand what was going on during the conference.
Executives wouldn't admit that their security is weak, regardless of the fact that they hadn't setup multisig wallets or any mention of cold storage.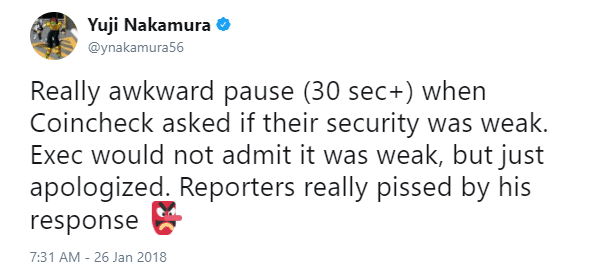 According to the press conference, Coincheck plans to continue operating and restart the trading features (currently only available for BTC), but without giving any form of clarity as to what their plans are in terms of reimbursing their affected customers.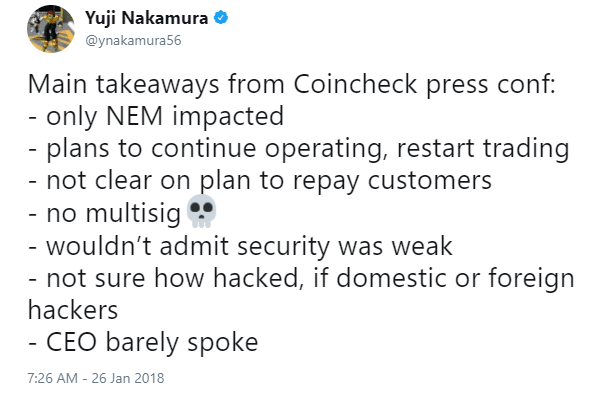 It is unfortunate for CoinCheck to get hacked so shortly after getting a digital exchange license by Japan's FSA in September 2017. They stood a great chance to continue growing seamlessly if it wasn't for this hack. The theft of 500 million XEM tokens naturally lowered the price, and what was a $530 USD million worth of crypto stolen, now is now worth significantly less at $426 million USD.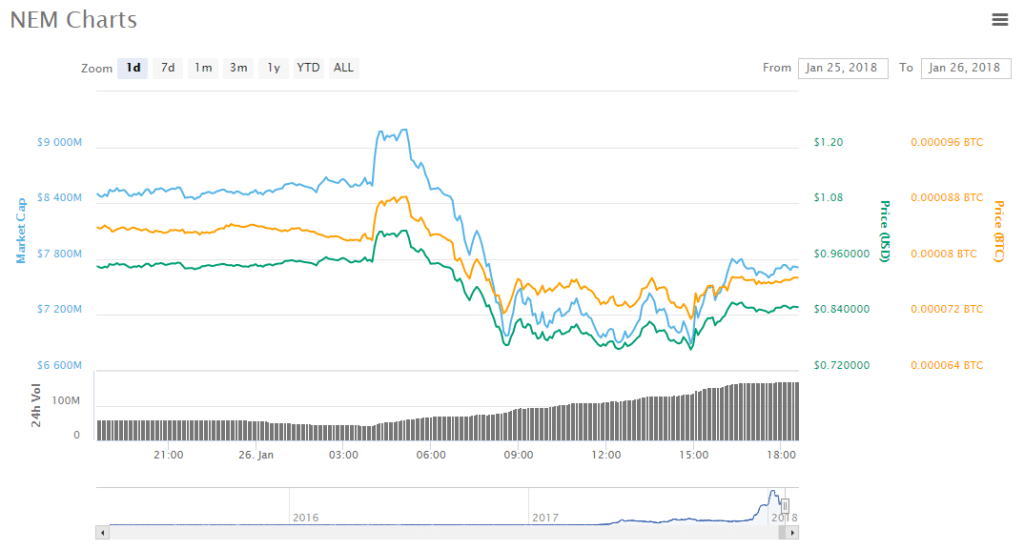 It is only natural that news like this will negatively impact the price, but we expect it to soon recover, as the NEM Development team is standing behind the currency as a transparent ledger, and is tracking all of the associated accounts.
Hopefully, they will be able to catch the individual (or group) that has stolen this amazing amount of value from CoinCheck.
There are some rumors going around that $123 worth of Ripple was stolen as well, but likely the XRP was withdrawn legitimately, as they noticed that CoinCheck is starting to freeze the accounts. This isn't 100% confirmed, but as we saw during the press conference, they claim "only NEM was affected", and that statement leads me to believe that XRP tokens were withdrawn by their rightful owners as a precautionary measurement.
Comparison to Mt.Gox
The Bitcoin that were stolen during the Mt.Gox incident in 2014 (cca. 850.000 BTC), valued at the time at $450 million USD, today would be worth $9.5 Trillion USD ($9.545.500.000), an amount so large that it is mindboggling. Nobody really knows what happened to the funds, but I believe that 200.000 BTC were reappropriated.
Researching this event led me to many different news articles that suggested that this CoinCheck hack overcomes what happened to Mt.Gox, but that is not quite the truth. Looking at the dollar value, sure, but when looking at the big picture, it is very clear that the theft of Mt.Gox's funds will be very hard to overshadow, possibly remaining the biggest theft in the history of the world for many years to come.
Investigation
The Japanese treasury is investigating this event and is getting down to the bottom of the hack. Many different things can be proven/disproven, and we are looking forward to hearing the details surrounding this event. There are many questions to consider:
Did CoinCheck "hack" themselves?
How did the hackers gain access to the servers?
What happened to the coins?
Why weren't the wallets protected by a smart contract?
I am sure that we are going to take more than 30 days to examine the entire data trail and to identify the IP addresses of the hackers (if possible). My expectation is that after 30 days, we will begin to see preliminary reports explaining what has been discovered so far.
Conclusion
CoinCheck is considering how to repay customers that have lost their investments, and whether or not they are able to continue operating in order to do so. As long as there is sufficient evidence that suggests an outside force has committed the crime, I am sure that CoinCheck will continue with their operations and will regain the trust of their customers.
In the end, it is up to them to prove to their customers that they are doing everything in their power to secure their accounts so that this doesn't happen again.
Unfortunately for Japan, this is the second time a major exchange has been hacked since Bitcoin started. People in Japan are very enthusiastic about cryptocurrencies, and they deserve to have the best possible security measures and individuals protecting their funds. This further proves that centralized exchanges are vulnerable to hacks and if exploited can affect thousands, if not millions of people.