Despite some negative news surrounding the digital currency ecosystem, continuous investor support has caused yet another price rally for Bitcoin, surpassing the $5,000 threshold and reaching once again a new all-time high, just a little shy of the $5,850 mark.
On Thursday, the Bitcoin price managed to quietly pass the $5,000 mark and from there start a rally that managed to reach as far up to as $5,834, as reported by bitcoinaverage's global bitcoin index (GBX). This is considerably higher when compared to the previous all-time high of $5,013, which had been attained earlier this year, on the 2nd of September.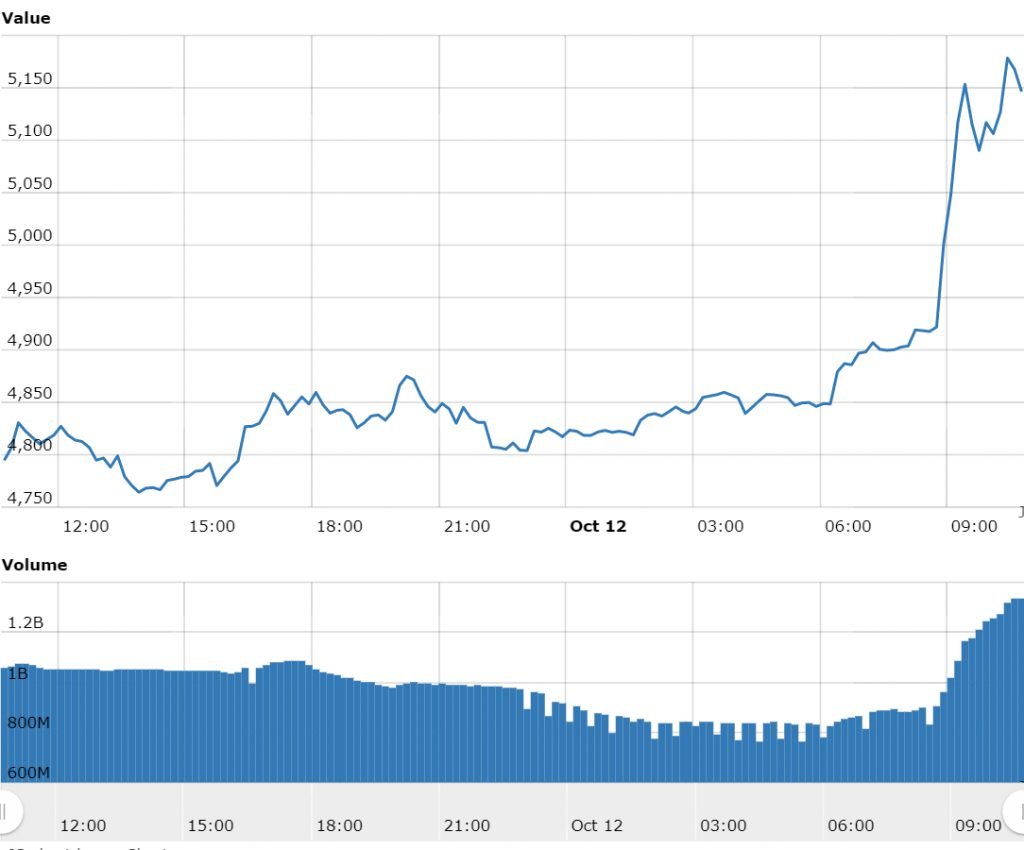 Yet the recent bad news concerning Bitcoin has many heads spinning. How did the market overcome the price volatility sustained during the last couple of weeks, and reach the price rally this quickly?
To put things into perspective, last month has been quite troubling for the digital currency community throughout the world. Firstly, China decided to ban all initial coin offerings (ICOs), used by start-ups to generate funding via selling tokens of value, then, China decided to stop the activity of all bitcoin exchanges operating on its lands, at least temporarily. Things didn't become any better a few days ago, when the President of the Russian Federation, Vladimir Putin declared that the use of digital currency bears serious risks, and that the country's central bank will go ahead and support the blocking of websites that deal with Bitcoin and other digital currencies, despite showing an open mind towards cryptocurrencies and their regulations earlier on. At a separate conference taking place in Moscow, the first deputy governor of the country's central bank declared that they "cannot give direct and easy access to such dubious instruments for investors."
Luckily, we know that Russia isn't planning to ban digital currencies altogether, but rather is trying to regulate the Bitcoin ecosystem in a better way, to reduce the risks associated with money laundering and the financing of illegal activities. Additionally, there are certain reports from independent sources indicating that trading may soon resume in China, but under more careful supervision by the government and its authorities.
On the other side of the spectrum, numerous economic analysts are predicting big price growths for the digital currency in the next couple of months. While some see the value climbing above $20,000 in just a couple of months, others believe that in 6-10 months, Bitcoin could be priced at least in the area of $6,000 to $8,000. Regardless of individual prediction, it is admirable that Bitcoin has reached new price levels once again and is going at a pace this strong, despite all the negative press of the last weeks. The market seems to show no recognition at all for those ban attempts, and is keeping it's former strength.
Based on the events during the last weeks, did you expect a new all-time high for Bitcoin this quickly? What is your personal prediction for the upcoming time? Let us know your thoughts in the comment section below.