Bitcoin markets took off after having shaken part of the negativity surrounding bitcoin's price. BTC/USD rates broke through resistance at $1200 levels and even traded above such levels for brief periods of time through the day. Yet, profit taking had sufficient pressure to push bitcoin prices back down to $1190 levels, where the price has currently settled at.
Major Signals
Bitcoin markets are currently under the influence of volatility as the recent breakthrough has left buying pressure battling against resistance
Whilst bitcoin prices briefly went above price levels that were previously subbed as resistance, the market doesn't appear to have entered an uptrend
Large sell orders were triggered right after BTC/USD reached above $1200 for the second time within the day's trading session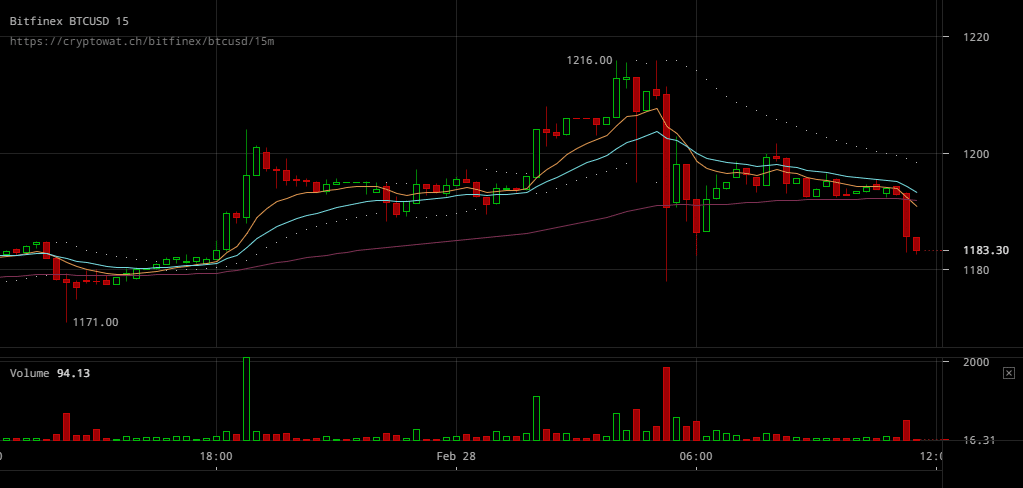 Bitfinex BTC/USD charts are showcasing how profit taking might have built up through the last few days. Bitcoin traders are probably going to have a hard time breaking past resistance levels if underlying resistance was to come up at such a fashion each time. Until now, the market could have gone through a more bullish price rise, yet the positivity was only greeted with strong selling pressure.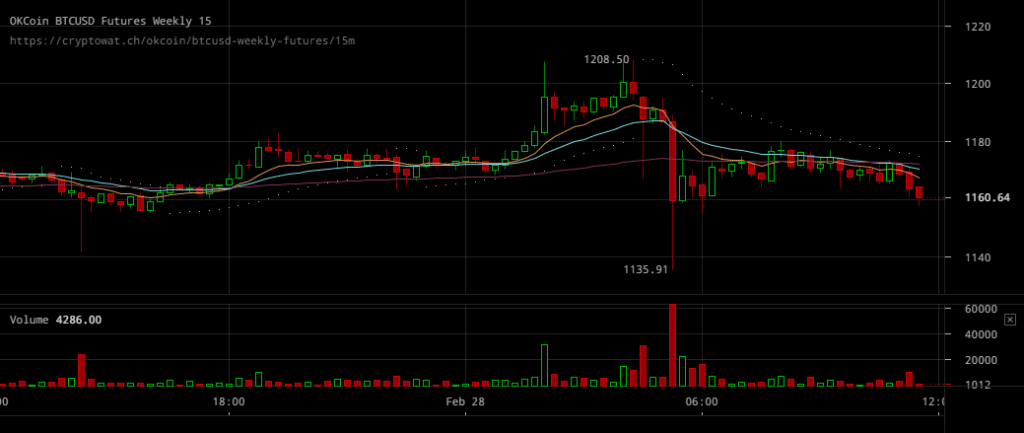 OKCoin BTC/USD weekly futures charts are also indicative of how the recent volatility in live markets has failed to make an impression to futures traders. Whilst upward spikes had somewhat of a positive reception they failed to influence futures rated positively in the end. The extent of large downward spike was exaggerated in futures markets and the negative margin between futures rates and live BTC/USD prices still ends up being relatively large.
In the end, it's important to highlight that the strong selling pressure observed in the last few hours of today's trading session is not representative of the market's sentiment. Provided that BTC/USD rates have settled to prices above $1190 after having recovered from $1070 during the same trading session the market can still welcome some upward swings.