Bitcoin markets have kept trading above $800 levels in spite of the selling pressure present in the market. While BTC/USD almost fell to $800 at one point, it has since recovered to levels close to $815. It's definitely noteworthy that support levels might be starting to take shape but with trading volumes lowered so much it's not a remarkable achievement.
Major Signals
The trading volumes in the latest trading session might be of the lowest 24h ones seen throughout the start of the year, perhaps even since the beginning of the rally.
Selling pressure is still present in the market but sell walls have been significantly reduced in comparison to preceding trading sessions.
The recovery from sub $800 levels reached a top of $838 but the price also reached $834 yesterday.
Bitfinex BTC/USD markets showcase how selling pressure is finally backing down. The lack of it becomes apparent when even the largest sell orders can't break through the relatively weak recently established support level at $800. The fact that volumes are as low certainly has to do with the weakening of selling pressure though.
The market is looking for a new dynamic, but it doesn't look like another rally would be starting out soon either. Selling pressure becomes felt in the form of resistance whenever bitcoin prices are reaching close to breaking through it.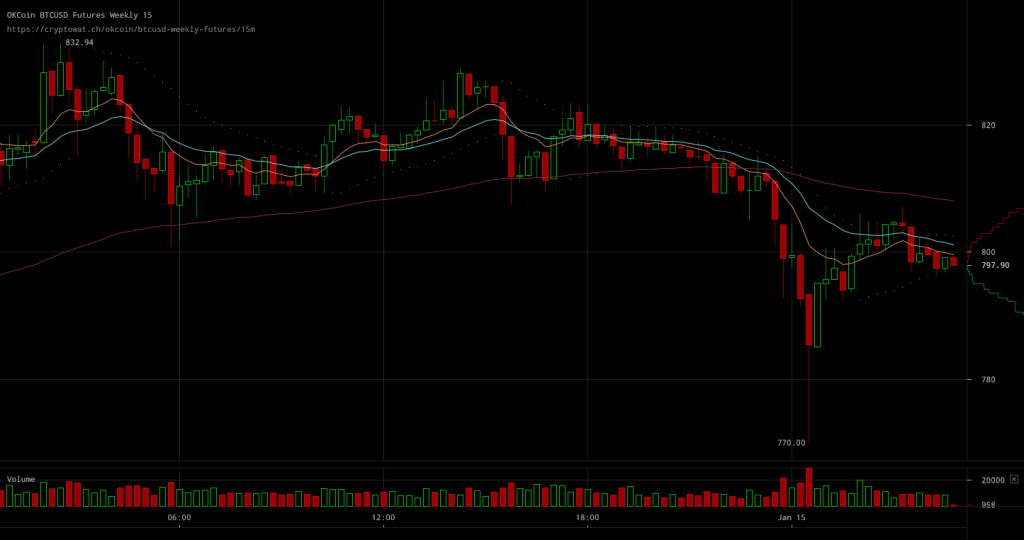 Futures prices are continuing being pessimistic throughout the recent recovery and today's trading session was no exception. OKCoin BTC/USD traders apparently fell for the downward spike created by large sell orders in live BTC/USD markets. Not only that, but there also was quite a bit of an exaggeration in the market's followup as the marginal difference between the two markets only grew bigger with it.