ZhongAn Technology is the tech innovator / developer of Chinese insurance technology. ZhongAn Online, the only online insurance company in China, is set to revolutionize the chicken supply and quality control industry of about five billion chickens consumed every year, by implementing a blockchain system to streamline quality control.
ZhongAn Tech started developing a blockchain-based platform to track and record the chicken supply chain from a breeding base to processing plants and ultimately logistic companies who deliver the chickens to the market. This tamper-proof ledger would be the first of its kind designed for and implemented in the agricultural sector worldwide.The platform will give each chicken a unique identity by applying facial recognition software enabling a real-time record of information accessible on the decentralized ledger.
The blockchain will also record details of the daily food given to chickens, their nutritional requirements, and even their daily exercise to ensure they are healthy. This project was named "GoGo Chicken" and was initiated in Cha'an Town located in Anhui province, in the eastern part of China. The chickens are bred on organic food, they develop on free-range farms which allows them to live a normal and healthy life lasting from four to six months. As a comparison, factory-bred chickens, on average, have a forty-five-day life span.  
"Each of our chickens wears an anklet since birth, which is an IoT [internet of things] device that connects wirelessly to our blockchain-based network and sends real-time data about the bird's whereabouts and how much exercise it gets every day. When you shop and see raw chicken [from us], you can simply check on your smartphone app to know its birthplace, what food it ate, and how many steps it walked during its life." – Chen Wei, the chief executive officer for ZhongAn Tech, told the South China Morning Post in Hong Kong.
The company is targeting China's increasingly health-conscious urban consumers who want to trace the origins of chickens labelled as organic or free-range, and even follow a bird's life to know how it grew up on the farm.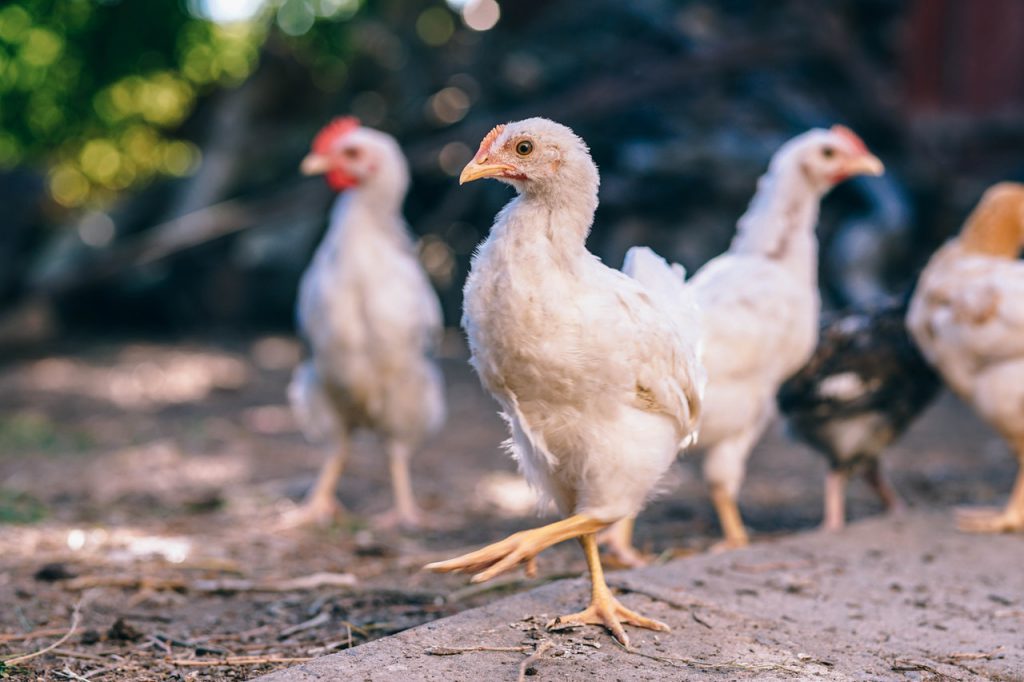 After having several scandals on food safety, particularly related to selling expired and tainted chicken meat to widely popular fast-food chains, China's expanding middle class is willing to pay more for healthy and safe meat. Additionally, ZhongAn Technology started developing "farm-based tourism", which is becoming very popular among young urban people who seize the opportunity to visit idyllic rural places on weekend trips, taste local traditional dishes as well as buy themselves one or more chickens.
By installing the app, they can see their chicken(s) on the farm's monitors, enjoy the countryside and continue following their chicken's development on their phones from home. Currently, there are more than 100,000 GoGo Chicken birds wearing IoT anklets. The company plans to increase the total number of such chickens to more than 23 million in three years. Apart from Hangzhou Wupu – the company which designed and produced the anti-counterfeiting IoT devices and Anlink which assisted the development of the blockchain startup platform, there are several other companies ZhongAn Tech collaborated with for GoGo Chicken.
The project also received support from the local government and financial service providers such as lenders and insurers, which contributed to making  the organic farming process more transparent and thus, decreasing ZhongAn Tech's credit assessment costs.
ZhongAn Technology also recognizes that the blockchain technology can be applied as pet care for recognizing cats and dogs and their activities. They also started researching whether the blockchain-based  technology can be used in fish farming as well.
It remains yet to be seen what other application the blockchain-based technology can have, however, it proves to be reliable, secure and cost-effective.  
Featured image via BigStock.