At one point in time, everybody knew what the next crypto investment opportunity will be, but this is no longer the case. Thousands of promising cryptocurrency projects are released every year. It's no longer a question of missing out, but rather of never learning about the best projects.
Crypto investors should leverage powerful tools and discovery engines such as CryptoTotem to understand the marketplace and find the hidden gems. With this service, you no longer have to scroll through Twitter waiting to be shilled on. You can take project discovery into your own hands using their simple and effective website.
What is CryptoTotem?
CryptoTotem lets you quickly compare ratings by leading research agencies and form your opinion. The site offers the latest and comprehensive details about each project to make your job easy. You can do your research on CryptoTotem and find the best deals to focus on. You will find all the relevant information quickly, and the most up-to-date database you will come across online. As an investor or crypto enthusiast, you don't have to wait to find a profitable deal.
Crowd Sales: Find Profitable Crypto Projects
As we said earlier, there are hundreds of blockchain startups in the market. Finding the right company to invest is not an easy task. You may very well choose the wrong ICO and lose your money. What do you do then? Are you looking for more crypto projects? Then, it would help if you had sound research to find the best solutions.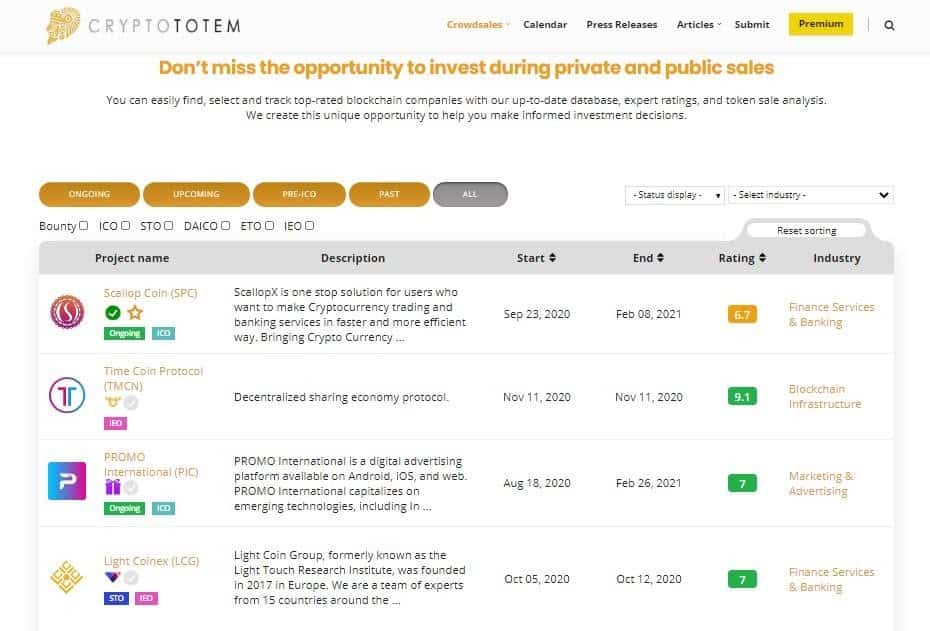 CyrptoTotem crowd sales are your gateway to the top-rated projects in the market. You can track the best TGE (Token Generation Events) with ratings from various agencies, and each project has a detailed overview and gives you all the information you need.
You can even see the roadmap and other critical details needed for your research. Apart from ICOs, you can get your hands on top-rated projects in DeFi or releasing via STO or IEOs.
You can search for startups using various filters for more convenience. The site lets you sort by industry, ICO status, and more. You can also get a brief description of each project on the list with ratings earned from agencies.
CryptoTotem gives you the knowledge you need for sound investments. You can save your time and quickly track the top and lowest-rated projects. This way, you know which one is lucrative and the ones to stay away from, saving you time and money.
Additionally, all information is up-to-date.
Crypto Calendar
New and innovative projects are released every day in the crypto market. However, not all of them are worth investing your time in.
CryptoTotem Crypto Calendar is your home to upcoming ICOs, DAICOs, STOs, ETOs, or IEOs. You will see each project listed chronologically with essential information. The details contain the rating of each project so that you don't even have to click unnecessarily.
The overview even mentions the industry for super convenience. This helps investors who want to put their money only on chosen areas according to their preferences. Additionally, you can also access projects coming to an end by clicking the "Ending" tab.
The upcoming and ending blockchain startups calendar is a great way to track the best solutions in the cryptocurrency market. You don't need to search or find out companies that are releasing ICOs or IEOs individually. The site lists all startups with dates so that you can save your effort.
The calendar also helps investors keep track of ending crowd sales.
If any project is not able to collect funds, the startup returns the money to the investors. You can follow the calendar and see if any of your investments feature on the list.
Top Crypto Exchanges: Your Guide to the Best Exchanges
Crypto exchanges help you buy and sell cryptocurrencies. There are several crypto exchanges, and new ones are coming out every day. Each exchange is unique in the way it functions, features offered, trading fees, and more.
Additionally, some exchanges are geared for traders, while others might be suitable for quick crypto-to-fiat conversions.
It would be best if you chose the right crypto exchange based on your needs. If you're a trader, you will indeed look for perks like free withdrawals and low fees. On the other hand, offering your preferred cryptocurrency pair is also essential.
CryptoTotem Top Crypto Exchange page lets you find the best cryptocurrency exchanges out there. You can read detailed reviews of promising exchanges with information about:
Trading fees

Deposit and withdrawal limits and methods

 

Features and security

How to open your account

How to trade

Affiliate programs
It's straightforward to learn everything you need to decide the right exchange for your needs. Additionally, you can find the best exchanges on the same page without visiting any other website. The reviews also come with images to help you understand how the exchange works or performs.
Add Your Crypto Project
Are you ready to get investors for your crypto project?
CryptoTotem is not only for investors but also for promising startups to list their projects. You can add your startup and get a ready base of investors without any effort.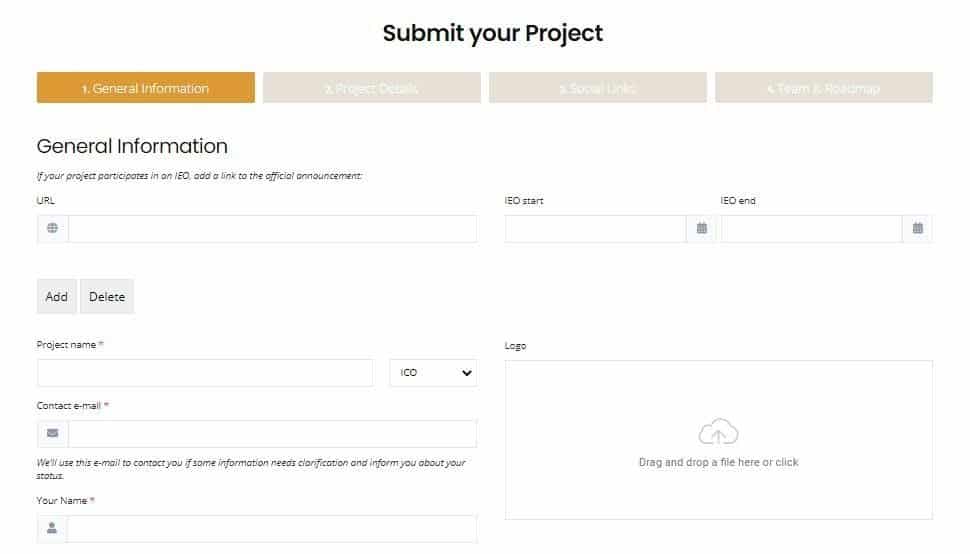 CryptoTotem makes it easy to submit your project. You can fill in the essential details and drag-and-drop files to add your logo or roadmap. The site lets you add IEOs, ICOs, STOs, DAICOs, and ETOs in minutes.
Being on CryptoTotem is a great way to increase exposure. If you have a good rating, you can reach hundreds of investors that use the site to find profitable projects. Be sure to provide an excellent overview to increase visibility on the search engines.
Moreover, being featured on the site adds to your credibility. Investors will be more likely to choose your project if it appears as top-rated on CryptoTotem.
Final Thoughts
CryptoTotem is an excellent tool in the hands of crypto investors. You can use different ways to track the best crypto startups to get a good profit. All information you need is available along with ratings from research agencies for sound research. You can save your time and reduce your effort by using CryptoTotem's information to make informed decisions. Along with that, you can even keep track of the best upcoming TGE and top crypto exchanges. The site is unbiased and works in the interest of its users.
Disclaimer: This is a sponsored article and contains positive statements about the future. Make sure to do your own research! Crypto-News.Net is not liable for any losses that may result from your interaction with this content.