Singapore, Singapore – AC Capital, CoinVoice, Asia Token Fund & Block Tides to host the first-ever largest NFT Metaverse GameFi event in Southeast Asia
Brace yourselves as four prominent global media and capital institutions, AC Capital, CoinVoice, Asia Token Fund & Block Tides bring the first-ever and largest NFT, GameFi & Metaverse event to Southeast Asia. NFT, GameFi, AND Metaverse 2022 is set to debut this May 1st in the largest indoor beach club in the capital region of the Philippines, Cove Manila with 2000+ whitelist interest and 1000 attendees.
Everyone is welcome to be a part of this great history in the metaverse as we've invited distinguished projects, companies, speakers, key opinion leaders, artists as well as Blockchain, NFT, and Crypto enthusiasts such as AFKDAO, Arcus Game, BabyShark BubbleFong Friends, CoinEx, Covenant Child, Crypto.com Capital, Gala Games, Kaloscope, Magnus Capital, Mecha Morphing, Metasumeru, PlaceWar, RoseOn World, Sparkpoint, SparkLearn Edtech, MetaDhana, MGG, OpenBlox and Rooster Wars to partake in this event within the biggest integrated resort in the Philippines, Okada Manila.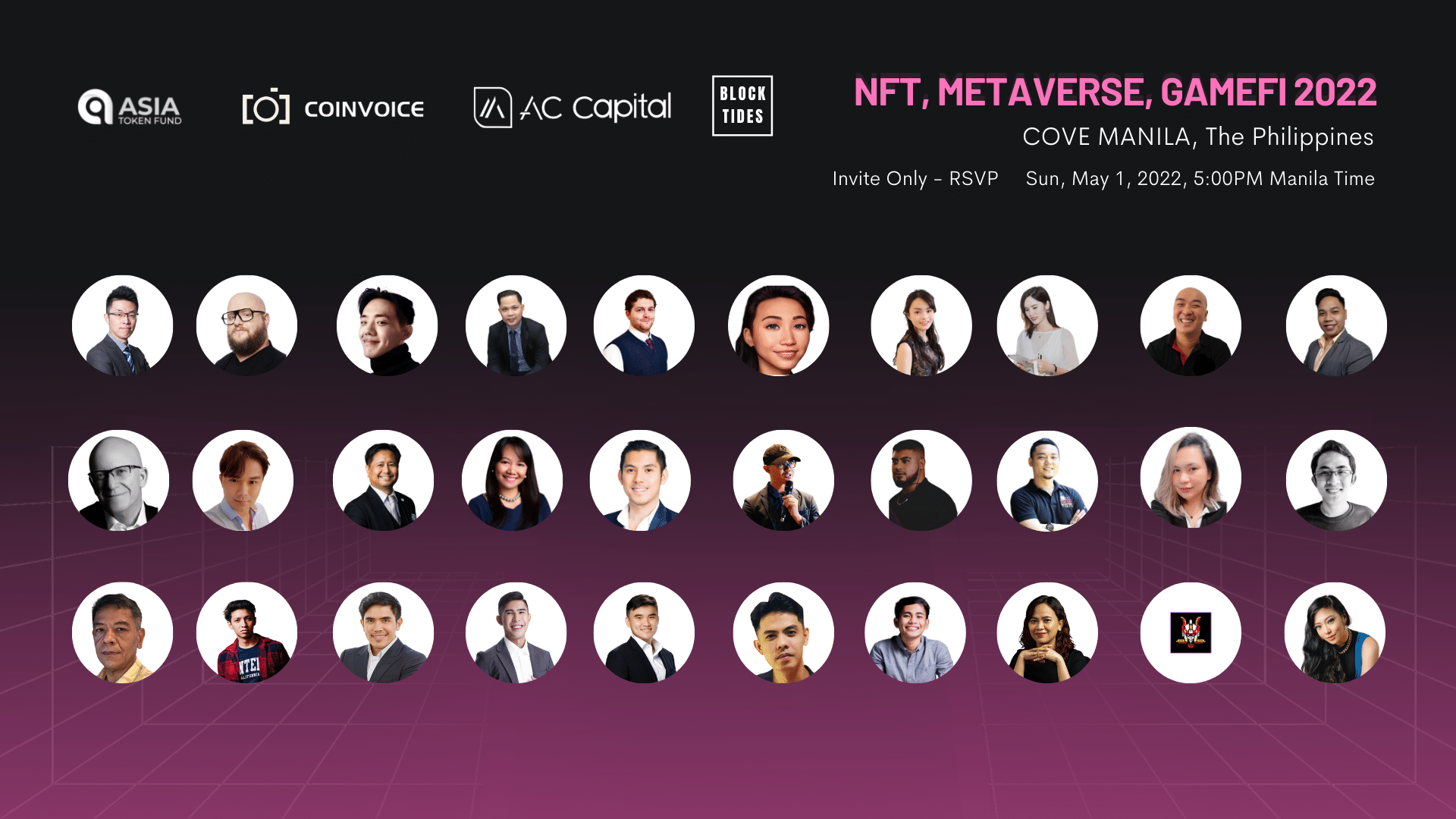 The Philippines is one of the top 5 countries in terms of crypto adoption; 20% of the Philippines' population has exposure to crypto. Thus, the Philippines has become a hotspot for NFT games as it provides a reliable source of income for many.
The agenda of this event includes discussions revolving around the Web 2.0 movement toward Web 3.0. There will be panel discussions that will highlight opportunities and applications within the Metaverse and NFT industries, as well as the trends in GameFi. To spice up the event, there will be an NFT Fashion Show as well as Cosplay-themed NFT Games & Blockchain companies. The theme of the event will be further emphasised by performances from Alab LED Poi Dancers.
More than 50+ companies, institutions, guilds, and communities will attend the said event namely, Ace Ewallet, Manila Crypto Club, Coin Sessions Entertainment, Popkon TV, Moneybees, Dynaquest, Frontera, Two Monkey Juice Bar, Aquanee, Chainlabs, University of Makati, Tier One Entertainment, Ex Network Capital, Likha NFT, Astro XP, DICT, DTI, Paymaya, Goricetta And Saavedra Law, TFGI, NEM PH, Breederdao, Ownly, Metasumeru, DOTD, Cryptomon Guild, Amh Academy, Lets Go Gaming Guild, Avisa Gaming Guild, RTSG, Moonstakers Capital, EMC Gaming and many more.
To make the event more thrilling there will be also three live broadcasting partners for the offline events as well as  POPKON TV,  Coinvoice's Binance Live, and Block Tides Youtube at the online conference. Besides that, many known celebrities and influencers are anticipated to join the event including an exclusive partnership with one of the most iconic bands from the Philippines, Kamikazee! Kamikazee is set to perform on stage to commemorate the launch of the band's  NFT album this year.
About the Organizers
Four prominent, outstanding global media and capital AC Capital, CoinVoice, Asia Token Fund & Block Tides.
Websites: 
https://nftmetaversegamefi2022.com
Written by: Toni Rose Tecson, Angelica Rose Martinez, Ted Simon De Leon 
Press Contact: Nina Crisostomo
Email Address: [email protected]
Interested in advertising on CryptoNews?
Reach out to us at [email protected] and we will get back to you as soon as possible with potential collaboration opportunities!