Bitcoin markets moved away from the bearish market sentiment surprisingly quick. Buying pressure broke through resistance today, and in spite of the fact that support hasn't formed below the newly reached levels it looks like selling pressure didn't manage to suppress the price rise.
Major Signals
A significant but stable stream of buy orders lead the price above what was previously dubbed as stiff resistance.
Selling pressure hasn't made a comeback to effectively suppress the price rise.
The market seems to have so far welcomed the increase although a correction is inevitable.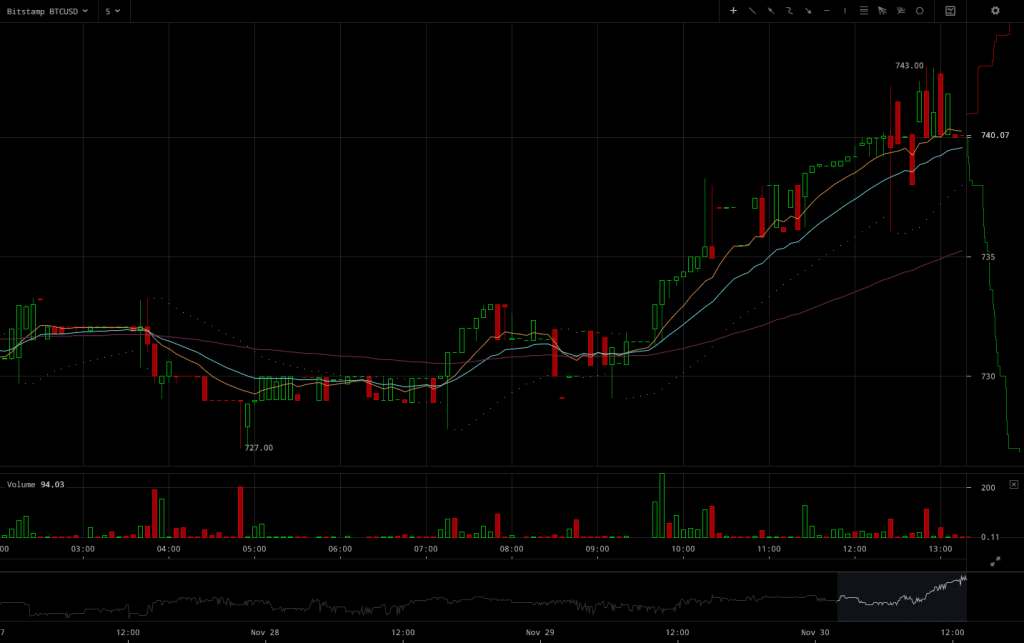 Multiple levels of resistance were broken today. Not only did BTC/USD break the above level of resistance at $735, but the price also reached $740. Volumes also keep climbing as buy orders keep weakening resistance.
Bulls have so far left selling pressure unable to respond, as even the slightest price drops today have so far been countered with large buy orders that shoot the price even higher. It's safe to assume that this price spike marks the end of the bearish market sentiment BTC/USD was going through, at least for now. However, it's still no time for celebrations.
The market has still not adjusted to these new levels, and it's unsure if it'll ever manage to prior to a correction, the size of which will determine the end effect of the current bull run. No substantial buy orders have been placed at levels above $735, so the long term effect this will have on the price spike remains uncertain. Also, given that the price rise happened right after a period of time in which BTC/USD had traded below $730 on several occasions, profit taking is bound to come into effect sooner or later.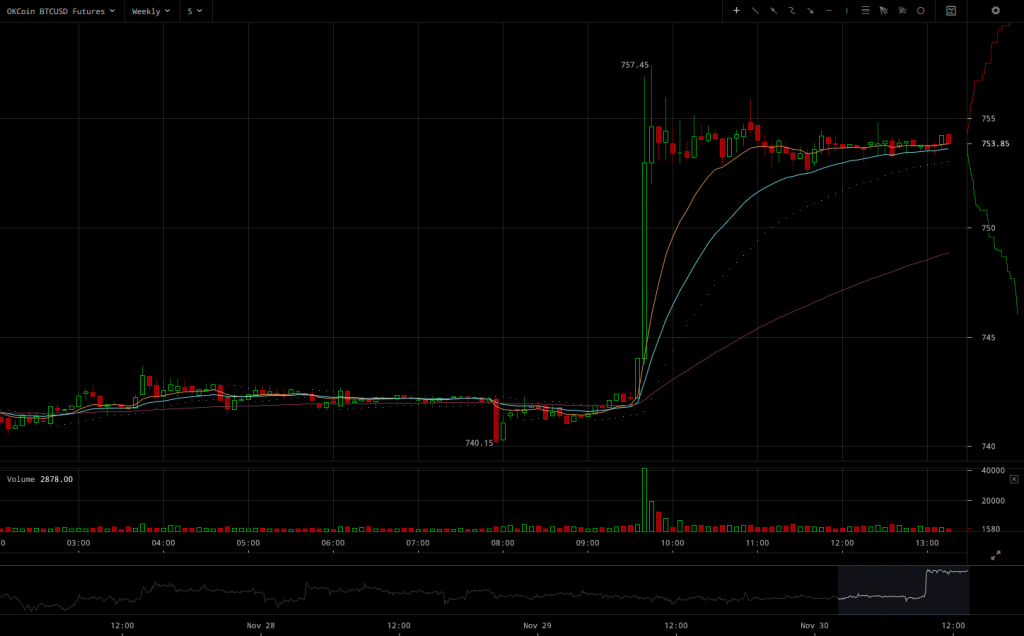 OKCoin's BTC/USD weekly futures market, as seen in the chart above, seems to have been expecting the current bull run. An astoundingly large buy order shot the market's rate up by a high margin as soon as BTC/USD rates started peaking up and the futures market has been trading sideways ever since.