Bitcoin's price is driven by a particularly bearish market sentiment amid the last few hours. Back to back sell orders are becoming the leading force of market movements forcing BTC/USD rates to plunge down to a low around $910.
Major Signals
BTC/USD markets apparently had a hard time shaking off the bearishness of previous trading sessions.
In spite of relatively low trading volumes selling pressure forced BTC/USD rates down to $910, breaching purported support at $915 levels.
The sell order responsible for the price fall breaching $915 levels seems to be particularly large in the setting of today's trading session, but a recovery seems to be underway.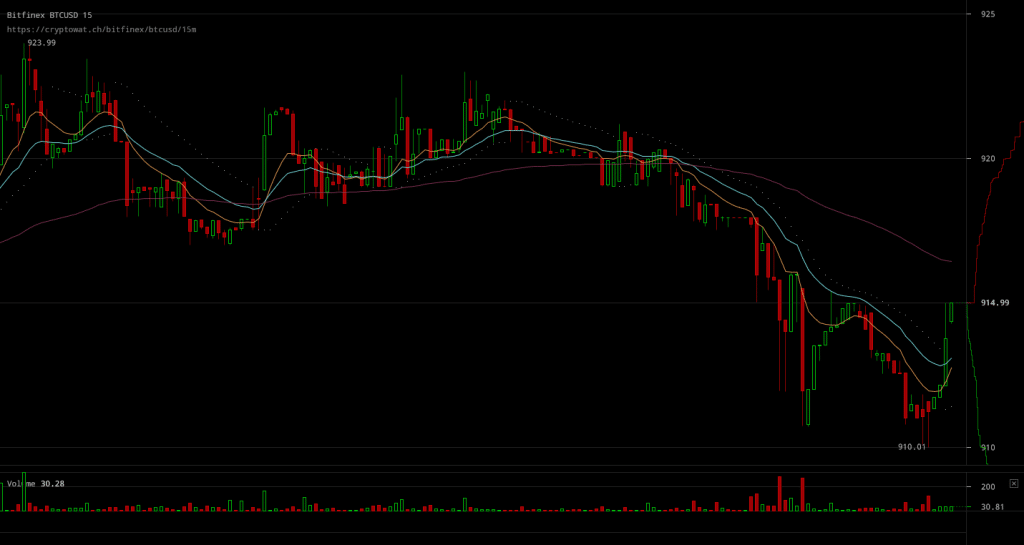 Bitfinex BTC/USD charts show how volatility is still a strong element in bitcoin markets. As seen above, traders aren't appearing to be certain as to how long patterns could be sustained for, and hence a breach of support levels is only followed by more volatility in spite of a recovery making an appearance. After the fall below such levels, some slight resistance seems to have formed at $915 levels in the form of sell walls.
Under such a harsh market sentiment, it's no surprise that bitcoin traders might be losing faith in the potential outcome of a more significant recovery. With selling pressure looming bitcoin markets even under below average trading volumes negativity is surely to be expected.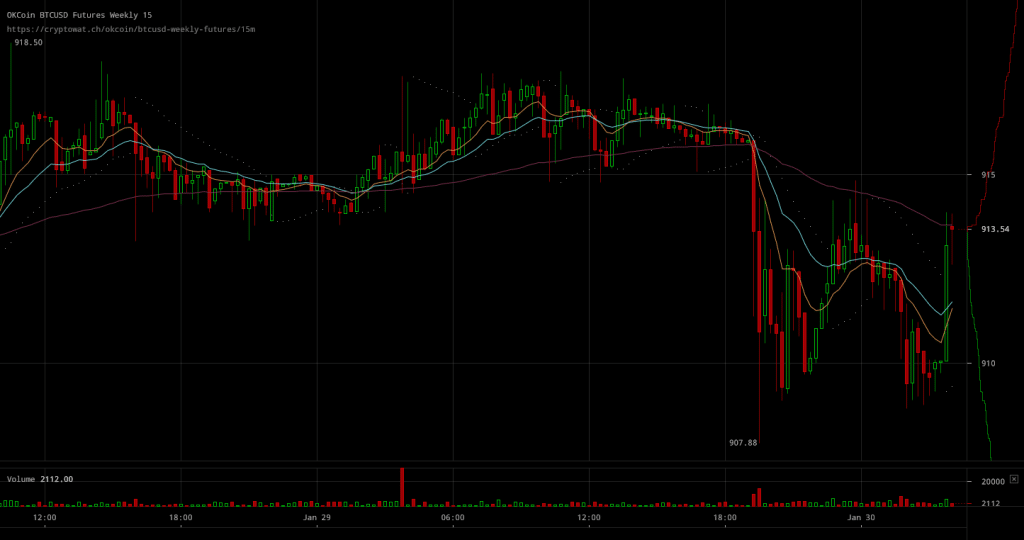 As seen in the above OKCoin BTC/USD weekly futures chart, the price fall was overly exaggerated yet the recovery following it has let futures rates settle surprisingly close to the rates of live BTC/USD markets. This development is quite indicative of how some traders might be counting on some not so negative price movements in the short term.
Finalizing, it's important to note that BTC/USD rates are still keeping above $900 for several days now, which surely is good news in terms of support. However, the lack of significant positive developments goes to show that resistance might be crushing the mood of traders willing to support price levels sooner or later.