In spite of the break through resistance, selling pressure hasn't managed to push BTC/USD rates much lower than $790 levels. Volatility was to be expected but as surprising as it might sound, the price hasn't dropped below $787 after the spike the pushed bitcoin's price above $790.
Major Signals
Selling pressure in BTC/USD markets keeps being outweighed by buying pressure in spite of trading volumes returning back to normal levels
Market sentiment after upward spikes still has a decent outlook as support taking shape at higher levels.
No apparent resistance levels still. However, volatility within a range reasonably close to $790 is to me expected after such a breakthrough.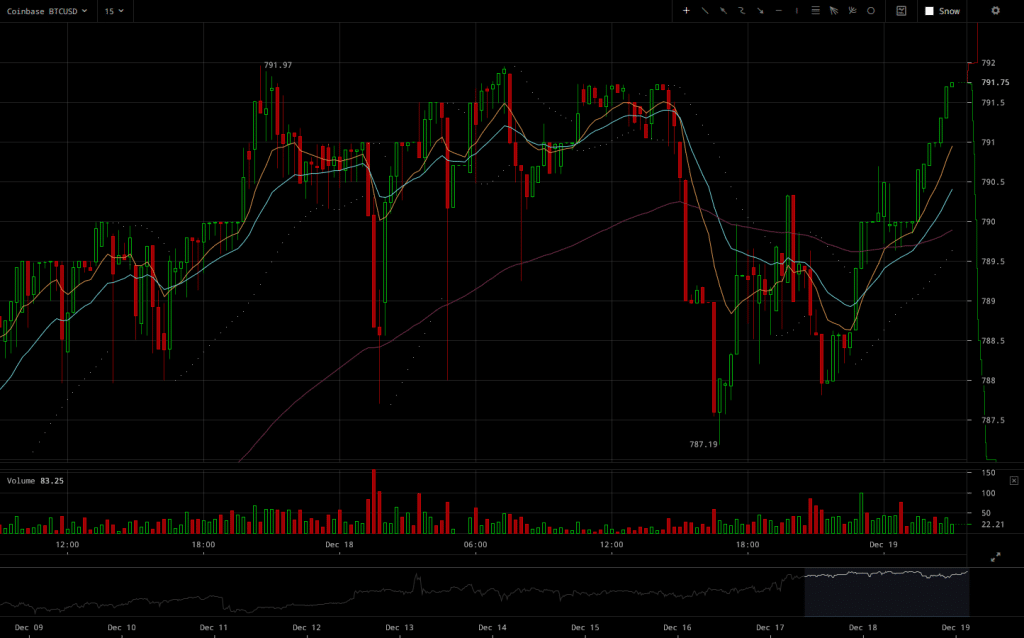 Coinbase's BTC/USD market seems like a small battleground while buying pressure manages to push sell orders out of the equation. Bullish traders have so far been successful at smashing profit taking and helping the market withstand pressure from large sell orders.
Recoveries from downward spikes haven't been particularly impressive but it's interesting to see how back to back buy orders always tend to push the price back to levels prior to downward spikes caused by hefty sell orders. Bearish whales probably stand no chance amid such a bullish market sentiment.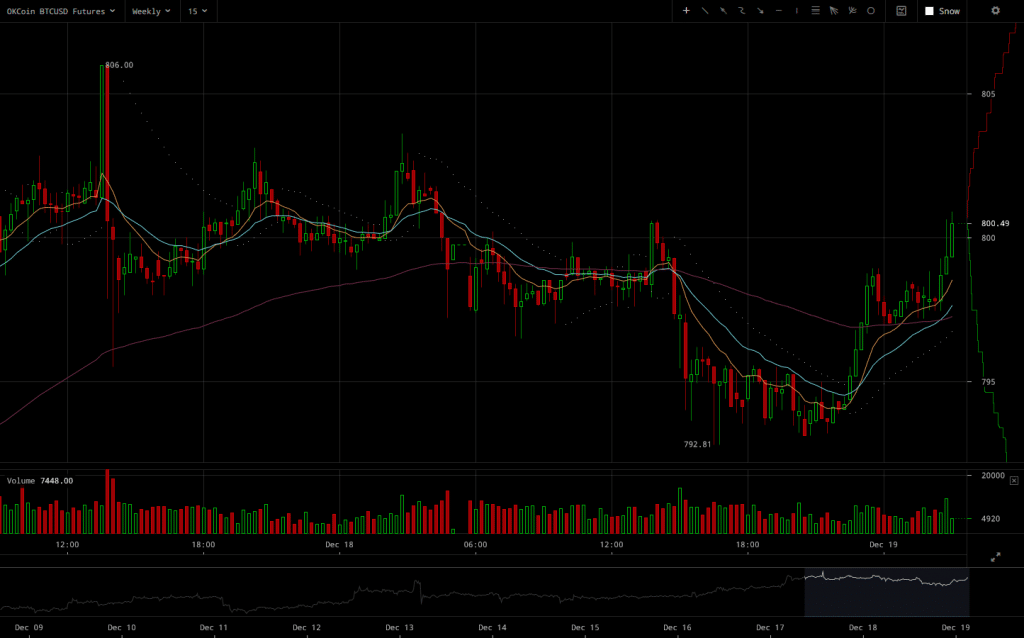 Futures traders on the other hand, seem to be shredding their optimism little by little through time. As seen in the above OKCoin BTC/USD Weekly Futures graph, the pattern the market is following almost looks like a downturn. Perhaps futures traders are slowly realising that BTC/USD markets aren't on a fast track in a road to reach $800. The disillusioning fall from a spike that pushed futures prices rates $800 is probably a tough correction to optimism that came in too soon.
In the end, in spite of the correction futures markets seem to be going through, the outlook for live BTC/USD markets is still good. Recoveries from downward spikes have been sufficient to keep the price trading around the newly reached level of $790, and perhaps new highs are to be expected once we see trading volumes rising once again.