Bitcoin prices are moved by volatility amid daily trading volumes that are damningly lower than the ones seen throughout the rally. Yet even amid lower volumes traders are facing difficulty pushing the price above resistance levels that have emerged after the fall. Any recovery would be hard under such a setting.
Major Signals
BTC/USD was seen peaking close to $838, yet resistance already seemed to strong for any further progress.
The response following the peak was a swift correction, with a downward spike pushing the price back down to $830 levels.
Following a bottom down to $807 levels, it's interesting how the market is lead by volatility while managing to keep bitcoin prices within such a range.
Bitfinex BTC/USD charts make it apparent that traders are nonetheless losing interest in the market's movements as participation just keeps dropping day after day. The lack of significant events in comparison to what was happening just days earlier most probably doesn't attract those that had the chance to partake in the rally, whether that had a positive or negative impact.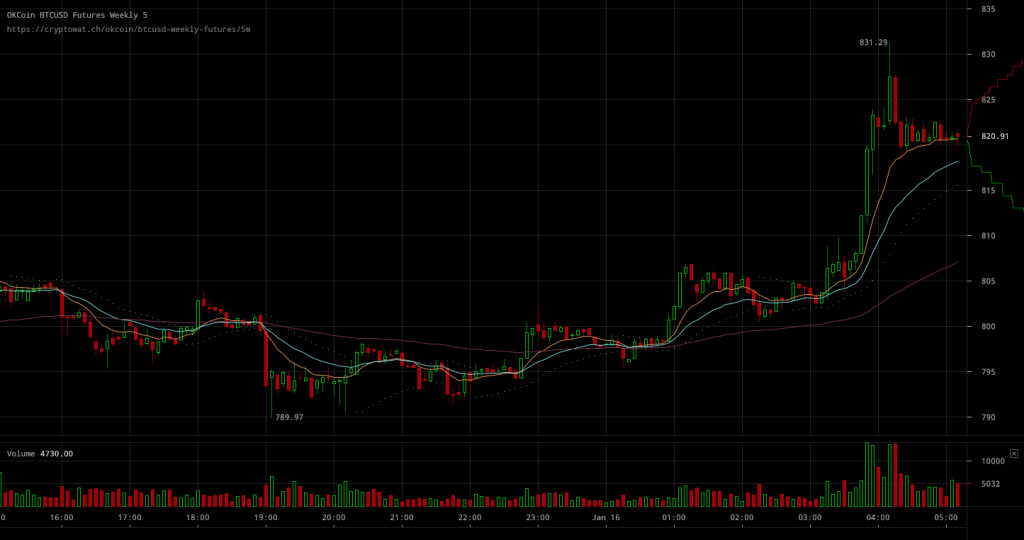 Futures markets continue being obviously pessimistic with traders in OKCoin BTC/USD weekly futures exaggerating downward movements. The market for futures only seemed to have picked up at the slight positivity in live markets when the recent spike pushed the price close to $840, but even that was a followup "from a distance"; as futures traders are most probably moving away from being risk takers while the market's sentiment is probably still perceived as bearish.
Overall, the market's sentiment does seem to be shifting into a more positive outlook, but no signal can be considered a major one with such conditions. The lack of activity with such resistance present indicates that the price could be falling heavily at any time once again. Traders are likely to keep playing it safe until a major event takes place.