Bitcoin markets went through a relatively harsh period of time over the last couple of trading sessions with prices having fallen down below $885 levels. Yet, BTC/USD rates appear to be picking up again as bitcoin's price rose above $900 once again amid growing trading volumes. However, the perception to the price spike doesn't seem to be particularly positive.
Major Signals
Bitcoin traders quickly shook of the overwhelming negativity of the prolonged bearish market sentiment that was keeping the price below $900.
The recent rise originating from back to back buy orders triggered alarge buy order, pushing the price at $905 levels.
The market's reception to the spike above $900 levels was swift and a correction driven by selling pressure is at the time keeping the price at $900 levels.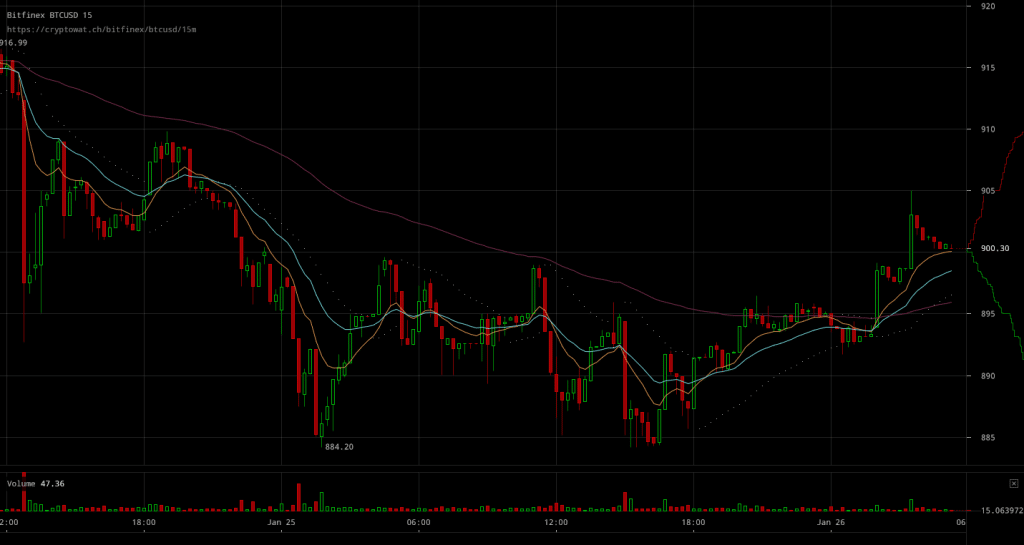 Bitfinex BTC/USD charts are indicative of how bitcoin markets are currently in recovery mode as charts showcase a peculiar V shaped pattern. The market showcased that prices much higher than $900 levels are not receiving any support, and the past trading session is highly indicative of that. Yet, the recent recovery shows that there's hope for markets to be distanced from further price falls, at least in the short term.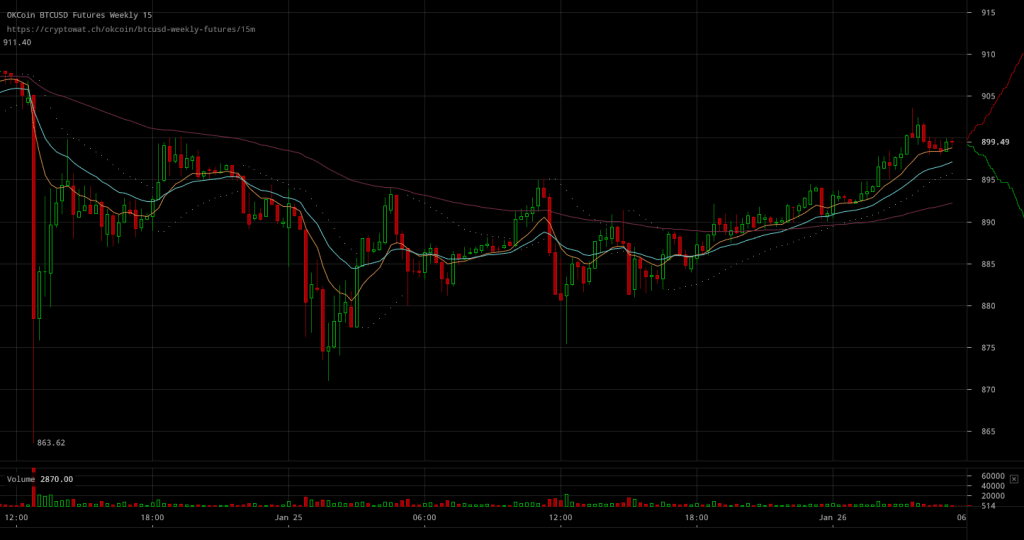 Futures traders are surprisingly following through with the rise caused by the recent recovery in live BTC/USD markets. Current futures rates appear to have dumped the long lasting negativity as futures prices are for once in a long time reflecting live prices with high accuracy.
Overall, the current market sentiment might be a little divisive among traders but it was made clear than no bullish market sentiment is to be supported at the current time period. Perhaps the fact that prices appear to be once again settling around $900 levels might be contributing to a buildup for better days, but that's something sounding too optimistic at the moment.