A couple of large sell orders pushed BTC/USD rates back to price levels below $900. Bitcoin markets kept on a sideways trading trend throughout the trading session and this recent development appears to have brought a halt to this amid lower trading volumes. The fact that traders aren't confident in support levels is once again showing.
Major Signals
The sideways trading trend that dominated BTC/USD markets after prices fell from a spike above $920 levels was brought to a halt by downward spikes.
The market's reception to this fall doesn't seem particularly positive so far as the response didn't manage to swiftly recover back close to pre-fall levels.
The confidence of traders seems to have been reduced as the inability to form reliable support levels seems like a common theme in the recent days.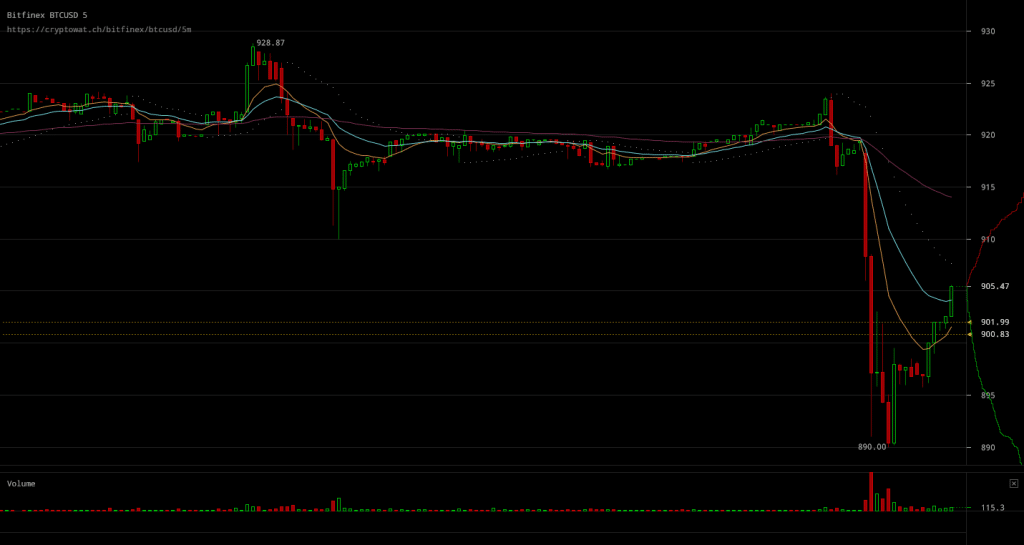 Bitfinex BTC/USD charts make the sideways trading trend seem apparent, yet the follow up to it wasn't exactly expected. Provided that the sideways trading trend essentially begun after a fall following the recent top just below $930 levels, traders were surely setting up for a continuation to falling prices. itcoin markets might have failed to break through resistance levels once again, but there wasn't something signaling a price fall so significant.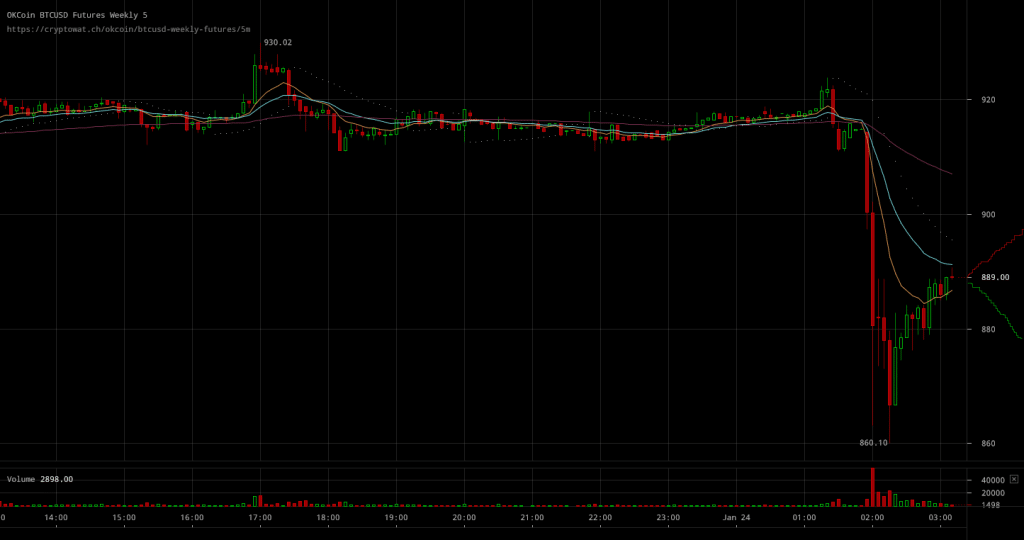 The positivity of futures markets was especially short lasting as futures traders have once again returned to being pessimistic by exaggerating the negativity of live markets in futures markets. OKCoin BTC/USD weekly futures markets reflected the price fall to $990 levels with a greater fall.
The overall market sentiment might be returning back to a more bearish mood as futures traders have been building up for weeks now. The recent price fall certainly has a negative effect on the market's outlook. The following trading sessions will be crucial in succeeding or failing to overturn the recent price fall below $900 levels.