Bitcoin markets are currently going crazy as an ongoing bull run is pushing BTC/USD rates to new highs, prices that hadn't been reached since 2013's bubble.
Major Signals
Back to back sell order kept smashing selling pressure and broke through resistance, pushing the price to levels even higher than $800.
The market's sentiment is changing rapidly, as BTC/USD markets went from relatively bearish to a bullish as a market can get in just a few hours.
Trading volumes have risen accordingly, yet the price rise doesn't seem to be losing its momentum as BTC/USD has already reached above $810 levels.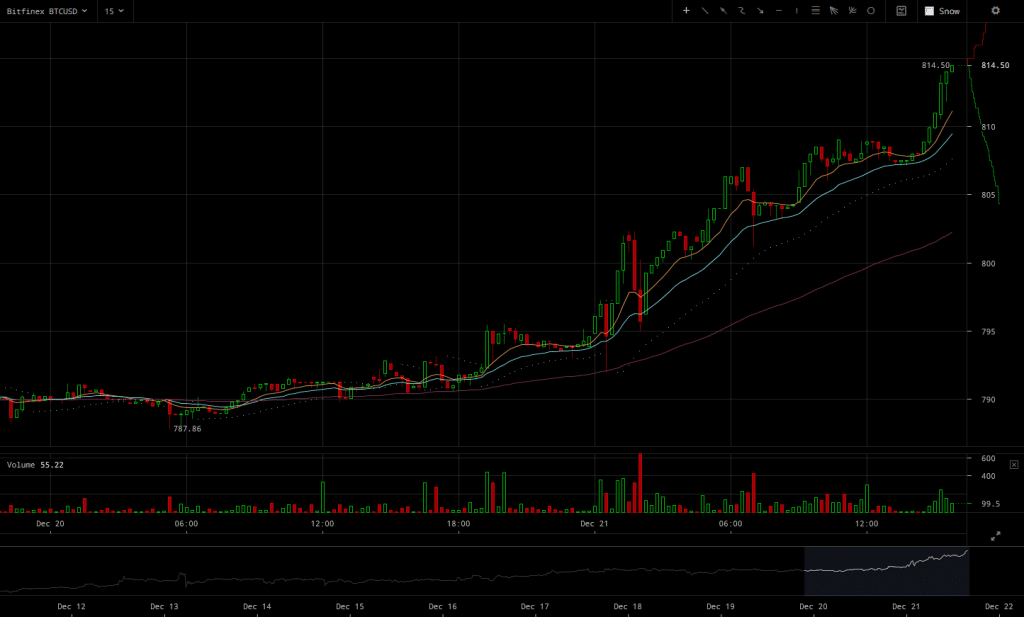 Bitfinex BTC/USD charts make it clear that the bulls aren't playing around this time. With trading volumes almost double the average, bitcoin's price manages to rise above levels that would had been unthinkable ever since the bubble of 2013. With such an outlook, it almost feels like the market was building up for the current outburst of excitement throughout the trading sessions of several past weeks.
It's apparent that this is a full fledged bull run and the market's reception to it has been as positive as it could be. The few large sell orders that pressured the rise were followed by speedy recoveries and a continuation to the upward pattern. Traders were surely waiting for a follow up to the uptrend following the brief sideways trend of the last few trading sessions, and the uptrend is surely continuing.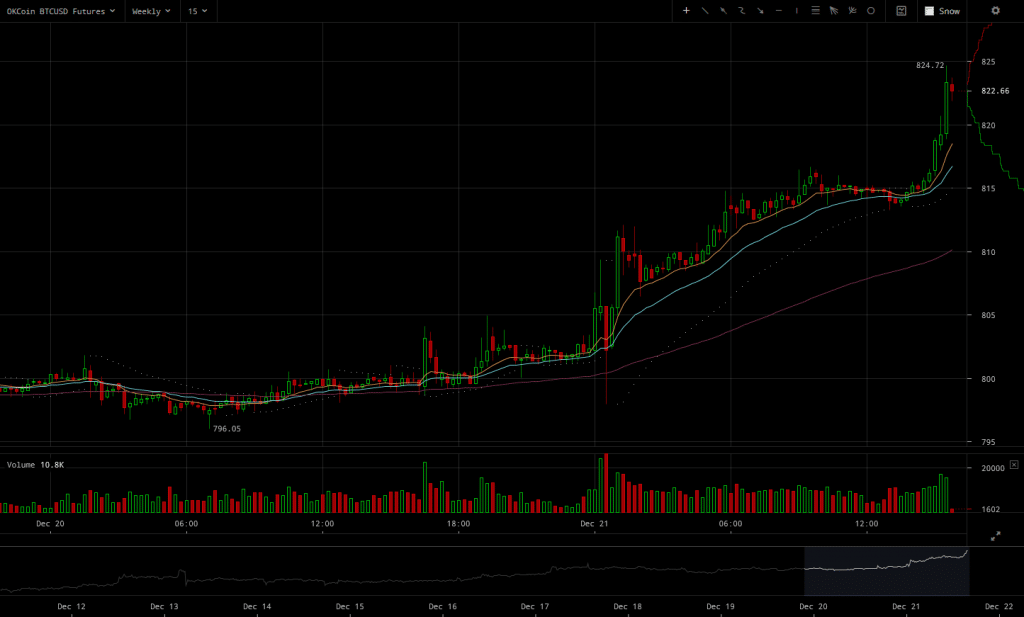 Futures markets seemed to exaggerate the excitement of live BTC/USD markets at the beginning of the ongoing rally, but that doesn't seem to be the case any more. Futures rates seem to have settled at levels with a smaller, but still developing ratio above live rates. This might indicate that futures traders aren't too confident that the price could rise much more, but most are surely confident that the new levels are here to stay.
Overall, the market seems to be welcoming the much anticipated rise above $800. Profit taking has probably not had an effect on the market just yet, but a return to pre-rally levels would still look unlikely under the current setting.