Bitcoin's price has once again skyrocketed to new three year highs, with bulls pushing the price higher and higher with every peak. It seems as though the sky is the limit with such a bullish market sentiment as back to back buy orders help the price rise amid historically high trading volumes like resistance is nonexistent.
Major Signals
Bitcoin's price shoots through new three year high points like there's no resistance to speak in what seems to be the dawn of another rally.
The few downward spikes observed in today's trading session were swiftly followed recoveries and more buying pressure.
While buy walls seem to be outweighing sell walls, the sell walls above $1135 levels seem to have grown in size since BTC/USD fell from its peak at $1150.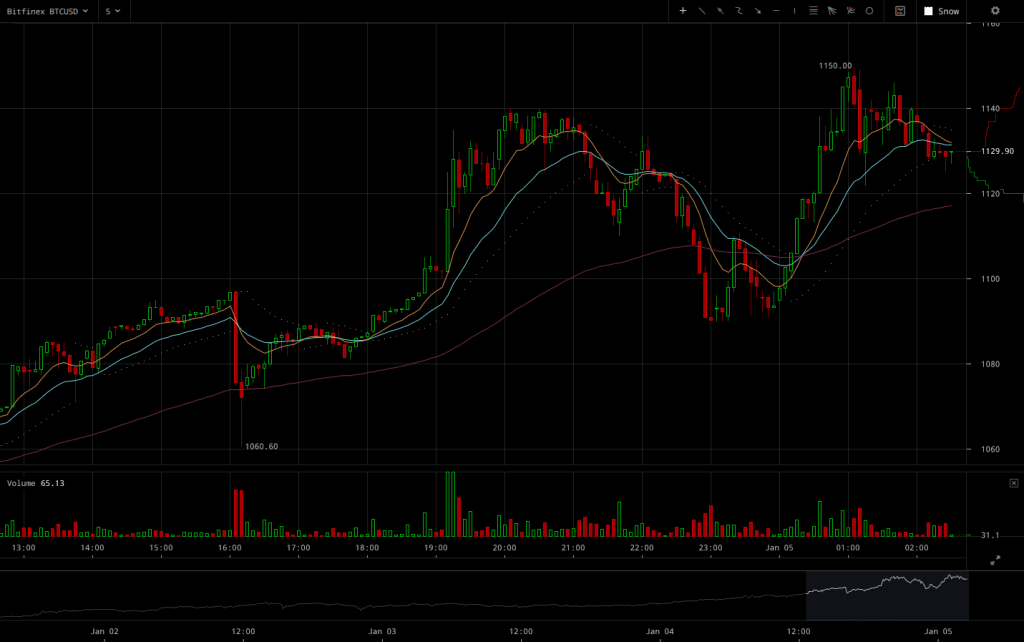 Bitfinex BTC/USD charts make it clear that bullish traders are making bitcoin markets their playfield as buying pressure sends ripples of the market sentiment bitcoin markets have across cryptocurrency markets. The current bull rally is shooting the price at three year highs with record breaking trading volumes.
Additionally, it's also worth noting that breaking the commitment of bullish traders during this rally has proved especially hard. With large sell orders failing to have any negative impact on the market's uptrend, more and more traders are marching ahead, riding on the rising price.
Volatility sure is a factor in today's trading session and it's probably going to stay around for a while but seeing the price settle could probably hindsight a continuation to rising with the current market sentiment.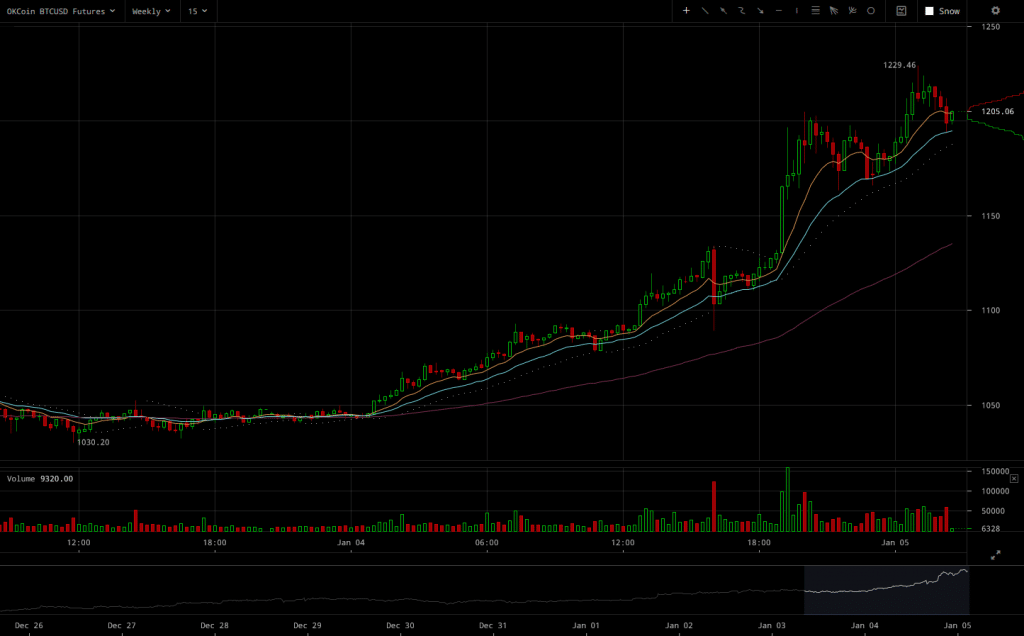 Futures markets not only share the optimism of live BTC/USD markets, but are also putting in a great chunk of exaggeration. As we can see in the above OKCoin BTC/USD weekly futures chart, futures rates have already peaked above bitcoin's all time high. This goes to show that a good deal of traders are counting on bitcoin price levels higher than ever. It might be a matter of hours for bitcoin to surpass its all time high.