Bitcoin markets weren't particularly positive in today's trading session as the market sentiment doesn't seem to showcase that of a bearish attitude in spite of the recent recovery. Thankfully, bitcoin prices have stayed above $1000 since the upward spike pushing the price above such levels, and support has been sufficient to keep the price from dropping again. However, no breakthrough seems to be approaching either.
Major Signals
Bitcoin markets are quite volatility but all the price swings are observed within a thin price range for bitcoin's standards.
While trading volumes are going down, the market might be awaiting another major development to decide what direction is to be followed.
For now, BTC/USD rates appear to be settling around $1015 after the price reached $1018 but failed to break through resistance.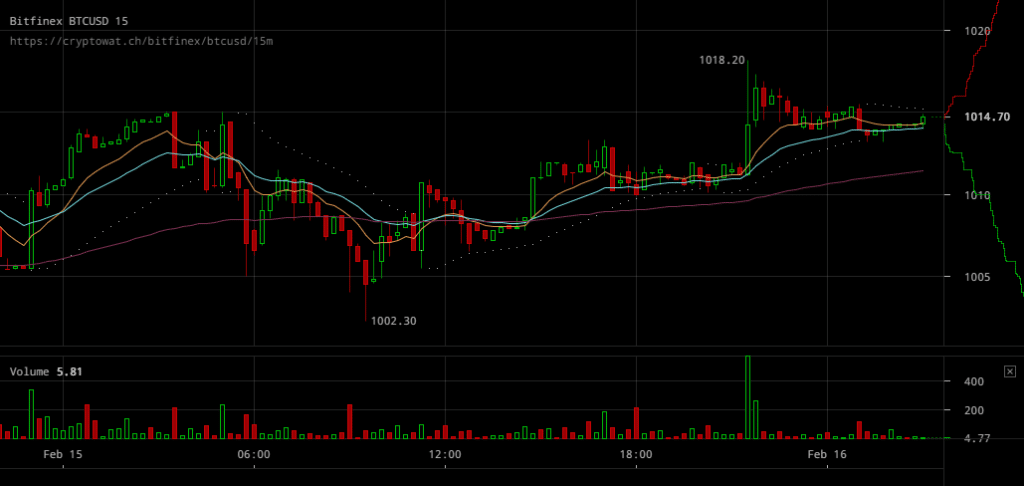 Bitfinex BTC/USD charts make the lack of interesting action in the last trading session apparent. No significant swings at either direction are taking place and neither resistance nor support are hinting a certain direction the current market sentiment could be building up for. The decline in trading volumes certainly is indicative of the indecisiveness that's spread across bitcoin markets right now.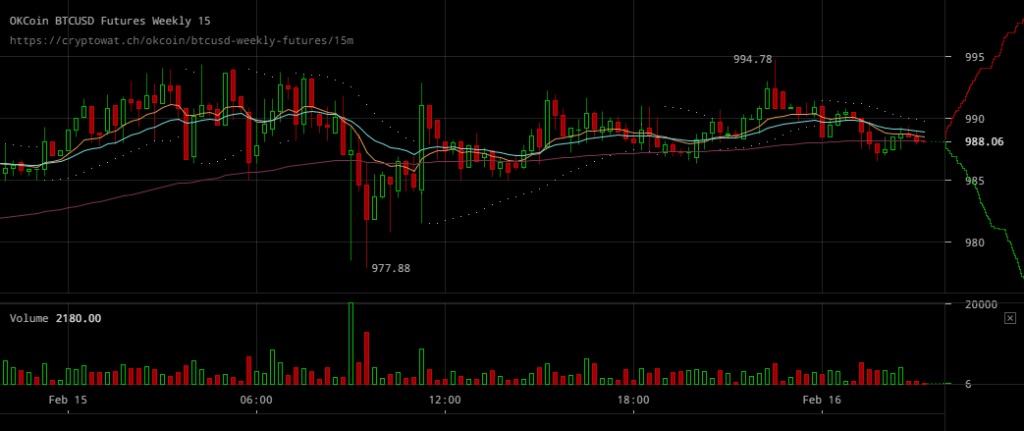 Futures markets aren't equally indecisive at the moment but that might be due to the pessimism futures traders have adopted in the last few days. As seen in the chart above, OKCoin BTC/USD wekly futures continue trading with rates lower than the ones of live BTC/USD markets as futures traders lead through a more volatile market.
The following trading sessions will certainly be important in determining the extent of the next major developments. The fact that trading volumes have gone down along with support mean that a sell off could impact bitcoin markets with a greater effect, yet resistance also seems to have been equally chewed through, being only a bit stronger in spite of the overall bearish mood in several of the last few trading sessions.