On June 10, Bitconnect coin, better known to the community as BCC, reached an all-time high price at $59.24. Within a three-month period, the price of BCC increased from $1.76 to $59.53, recording a staggering growth rate of 3,265 percent.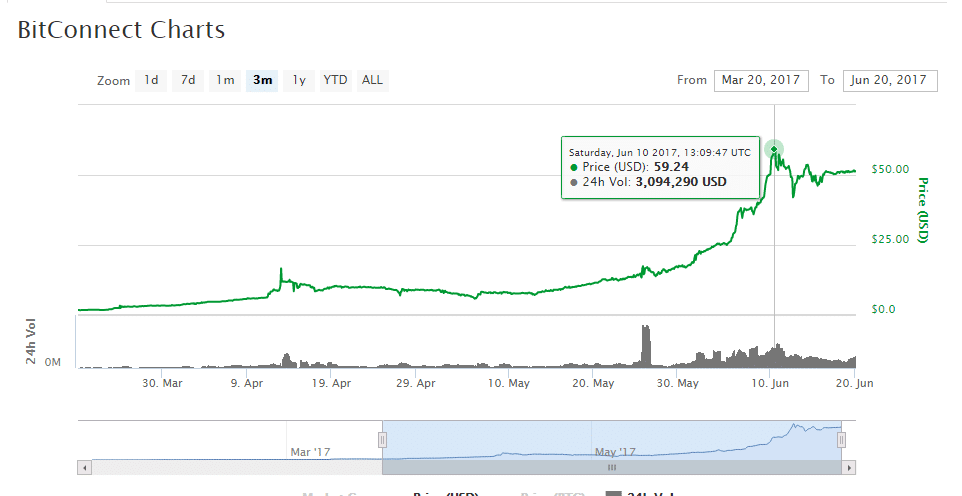 Since the beginning of 2017, the cryptocurrency market demonstrated an exponential growth rate, achieving a historic milestone on June 9 by surpassing $100 billion in market cap. At the time of reporting, the cryptocurrency market cap is valued to be $113 million, with bitcoin being 37.8 percent of the market.
"The fact that these gains have come from currencies other than Bitcoin are a good sign that this is less of a bubble and more of a resurgence of interest in crypto," said Techcrunch journalist Fitz Tepper.
A major catalyst that contributed to the rapid growth of the cryptocurrency market was the global adoption of bitcoin and Ethereum, two of the largest cryptocurrencies with a combined market cap of $77.6 billion. Since mid-2016, the demand toward bitcoin as a safe haven asset and digital gold surged as mainstream media outlets began to provide extensive coverage on the performance of bitcoin.
International newspapers including the Wall Street Journal continuously featured bitcoin on their front page, comparing the price trend of bitcoin to that of gold and the US dollar, the world's largest asset and reserve currency.
As interest and demand toward digital currencies such as bitcoin and Ethereum increased, an growing number of investors started to take interest in other cryptocurrencies in the market such as Litecoin, Ethereum Classic and Bitconnect that are amongst the largest cryptocurrencies and networks.
At the time of reporting, the market cap of Bitconnect, a crypto-network better known for its bitcoin lending platform, remains at around $346 million, making the Bitconnect network the 22nd largest cryptocurrency and blockchain network globally.
Bitconnect's three-month growth since April has been larger than that of most cryptocurrencies including Ethereum. Since April, Ethereum has recorded a 858.9 percent increase in price, from $39 to $374, triggering the interests of investors that have become enthusiastic of the launch of the Enterprise Ethereum ALliance (EEA) and the rise of initial coin offerings (ICOs).
This is sponsored post.