Welcome to the seventh rendition of the weekly curated news article where we provide you with the widest possible overview of the most important events that have transpired in cryptocurrency and blockchain developments. We've made sure to analyze all of the news reports available on the internet and reviewed them for relevancy. This article is best suited for weekly traders and people with a packed schedule that want to satisfy their interest in cryptocurrency and blockchain with minimal time expenditure.
This week, Intel is joining the market for blockchain as a service, in direct competition with the likes of IBM and Oracle. J.P. Morgan announces a digital coin, and it's as far from a cryptocurrency as it can be. Liberstad, a private city in starts an official cryptocurrency and abandons fiat. Coinmama, a popular brokerage gets hacked, 1.3m accounts affected, but company claims no loss of funds. Liechtenstein breaking new ice in crypto by enabling national post office to provide cryptocurrency exchange services. Germany begins blockchain consultation process to implement the technology for the betterment of the country. Surprisingly, Ohio records a low interest by citizens for paying taxes with cryptocurrency.
Weekly Bitcoin Price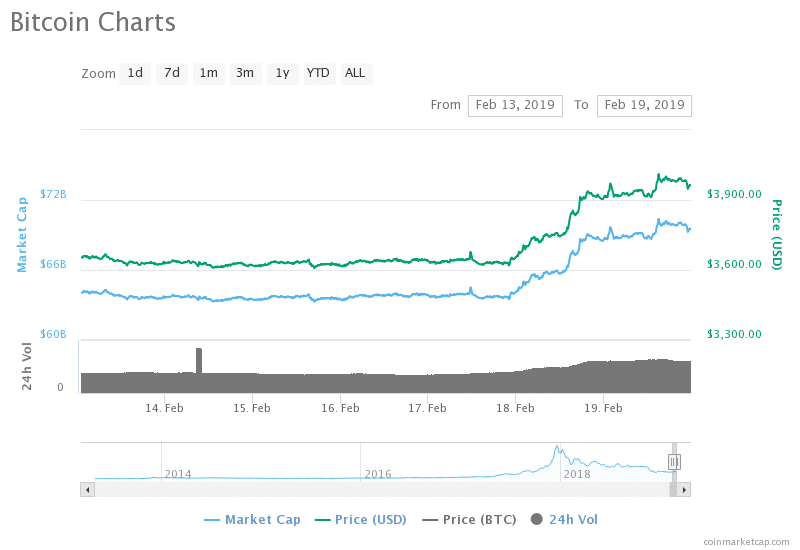 This week we are observing a nice growth in the price of Bitcoin, and it may actually be connected to real news stories. Specifically Germany officially beginning their consultation process for implementing blockchain technology for the country. Various negative events fail to influence the price conversely, so this may be a coincidence. But many blockchain projects around Europe have been reached out to in order to recruit them for the consultation process in various industries. The payments use case is definitely present in the process, as well as the taxation issue, but we have confirmation that healthcare is being activated as well. Overall a great move from the German government to use these relationships and come up with a groundbreaking strategy to improve the effectiveness of their administration. The markets have reacted positively to this piece of news, but it is unlikely that other news stories have contributed.
February 13th
The tech giant has been an active member of Hyperledger, an open sourced collaborative project created to promote blockchain technology, and now they have made it even easier for businesses to get started with implementing their blockchain solution. According to their marketing materials, the so-called "base configuration" with 10 cores, 96 GB RAM, 240GB SSD, 1TB Hard Drive, and 10Gbps of networking speed. The package is designed for permissioned blockchains, useful for private businesses. Specifically, any blockchain that does not require specialized mining hardware and software.
Permissioned blockchains have received their own criticism by the wider crypto community, but the truth is they can be useful for companies in order to reduce costs, or to improve communication with their partners in their particular industry or supply chain. Recently HSBC has reported that they've managed to save a quarter of the costs associated with their activities on the foreign exchange, as a perfectly good example of a well-rounded permissioned blockchain solution.
For now, only Intel has this kind of offer, but other companies that participate in the Hyperledger project can provide both hardware and support for businesses and enterprise. The difference is that they are not marketing in this particular way like Intel has chosen to do. It is sure to say that if Intel achieves a significant number of sales on this type of product/service, others will follow suit. The story is relatively important. Tech companies are moving forward to capture the emerging blockchain market, as more and more non-tech businesses discover the potential benefits and get interested in implementing a solution to reap the benefits. These types of moves by tech companies just add to the legitimacy of blockchain technology, and with that to open source cryptocurrencies such as Bitcoin and Ethereum.
Other news:
February 14th
And it's got nothing to do with cryptocurrency. Following up from the previous story, J.P. Morgan Chase has created a blockchain platform that could eliminate the need for SWIFT, at the same time improving the speed of transaction settlement from a few days to just a few seconds.
The bank received a healthy amount of media attention after announcing their plans, but much of that attention was also quite negative, as many reporters (including mainstream publishers) were quick to judge the company for calling its "JPM Coin" a cryptocurrency.
In reality, the "coin" is going to be an internal platform for institutional clients of the bank. They will soon be able to use the platform to receive and send JPM coins in exchange for USD deposited in the bank. The bank has created a "trusted" system where clients believe the bank holds one US dollar for every token that they issue.
Other news:
February 15th
One of the few establishments of its kind, Liberstad, a private city in Norway has created a cryptocurrency for official use in the city. The term private city is a foreign term for many of us, and with good reason. Usually it the government that takes care of the municipal responsibilities such as waste management, street maintenance, outdoor lightning, policing and others.
In Liberstad, all of these responsibilities are privatized on the basis that humans should voluntarily decide to undertake action. As mentioned the city is completely owned and operated by individuals and organizations, and now the official currency in the city is also privatized and has nothing to do with the rest of Norway.
According to the press release "City Coin is a secure and innovative cryptocurrency based on City Chain, a smart city platform that enables the design, implementation and use of next-generation services for smart cities and their inhabitants. Whereas cities currently rely on public services operated by government entities, City Chain gives existing and emerging cities such as Liberstad the opportunity to build and offer services conducted on a private, internal and voluntary basis." The currency will be a proof-of-stake currency, providing holders with rewards for staked coins, and providing legitimacy to the validity of the currency, unlike other closed, private, and permissioned systems.
Other news:
February 16th
Israel-based Coinmama revealed that data has been stolen from the company with various updates. Initially the company suspected data from only 420 accounts was compromised, but after investigating they discovered an additional 1.2 million accounts being affected by the hack. Coinmama explains that the compromised information is mostly related to email, passwords, and identity data, all of which is pretty scary information to lose. At the same time on the bright side, no credit card information or cryptocurrency has been compromised, as the brokerage holds neither.
The company explains that they are simply a facilitator of the trades and as such no critical information has been breached. However this is still a scary story, especially if you are a frequent user of the brokerage. This story brings about two different industry needs to the surface. Instead of securing identity by themselves, cryptocurrency and blockchain companies can leverage the power of projects like Civic (leave a comment if you know other identity management blockchain projects) to further mitigate the potential losses in the case of a hack, while at the same time increasing their effectiveness by focusing on the things that really matter to them.
Second, the risk of sharing your information with online services. Exchanges and other popular destinations are the main targets of malicious hackers who are trying to steal information they can sell. Your information is valuable when it comes together in a package with 1.3 million other people for just about $1500. Scammers and other malicious actors are more than happy to "invest" into getting your identity, especially for a price as low as that one.
Other news:
February 17th
With the worldwide adoption of email, the need for postal services has diminished rapidly and has caused a significant amount of financial strain on the post offices on a national level. Liechtenstein's government-owned post office started to sell Bitcoin in the capital city of Vaduz.
The plan is to expand across all venues and include more cryptocurrencies as time passes by including, but not limited to Ethereum, Litecoin, Ripple, and Bitcoin Cash. Once a visitor purchases cryptocurrency, they will receive a physical wallet with the public and private key needed to access the cryptocurrency, most likely a paper wallet. The crypto exchange services are enabled by Zug-based Värdex Suisse, a financially regulated blockchain POS operator. The post office explains that they have been offering currency exchange services for a long time, and the addition of cryptocurrency to the roster is a very simple change for them.
Interestingly, at the same time, this is most likely the first government-owned cryptocurrency exchange operator in the world, as we have no indication of any other government organizations selling cryptocurrency. We have no indication if they will be purchasing cryptocurrency in the future.
Other news:
February 18th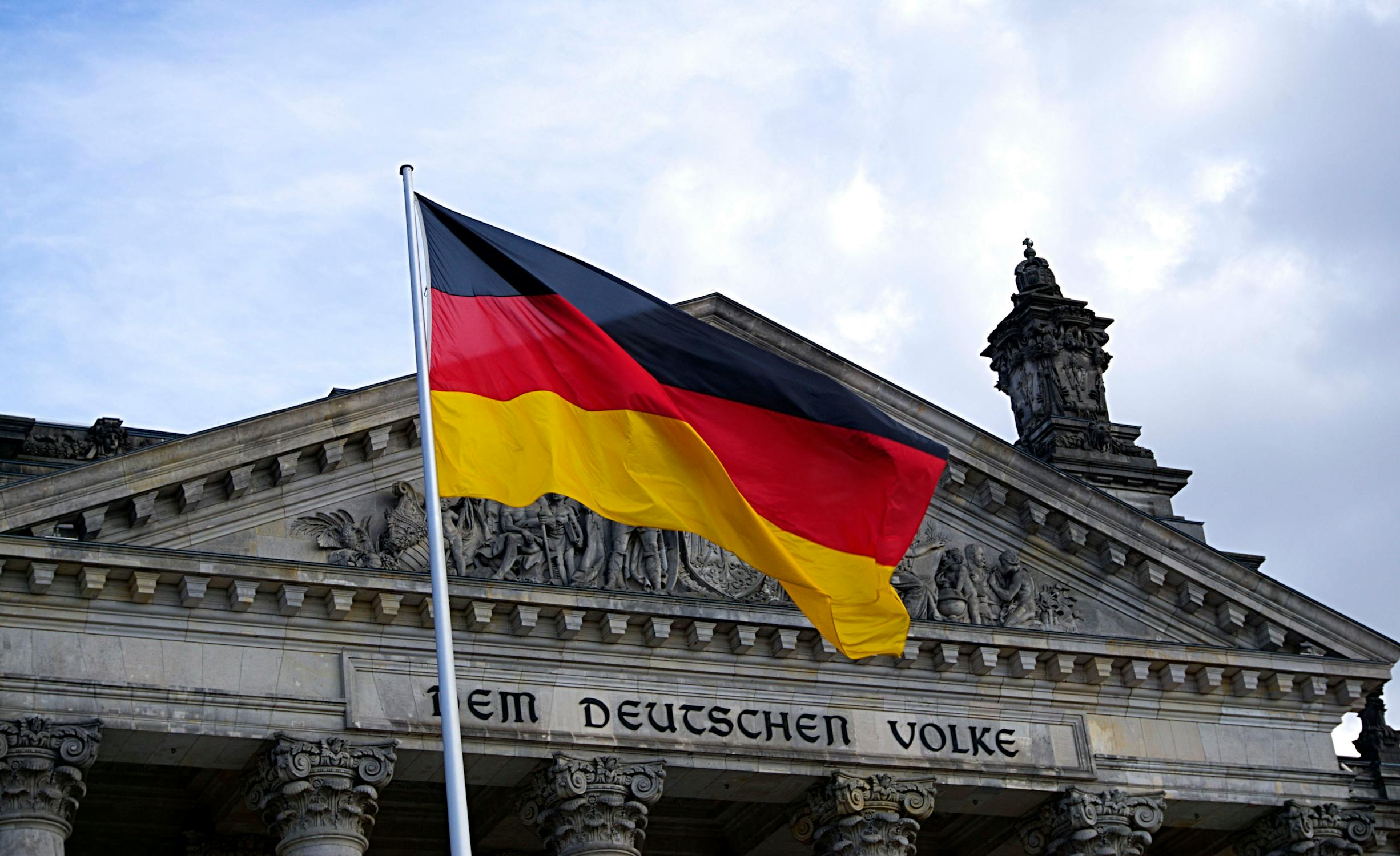 Beyond the methodology on how to pay taxes for cryptocurrency and when, Germany has been on the back foot in regards to the technology. Berlin, as one of Europe's major startup hubs hosts about 170 companies that are interested in one or another way in blockchain technology.
Now the government is giving the green light to begin the discussion. How can blockchain technology be used to improve the country and avoid risks along the way, with hopes to come up with a concrete strategy by the summer. Various companies have reached out to the legislation, as well as the other way around with the German government reaching out to various blockchain companies in the automotive, pharmaceuticals, healthcare, energy and even public sector administration.
For now, Germany has no legal infrastructure, and this represents a barrier for startups that want to push the limit, as they are unable to understand what constitutes a legal use of the technology, and many of them would not expose themselves to legal risk. This is the beginning of a forming moment for German blockchain policy, one that will define how the country looks towards the technology, as well as companies that operate in the industry.
Other news:
February 19th
When Ohio first started accepting tax payments in cryptocurrency back in November 2018, they must have done it with the idea that there will be a demand for the possibility. Unfortunately for them, it seems that Ohio citizens are not interested in paying taxes in this way, most likely holding their cryptocurrency tight in hopes for future rewards.
In fact, only two tax payments have been made using Bitcoin in the past three months. There was not a lot of information available, but this story reveals an interesting insight into crypto users. We really don't like paying taxes with cryptocurrency, but would rather use fiat if we can help it.
Other news:
---
That's it for this week. As always, share your opinions about the most interesting ones or link those stories we might have missed in our collections, which you found interesting and noteworthy over the week. You can also send us suggestions of stories to include in the next list if you find something interesting over the next days.

Featured Images via Pexels and Unsplash. Market data from CoinMarketCap.