In 2016, the global e-commerce sales reached a record-breaking $1.9 trillion USD. The Etheriya Project aims to tap into this market with a very high profit potential.
eBay on the Blockchain
Etheriya is a blockchain-based auction marketplace that leverages Ethereum smart contracts and allows users to buy and sell both physical and digital products and services quickly and securely. Some of the products that can be sold on the auction platform include:
• Automobiles
• Books
• Clothing
• Electronics
• Real Estate
Intangibles such as other blockchain-based products and services can also be bought and sold on the Etheriya auction platform. In fact, the only products and services that will not be allowed on the platform are those that are considered to be illegal, destructive or harmful to mankind, such as illegal drugs, weapons, pirated goods and pornography.
The Etheriya auction marketplace offers three primary services for online merchants:
Auctioning – Merchants will be able to execute blockchain-based auctions for their products and services. This will be a free service for the time being.
Buy Now – In addition to the traditional bid model, merchants can also set an instant "buy now" price on their auction listings. This will be a free service for the time being.
Boosted Services – Merchants will be able to have their listings featured on the homepage or at the top of a category. A small fee is required for featured listings.
The Benefits of Etheriya
Etheriya's auction marketplace offers a number of benefits to merchants and consumers alike.
Security – Thanks to the immutable nature of smart contracts and blockchain technology, both merchant and consumer will benefit from a level of security and privacy currently unavailable in traditional ecommerce applications. Since all transactional information is stored on the blockchain, which cannot be manipulated or corrupted by outside parties, merchants will benefit from a significantly lower instance of fraud. Consumers will be able to buy with confidence knowing that what minimal personal information they may need to provide (e.g. email address, shipping address, etc…) remains private.
Lower Fees – Traditional payment methods like PayPal and credit card processors take a fee off the top of every transaction – usually a percentage plus a fixed amount per transaction. Etheriya does not charge transaction fees, meaning that merchants get to keep 100% of their earnings. Since merchants will no longer need to factor these fees into their pricing, consumers may benefit from lower prices on goods and services.
Faster Transactions – Unlike some traditional payment methods, where approval can take days, cryptocurrency transactions go through immediately. There is no wait time, no review process. This means that merchants will get paid immediately upon order placement which results in faster order fulfillment for the consumer.
The Etheriya ICO
In order to fund the development of the auction marketplace, Etheriya is holding a token crowdsale. Launched on June 21, 2017, the crowdsale will run through August 10, 2017. The project's token, Etheriya (RIYA), has a total supply of 100 million, of which 85 million will be sold during the ICO. The remaining 15 million will be distributed evenly between the developers, The Etheriya Foundation and their bounty program.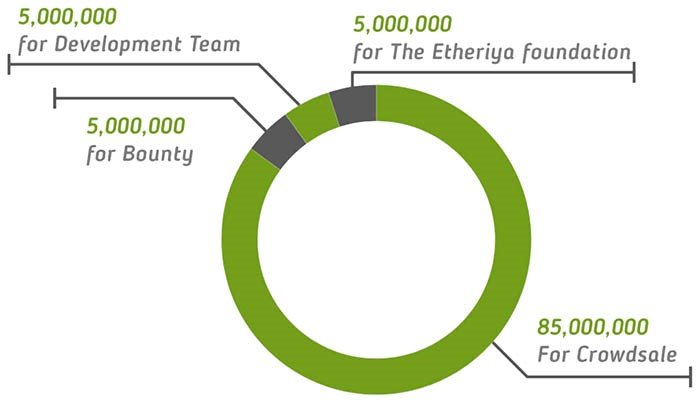 Since RIYA can only be purchased with Ethereum, users will need an ERC20 compatible wallet such as:
• MyEtherWallet
• MetaMask (browser add-on for Chrome & Firefox)
• Mist
• Parity
• imToken (Android or iOs)
Currently, 1500 RIYA costs 1 ETH. Once the ICO has raised 3000 ETH, however, prices will go up, to a 1000 RIYA per 1 ETH cap once 30,000 ETH has been raised. You can join ICO here. At the conclusion of the crowdsale, ICO funds will be allocated as follows:

Important links:
For more information about Project Etheriya, visit their official website or download the whitepaper. For more information about the crowdsale or how to purchase Etheriya (RIYA) tokens, visit their ICO page.
This is a sponsored post.

The views expressed in this post do not necessarily represent the views of 
Crypto-News.net or its writers/editors.