The first Wednesday of every month in Amsterdam offers a unique opportunity for every Bitcoin and blockchain enthusiast.
This month, it was hosted in a different location than the last two times we went there, and we were there to gather information and generate this report for you guys!
The hosts
Thanks again to BitcoinWednesday for organizing this conference time and time again, as it is the single largest conference that supports the propagation of the Digital Currency Revolution in the Netherlands.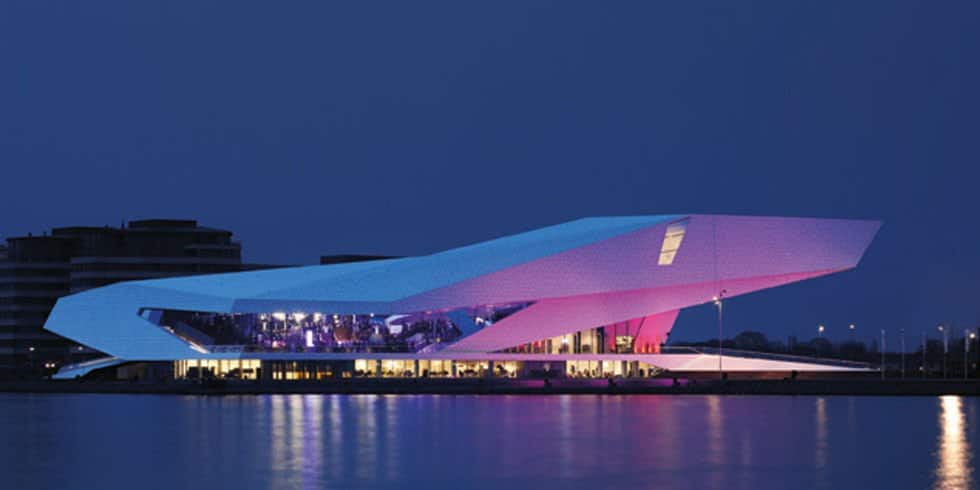 This time around it was located in a pristine and unique location in Amsterdam called the Eye Museum. It's a fantastic location that features a restaurant, as well as multiple movie theaters and conference rooms. We were in a room called "The Room at the Top"
My take on the event
Arriving at the location, I was greeted by the beautiful people of the organization, which are all volunteering for the success of the project. After showing my address that I used to pay for the ticket, I was guided to find the conference room.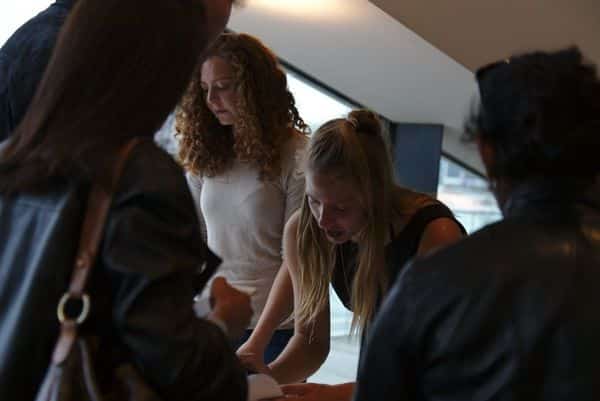 That turned out to be a bit tricky, but after 10 minutes of aimlessly trying to find the conference room, I finally got it.
What awaited me inside was something that I've grown accustomed to expect. A room full of Bitcoin, Blockchain, or Crypto Enthusiasts!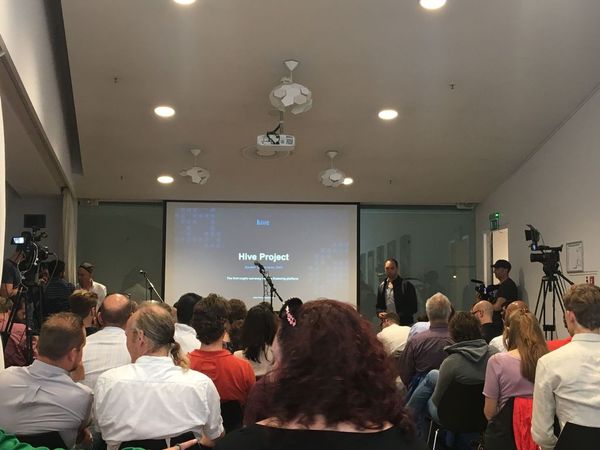 The conference started with a presentation about a new blockchain company called "Hive", which strives to connect with small and medium businesses and streamline the payment processes that they undertake in their day-to-day activities.
The usual waiting time before a payment is settled using the current system takes up to 70 days, but with their implementation, it would only take minutes.
They have an ICO happening right now, but don't take this as encouragement. Do your own research and evaluate.
Bitcoin and Fiat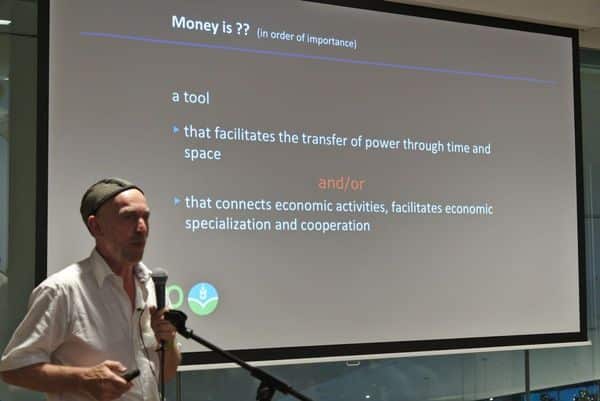 After Mr. Domen's presentation, we experienced a drill down into the differences and similarities between Bitcoin and Fiat currencies, in correlation to solving money related issues.
Together with Mr. Henk Van Arkel, we went through many iterations of his research and observed how Bitcoin doesn't really solve the real world problems in its current state. There is hope though as we are all going to experience the bliss of blockchain technology in this lifetime.
He also shared the details of his own projects with currency; mainly where money and services were being digitalized and contained within a small ecosystem. These projects were usually implemented with Fiat and resulted with up to 80% of the money to remain in the location where they were (at the beginning of the project).
Need Bitcoin?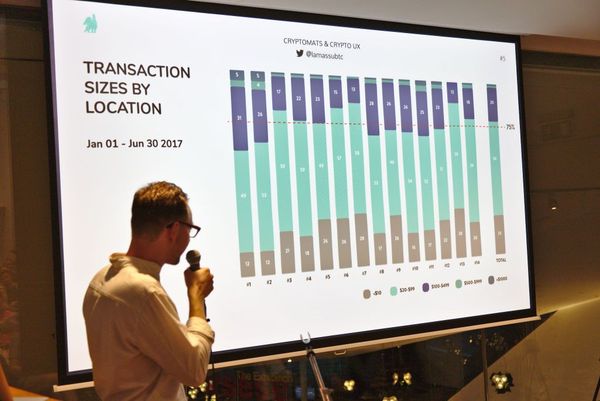 Zach Harvey, CEO of a Bitcoin ATM company called "Lamassu," gave an amazing presentation that was packed full of information gathered through the use of these machines for the past couple of years.
Safe to say, and I am sure that many of you will agree, a lot of people are curious as to what cryptocurrency and Bitcoin can do for them. Does it really work? Is it safe? How does it work? and other questions can easily be answered by getting some Bitcoin and experimenting.
Experimentation is a main reason why people use Bitcoin ATMs given most purchases of Bitcoin are around $20. This amount suggests that the people that are buying Bitcoin from ATMs are merely getting acquainted and introduced in the right way.
Furthermore, Zach believes that ATMs are just a transitionary phase in blockchain development and that they will not be used in the future. Until then, the ATMs produced by his company are one of the best, and most convenient choices for newcomers to obtain Bitcoin for the first time.
Augur Release Update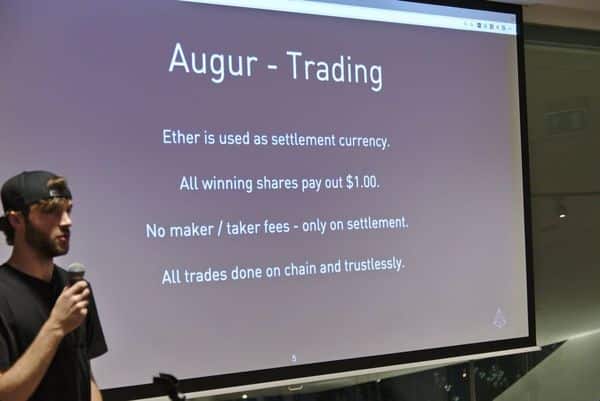 The speaker from Augur's team was really in a hurry, but that's understandable as he was working on a USA time frame while being in the European Union. After his speech, he immediately went to attend a weekly meeting, and afterward joined us for drinks in the restaurant I mentioned at the start of this article.
He told us more about the development cycle of Augur, how it's going to play out, and what is to be expected. If you want to take a look at his presentation, you can find all of the pictures right here.
Statebox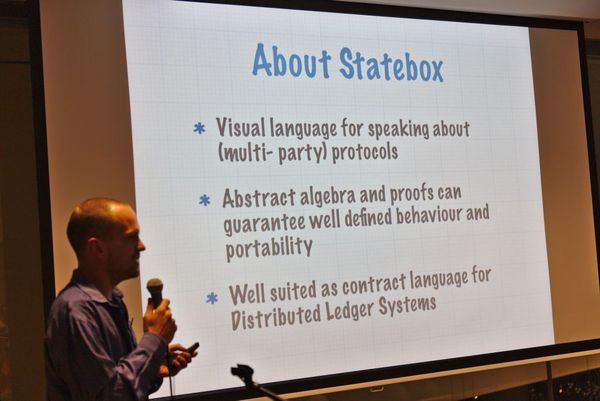 Next up was a presentation about Statebox; amazingly hilarious at moment while at the same time discussing complex topics. Jelle Herold is the inventor of a logic-based programming language that he calls "Statebox".
This programming language can be used to create smart contracts that will last the tests of time, can be changed through consensus, and can engage with other blockchains. While still in development, with a rough user experience, this language has already proven itself to work.
The very next day, me and Mr. Jelle met once more to further discuss his invention, where he revealed to me that it has been implemented to manage bookings for trains, and due to it's nature it managed to save about 15% off of every booking.
---
The Speakers
Domen Ursic
Chief Marketing Officer at Hive Project. Prior to joining Hive, he worked as the ICO adviser for ICONOMI and brings his knowledge of both old and new economies to the team. Before his involvement in ICONOMI, Domen provided PR and marketing consultancy services to several domestic and international companies.  He also has a reputation in Slovenia as an adviser to successful political campaigns and elections in the region.
---
Zach Harvey
Zach and his brother Josh began working with Bitcoin in 2011.  At the time, the two of them had decided to start accepting Bitcoin payments at their Tel-Aviv-based online guitar shop.  In 2013, obsessed with the problem of making Bitcoin more accessible, the Harvey brothers created the prototype for one of the world's first Bitcoin ATMs which they initially designed to bring to Bitcoin Meetups in Manchester, New Hampshire.
---
Jim Blasko
Jim is co-founder and chief cryptographer at CryptoMarket, a cryptocurrency-based e-bay; bCommerce Labs, an incubator for blockchain projects; and Aspire, his solution for blockchain asset creation. He was the creator of Unbreakable Coin, which was recently one of the most profitable coins in the world to mine.
---
Jelle Herold
Jelle is a creative thinker and hacker with a background in art, mathematics, physics and computer science. He wrote one of the earliest smart contract implementations pre-blockchain and is the author of Statebox, a new logic-programming language for smart contracts that can be deployed across blockchains. He has a decade of experience in leading open-source software development and a degree in Artificial Intelligence from The University of Utrecht in The Netherlands. Over the last three years he has participated in and won various hackathons, such as "hack4good."
---
That is it for this month, but stay tuned, as we will cover this event next month as well. As always, I am very grateful to be a part of this blockchain/bitcoin/crypto community, and to write for you guys, so if you feel that this article has value for you, go ahead and share it on your social media profiles.