Welcome back to our regular weekly series where we cover the winners of the continual competition to raise money, attract buyers or investors to a cryptocurrency or blockchain project.
Every week we look at the trackers and give press coverage for projects that have fully completed their sales. If you are looking for projects to invest in, this is not the article for you.
If you are seeking to learn more about the current state of affairs and which projects have experienced success, then this is the place for you.
As a blockchain/crypto enthusiast, you can use this article to quickly inform yourself of what is new on the market. As an ICO leader, you can use this article to see what projects experience success, learn more about their messaging and approach to token buyers and maybe pick up a few ideas.
This list covers all of the projects that ended successfully between the 15th and 22nd of October. 36 projects were scheduled to achieve their goals in this time period, but only 5 of them achieved success.
The total amount raised in this week was US$30,078,268.
Without further ado, let's get started with discovering the winners. Today's list is top-to-bottom, meaning you will first see the top winners, and we work our way to the bottom.
---
Institutional Grade Crypto Trading Platform
Caspian wants to be a complete asset management platform that engages in the complete trade cycle. It strives to combine all crypto exchanges, provide access to trading algorithms, historical data, and much more. They've developed proprietary systems to enable traders the best opportunity at profit.
One of the major concerns here is that it causes traders that fully accept the platform to have a central point of failure, which once hacked practically guarantees a complete loss of assets. Let's hope that doesn't happen!
Amount raised: $19,500,000
ICO concluded on: 19th Oct 2018
Country of Origin: Cayman Islands
---
Wearing the Future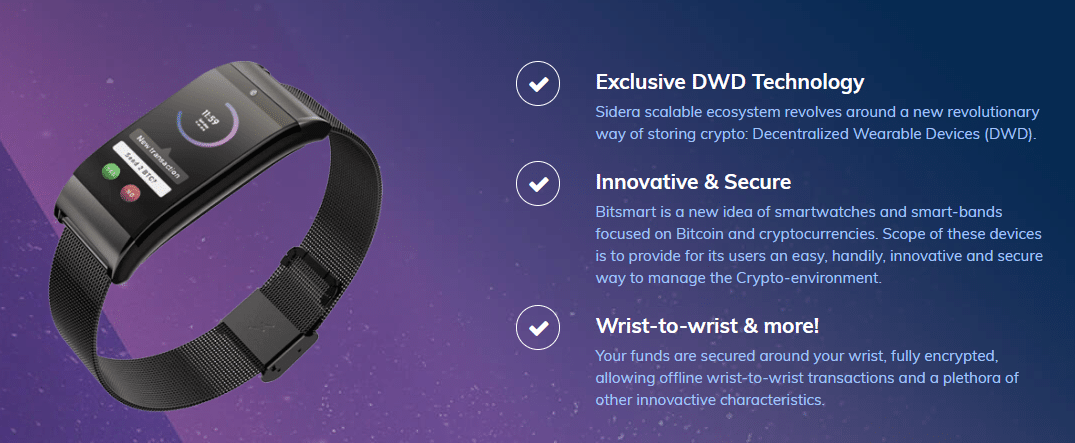 Wearables have been growing in popularity, so it's a natural progression for the crypto ecosystem to begin developing wearable wallets.
Sidera wants to create the first two decentralized wearable devices, the BitBand and BitWatch. These devices will enable users to store and control their assets, right on their wrist.
There are plenty of features planned for these devices such as:
Entropy seed generation
NFC POS payments
Crypto-to-Fiat convestion
Wrist-to-wrist offline transactions
Invisible mode
The watch will adapt to the user's natural body rhythm and will supposedly be able to identify is somebody else is wearing your watch. We are not sure if this is actually possible, as there should be minor differences between body to body. Creators still claim that the watch will be able to measure your pulse and temperature and generate a private key from these sensory inputs.
Amount raised: $3,300,000
ICO concluded on: 15th Oct 2018
Country of Origin: Lithuania
---
Decentralized Transportation Solution
The crypto UBER is here. RedCab is a decentralized peer-to-peer taxi solution. Users can opt-in and use the application to order and pay for transportation. Users can also become drivers and earn the proprietary REDC token generated as the successful realization of this ICO.
The company promises not to take a cut from the driver's fares, nor cause unnecessary costs for passengers, but rather strives to monetize their platform through the use of geo-ads.
Their blockchain solutions uses a proprietary Proof of Driving (POD) algorithm that tracks drivers as they are using the app. Of course, this business model needs to be proven in an actual use case to determine whether or not the market is ready for such a solution, or rather if the solution itself is viable.
Amount raised: $2,877,240
ICO concluded on: 15th Oct 2018
Country of Origin: Egypt
---
The Framework for Scaling the Token Economy
This blockchain agnostic solution's main goal is to create a platform that will enable dApps to prosper and scale. There is a lot of similar projects that are competing for solving the scalability problem. It's an app race, and we are excited to follow through on the developments.
Menlo One stands a chance if they are capable to attract the attention of developers, provide them with support to implement their solution, and cultivate a userbase, whose problems will be solved, and needs will be met.
It offers a four-layer framework, and it mainly targets developers, promising them a cheaper, faster, and more effective solution than doing it themselves.
Time will show how Menlo One will progress, but mainstream media has supposedly shown a lot of interest, with Forbes naming the company one of the top ten Blockchain companies to watch in 2018, according to the project's marketing message.
We checked and the article really exists, with Forbes' author Andrew Rossow saying that Menlo One has solid credentials with an innovative dApp using their proprietary proof-of-reputation algorithm to secure the network.
Amount raised: $2,661,500
ICO concluded on: 15th Oct 2018
Country of Origin: Cayman Islands
---
Trade and Play
Extradecoin is a typical cryptocurrency trading platform. There is nothing fundamentally innovative, except perhaps their TokenPlay feature, where investors can play games. We are not sure what kind of games these will be, and whether they are gambling games or not.
They promise security, safety, margin trading, and enable investors to trade their crypto for other currencies.
These are the type of projects that even though successful, it is unclear how their token would work, and why they actually succeeded in their ICO. Our bet would be that they themselves invested the majority of funds into their own ICO. Singapore is growing rapidly, and this project seems like the pet of somebody rich enough to invest $1.7 million, only to avoid "failure".
Amount raised: $1,739,528
ICO concluded on: 15th Oct 2018
Country of Origin: Singapore
---
We apologize for being late on this one, see you next week!