Ever since bitcoin has been going mainstream, it has been observed that it has an inverse relationship with negative trends in global markets connected to real world events. While the notion that it, as well as other cryptocurrencies, could be safe haven assets is starting to grow among major investors and institutions, some novel examples of cryptocurrency use are popping around the world.
Bitcoin's potential as a safe haven asset or even perhaps a hedge against the global economy was for long shunned by how volatile it was. But with its recent rally making past volatility seem like a point of its history long gone, this use case is starting to gain traction again. As more and more major analysts are starting to show appreciation in cryptocurrency's potential to help investors hedge risks of market reaping trends, adoption of cryptos is only growing.
Ethereum is yet another winner in the large rally that had many cryptocurrency following bitcoin's price rise. ETH went through a price rise that is perhaps one of the greatest ones in cryptocurrency history. The recent trends rank it second -right after bitcoin- in terms of market capitalization.
With investors now continuing to show support for ETH in spite of a major correction following the coin's first major peak at $400, it is now apparent that Ethereum is continuing to stand right alongside bitcoin's success. And with that in mind, there's an interesting observation to be made in regards to what lies behind the support Ethereum receives.
At times of crisis, stock markets don't tend to do well. There's usually a strong correlation between geopolitical tensions and market movements in stock markets of the affected areas. Investors are seeking to hedge against potential risks, but it's hard to diversify assets on a local level and that's why entire stock markets seem to be going down under the threat of war.
As tensions between the USA and North Korea escalate, there's a steady flight of capital outside of Asian stock markets as both South Korean and Japanese stock markets are reacting negatively to Washington's diplomatic fight with North Korea. This is a situation that favors cryptocurrency's decentralized nature with investors being appreciative of how easy it is to take full advantage of it at such times.
In Ethereum's case, not only it is possible for investors to get a hold of it easily through an exchange, but its nature allows for investments that could act as an even more advanced hedge. The decentralized token issuance platform that Ethereum's infrastructure provides is perhaps another attractive feature for investors that could be affected by local geopolitics.
A recent trend in Ethereum's trading has Korean Won pairs with the cryptocurrency dominating global markets in terms of volumes. This is a trend that could certainly be linked to events relating local geopolitics, something that could also be showcased by ethereum's price charts.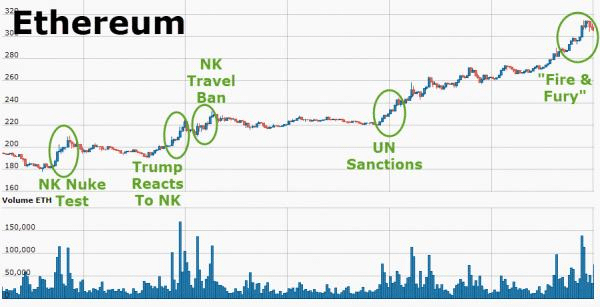 However, while Ethereum is still a significant part of the cryptocurrency economy, with its market cap being about 20% of the total crypto-economy's value and coming second to bitcoin's 50% dominance, such a trend could potentially have it rallying past current highs.
The market capitalizations of the Korean Composite Stock Price Index (Kospi) and Korean Securities Dealers Automated Quotations (Kosdaq) are around $1.55 trillion. Dare diplomatic statements escalate a bit further, even the smallest outflow of capital out of South Korean markets could have Ethereum rallying again in what could be a virtuous circle of buy orders between eastern and western traders.
Finalizing, it's worth noting that through recent trading sessions, South Korean traders have been showing their preference for Ethereum over other cryptocurrencies. That's something worth keeping an eye on in case of further escalation of the tensions related to North Korea, as it's something that could have Ethereum booming.