After an amazing run up to $11,000 followed by a correction, Bitcoin still manages to hold near the $10k mark. What seemed like a recovery for altcoins against BTC, turned out to be a short ride for most. Although Ethereum, Litecoin and some other cryptos reached an all time highs against fiat, their price correlation against Bitcoin seems to have bottomed out as quickly as they rose from a few days ago. The recovery toward $11k is going better than expected, but the $10k mark may need a month of testing before attempting another all time high. As the holidays loom around the corner, it's possible that another rush for Bitcoin will set ATHs, as stockings are stuffed with cold wallets and families talk about cryptocurrencies during the festivities.
Bitcoin may be the dominant cryptocurrency, but various cryptos will likely be discussed at these family events, such as Ethereum, Bitcoin Cash/Gold, Dogecoin or any of the thousands that have piqued the interest of the person promoting crypto to their family. 2017 has witnessed the birth of countless new currencies, some even managed to become listed in the top 10 market caps, for example, Ripple and IOTA. 2017 was also a year that made exponential gains for early investors in most altcoins, most notably: Ethereum, Dash, Monero, Litecoin, and Neo, just to name a few.
One cryptocurrency that has been silently climbing the ranks is Stellar Lumens. XLM is a distributed payment infrastructure similar to smart contract platforms, but offer features like Anchoring, Federated addresses, payment channels, and more. Stellar is also the platform chosen by IBM to serve as a backbone for transaction settlements for their private blockchain, "IBM's Financial Transaction Manager"
Price Speculation: Lumens have been doing amazingly well against fiat, reaching new all time highs of $0.098 and looking poised to breach the 10 cents mark and quite possibly reach 15 cents per Lumen. It also has strong support against Bitcoin, moving at a steady uptrend since the beginning of October. I doubt XLM will dip lower than 0.00000690฿ in the coming days. 0.00000620฿ and 0.00000550฿ would be good entry points if prices dip. Lumens could easily reach beyond the 0.00001000฿ mark in the short-term. A sudden rise in Bitcoin prices could push prices down below 0.00000500฿, but at this rate, XLM / USD is keeping up with the major cryptos and the relatively low price makes it a profitable currency to trade.
---
GameCredits is another cryptocurrency that is bringing innovation to the cryptospace. Although the coin itself is not technically spectacular (short block time, scrypt algorithm), the team is making headway into adoption and integration into the gaming industry. Strong partnerships with industry giants such Unity, serve to secure Game as the currency for cryptocurrency gaming. Other cryptos such as "Refereum" are advertising partnerships with Unity but: "Unity's official move into the blockchain/crypto space is through us [GameCredits]." as well as: "Developers are building stuff in Unity's office alongside Unity developers." – Jack Kuveke.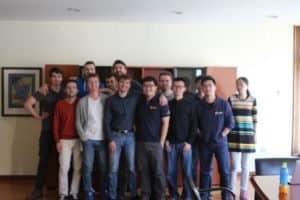 Jack alongside Unity and GNation developers in Belgrade.
GNation, whose official currency is GameCredits, is also streamlining adoption by sponsoring events, hosting competitions and building tools to facilitate purchasing and spending GameCredits. They are also the only gaming currency group currently part of the Hyperledger Project.
Price Speculation: Currently sitting on lows of 0.00018700฿, Game is showing strong signs of moving upward again toward 0.00028000฿ and settling near 0.00023500฿. These trading swings won't yield much short-term profit, but once GameCredits starts moving again, the next floors should be at 0.00034฿, 0.00046฿ and 0.00058฿. Against fiat, there is a chance Game will reach a new all-time-high before the end of the month, beyond $4.75. If the ATH isn't breached, $4.30 is more than likely to be the high-mark until the next surge upward.
---
Aeon is a low volume coin that is functional but still in development. Aeon is very similar to Monero, which is also undergoing development and testing but is recognized in the crypto-community as a fully private currency. What sets Aeon apart from Monero is its ability for lightweight transactions, taking it a step further and enabling traceable payments for even faster confirmation times and lower fees. A Monero transaction from an exchange at current prices cost upwards of $7.50 USD, while Aeon transactions currently cost less than $0.45. With more eyes than ever surveilling the blockchains, truly anonymous currencies will become a mode of operation for a large part of the community, not because of ill-intent or dealings in the black market, but for peace of mind in the future. Not all governments are open to the idea of cryptocurrencies nor do individuals want to publicly advertise their holdings for obvious reasons.
Price Speculation: Aeon prices suffered in October after the surge past 0.0007฿, but managed to stabilize around 0.00023฿, which is higher than its previous floor. Currently trading at around, 0.00037฿, there is great anticipation for the next swing, as the spread tightens and the prices move steadily upward. For buyers seeking to get in, 0.00027฿ may be the right place to set an order. Should Aeon spike upward, I anticipate great resistance around 0.00062฿. These trading swings are both profitable for short term trading and a good buy-in price for long term holding.
Trading markets can be volatile. These are my own trading opinions and should not be construed as investment advice. Always do your own research and chart analysis.
---
Featured image from BigStockPhoto.com