Hòla, bon dia (catalan for good day)!
I'm thrilled to present you with my experience during the Avalanche (AVAX) Summit! This was truly a one of a kind event in one of the most incredible cities I've ever been to. This was also a special trip because I was able to go with a team of 7 rockstar colleagues from Zebu Digital, Sparkworld, and Crypto-News.net.
Although it was a relatively shorter trip compared to other conferences. In the article below, I detail the highlights of the conference and what makes it and the AVAX community so special in my eyes.
Into the magical Poble Espanyol
Snagging a castle for your conference venue? Genius! While not entirely a historical piece of the city, walking the narrow streets of this massive complex brings the beauty of the Barcelona atmosphere right to you. Giving people the space to breathe, connect, work, walk around, and relax is what made this space the best venue for a conference I've been to. It makes me reconsider the amount and type of space I want to make available for the attendees of my future events.
The main venue tent was set up in a way that blew me away from the moment I entered. The white and red ceiling highlights, beautiful hanging plants, minimalistic design all around, and sponsor booths with couch seating around them made this space really POP! On the side, they were serving ice cold beverages and snacks, and at the back of the room there was an Avalanche-branded F1 car! My favorite booth was the Velhalla Vikings because they had literal Vikings there taking pictures with people!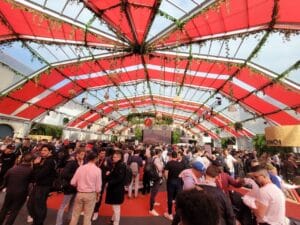 Restaurants and coffee shops right outside the tent added a level of convenience unseen in other Crypto venues. I've been to events where you have two options for food and the longest lines imaginable. Luckily, thanks to Hacken and Insurace, there was even free food and drinks during the entire summit! The best part was that the food was incredible, featuring some fire paella.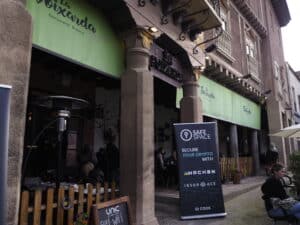 Walking around the venue, you see the architecture style and culture come to life. The picture below seems like it could be any street corner in Barcelona.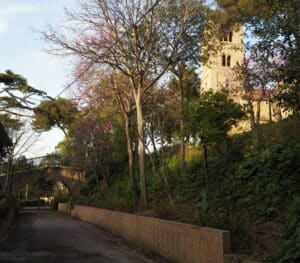 The best part of the venue was the speaker / VIP / press lounge, surrounded by incredibly dressed cardboard Chikns. Here we met some of the coolest people in the AVAX community, had incredible food, and drank the nicest coffee and cocktails. The outdoor couches, blankets, and DJ booth was a good touch and a favorite spot for the team to relax!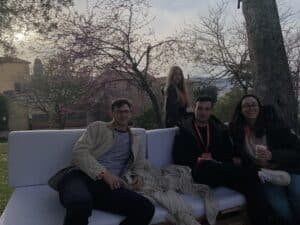 The people that made this inaugural ecosystem event so special
It's worth starting this out by giving a shout out to the Avalanche team for doing an incredible job with the event. It was executed flawlessly and I'm sure a number of people worked behind the scenes tirelessly to pull it off. We finally got to meet the Avalanche marketing legends, Jay Kurahashi-Sofue and Devon! Plus, our team members even got to meet Emin, the Founder and CEO.
One of the most interesting people I've met at the summit was a Velhalla Viking. He had endless stories about traveling and lessons on wellness, breathing, living a purposeful life, and much more. We decided we would bring ice baths to Zebu Live and teach people how to breathe correctly and relax in it.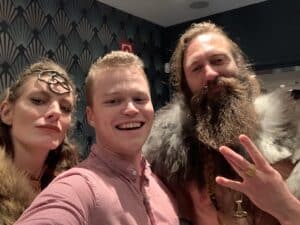 I was introduced to the Lens Protocol & Aave team at the event. In the group, there was a 19-year old innovator with a passion for unique and groundbreaking NFTs. He was leading development on the innovation team called Newt. Remember the person from Lens Protocol in my ETH Denver 2022 event recap article? Well I actually met her, Christina, at the summit and somehow recognized her. She's definitely coming to Zebu live for our web3 and music panel now!
In the streets of Barca, I connected with a Barcelona native who knew everyone and is a lethal weapon (because he's a Muay Thai master)… and an NFT visionary. He's a huge believer, as am I, that Utility NFTs are the next big opportunity! He has some incredible potential in the Music nft space.
I met Shira Lazar, and I have to say, what an incredible MC! We instantly connected over the difficulties of traveling while being a vegetarian.
I also picked the brain of the infamous Rug Doctor… such a great nickname! I'm thrilled to bring her to Zebu Live to speak about DeFi and NFT safety!
One of the best parts of this space and going to all these conferences, you see a good amount of people at future conferences and you build on those relationships. Some of the friends you make will come to be some of the most important people in your life and you may even make each other millionaires!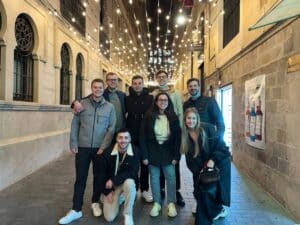 Frens that party together, stay together
Great branding can make the whole marketing plan and the Frens party nailed it, building natural excitement! The Frens Party hosted by Husky AVAX and Trader Joe was one of the most exclusive and difficult parties to get into. However, if you were early getting a ticket or asked the right person, you could find your way in. The lesson here is to make sure to book your tickets way in advance for these and get twice as many as you think you need!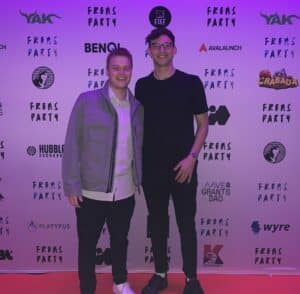 I also enjoyed attending the Metis and Chainlink panel and happy hour. I met Stani and the Aave team here too! A good spread of tapas and some exciting alpha that I unfortunately can't share here
The Best AVAX side event with the best views (might be biased)
I was thrilled to get the chance to organize an Avalanche Summit side event with my colleagues called Drink 2 Earn. This event was co-hosted by Sparkworld*, a next-gen NFT marketplace and community hub powered by AVAX, and Zone of Avoidance, a play to earn game built on Avalanche. Check out the incredible view of Barcelona we had during the event.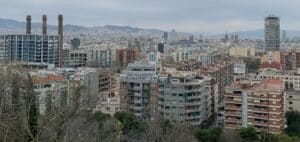 The views plus the comfort of being indoor during the cold temps combined for the perfect recipe of fun and networking! We served authentic Spanish tapas, had a live DJ, and an open bar. Sparkworld* also gave away over $5k in $SPRK token allocation to those that played the game at the event.
The learning here is to think of a unique name for your side event that's sure to capture the right audience! The only way to get a good crowd to your event out of the many is to make it look really interesting and valuable for specific people. The conference will automatically bring people to it! And give more insight on where the place is and how to get there! After this event, I can definitely see myself and Zebu Digital planning more of these events!
Up, down, around, and through the streets of Barcelona
Barcelona is an incredibly beautiful city. You can feel the good vibes everywhere you go. It generally seems like people are just happier in this city. One of the local families we became friends with told us how Thursday – Saturday is basically a non-stop party that doesn't end until late Sunday morning. Come Monday, people are still recovering and it is the worst day ever.
Well, it's currently Monday as I'm writing this, and although I'm in London now, I can confirm Mondays after a Barcelona weekend do suck.
A trip to Barcelona is only complete once you've wandered through the streets and visited the Sagrada Familia!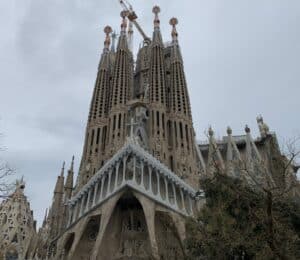 A Spanish language journey
Que tal? Muy bien, y tu? Yo soy Ashton. CómoComo te llamas? Encantado! Cual es la clave del wifi? Gracias! Hasta luego!
Quick tip, locals love when you attempt to speak their language. So be sure to study up on key phrases before you go to an event in a new country!
Studying Duolingo during walks home is much different than being there to learn in-person! Excited to continue on my Spanish journey, but next I actually need to brush up on my French skills before PBWS. And Portuguese? Oh boy, that'll be a tough one.
Where to next?
It will be a very busy month with CryptoCompare Summit and IRL NFT in London, Nonfungible Conference in Lisbon, Paris Blockchain Week Summit, the Zebu 1 year birthday party, After the Bell DeFi event, and ETH Amsterdam!
Learn more about upcoming events in our post, Top 10 Crypto, DeFi, and NFT Events of 2022.
Connect with me on Twitter or Linkedin and I'll send you a discounted ticket for Zebu Live!