ETH Denver is easily one of my favourite Crypto events I've ever been to! This was my first ETH Denver and now I know what I've been missing out on all these years. A big ethos of the event is community: community built, community run, community funded. When they first started ETH Denver back in 2017, they wanted to build the best community in Crypto. It certainly seems like they've achieved just that in 2022.
Below, I reveal the biggest things I learned from attending the event and explain what makes this such a unique conference* hackathon!
*ETH Denver is not a conference, they were sure to let us know
7 Things I Learned During ETH Denver 2022
1. DAOs are super hot right now
From conversations I had at the hackathon, it seemed like everyone was either building a Decentralised Autonomous Organisation (DAO), thinking about building a DAO, or actively involved in 3-4 of them.
DAOs are the obvious next sector of the industry to blow up. This is due to tooling being better, people understanding what the heck a DAO is (actually I'm sure most people still don't), and large organisations experimenting with DAO structures.
One of my favorite DAO projects —that I met the founder of — is Trash DAO, a project that lets you "throw away" your unwanted NFTs. Whether you went through a slow rug, got the carpet swiped out from under you, were suspiciously sent the most random JPEG NFT, or simply feel like you've wasted your money, you can now pool these terrible investments into a group of them. I look forward to witnessing how this and other interesting social experiments with DAOs will play out throughout the next few years. I say, keep them coming!
Anyway, while everyone else was hot on the topic of DAOs, I quite enjoyed another topic that was a big theme of the conference; the connection of web 3 and music. I watched a very insightful panel featuring a dj, a builder of the exciting Lens Protocol, and some other artists and executives in the music industry. NFT integration with music is coming to bring back power to the creators. Just have a look at the immense potential of the project TokenTraxx featured on Crypto-News.net.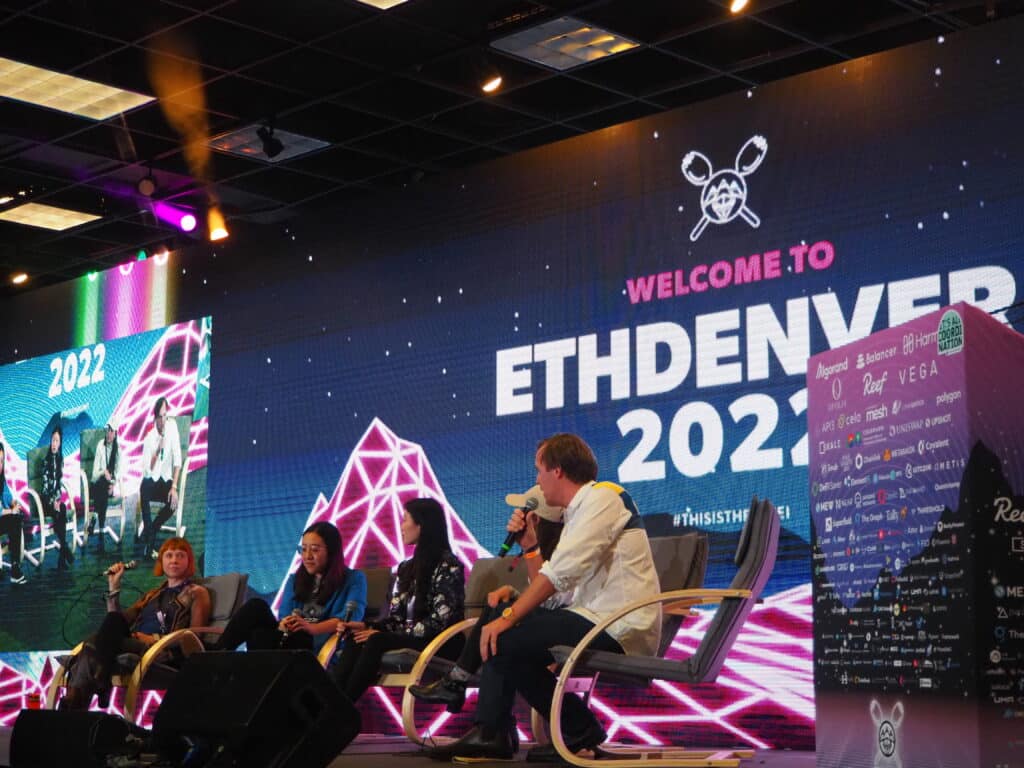 2. Vitalik Buterin has a great sense of style
Example #1:
https://twitter.com/ShibaArchives/status/1495101711786127364?s=20&t=fhgkG16LaFbEKRVdRvnS4Q
Everyone knows Vitalik Buterin, creator of Ethereum, is a very casual guy, not rehearsing his speeches too much, dressing in comfortable clothes, and not coming across as corporate one bit. But, going up to do your keynote presentation dressed in Shibu Inu pyjamas? That is a bold move.
Example #2:
https://twitter.com/elonmusk/status/1496252264171941888?s=20&t=fhgkG16LaFbEKRVdRvnS4Q
It was a crazy moment during the conference when the Bufficorn on stage took off his headpiece and it was Vitalik underneath! How long was he in the Bufficorn costume? We may never know. How many minds did it blow? A lot.
Regardless of what you think about Vitalik's fashion statement, we all know how influential he is. Since I was a wee lad first researching Crypto in my dorm room in 2017, I have admired Vitalik's ideas, passion, and dedication to building something incredible with the Ethereum community.
That's why I couldn't believe my eyes when I went to a Vietnamese restaurant for lunch on my last day in Denver and saw Vitalik taking pictures with the staff and new friends after a meal. I had to go up and take a selfie with the goat! All I had to say to him was "thank you for inspiring me and this generation of innovators."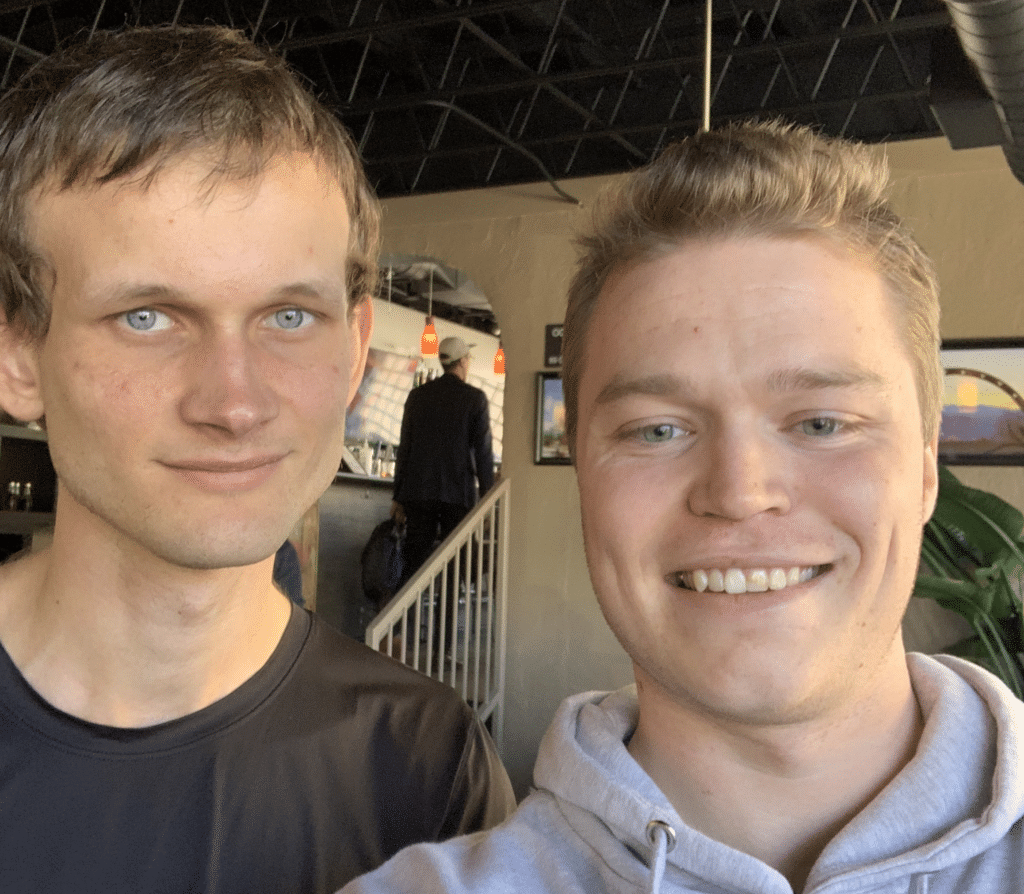 3. Andrew Yang is bullish on crypto and positive regulation
With the recent executive order by Biden (only upcoming chatter during the time of the conference), Andrew Yang reassured us that this is a good thing for the Crypto space. He told us this is one of the only times in Crypto history that we will have the chance to directly impact the future of this space and the regulation that may come.
For those that don't know who Andrew Yang is, he ran for the US presidency in 2020, touting Universal Basic Income (UBI) as a solution to poverty. He recently created a new political party called the Forward Party. He also launched Lobby 3 DAO to advance web3 technology and education in DC.
During his talk, he gave us an insight into how we can get involved in shaping the regulation being laid out. It's always reassuring to have someone in politics thinking forward into the future and Andrew ensured us that he's very pro-crypto!
My favourite quote of his was "Web3 could be the biggest anti-poverty initiative in the history of the world." He mentioned Crypto can give so many people access to the financial system and increase direct money transfers to impoverished people.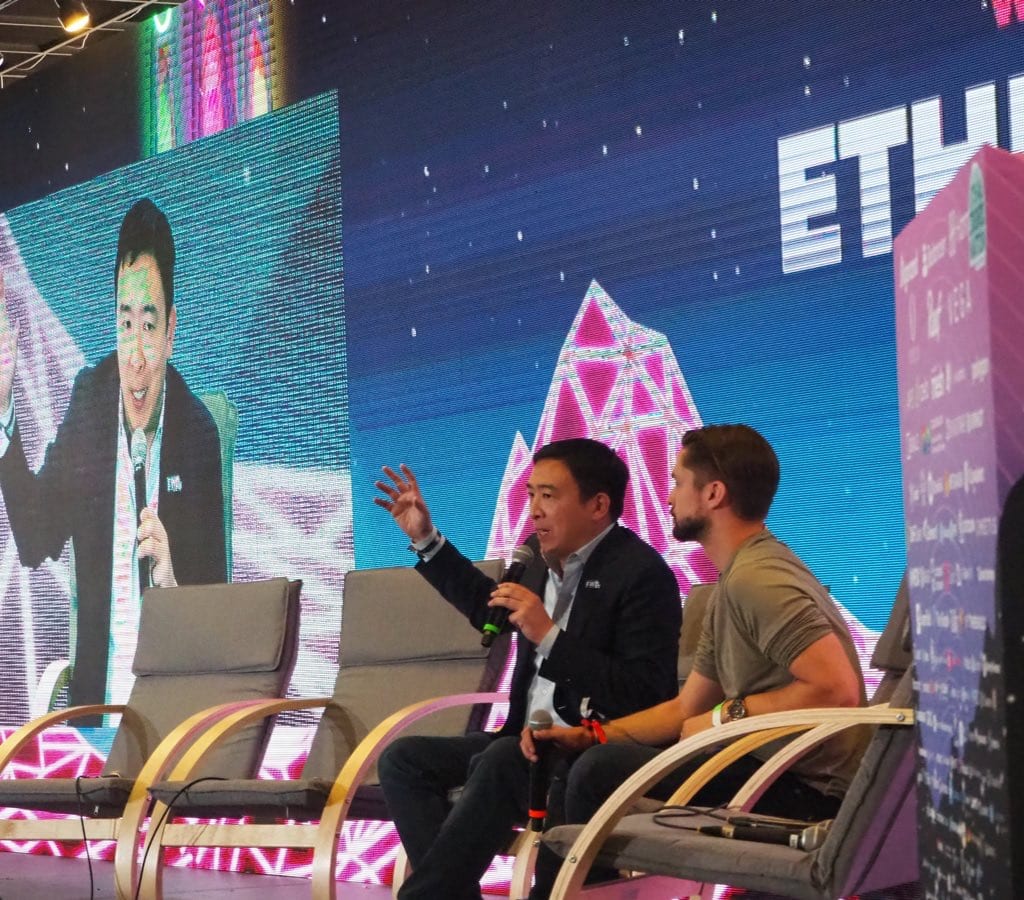 4. Bean bags and dj chill rooms are needed at every event forever onwards
One of ETH Denver's best investments was their branded bean bag chairs. They were large, extremely comfortable, and always taken! When you were able to find one vacant, it was a true godsend. Since you're always on your feet and chatting 24/7, it is very nice to have a little rest now and then. The bean bag chairs were scattered throughout all 6 floors of the Denver Sports Castle, and then loads of them in the "DJ chill room." This room also had some fun neon lights and a DJ slinging beats all day long.
Not only were Vega sponsors of the DJ chill room, but they also had the best merch I've ever seen. They had high-quality electric lighters, water bottles, the best stickers, and even a set of branded skis they gave away. By far, they were the winning sponsor of the event! I just hope we can get them to come out to Zebu Live, our 2-day conference coming to London September 22-23, 2022.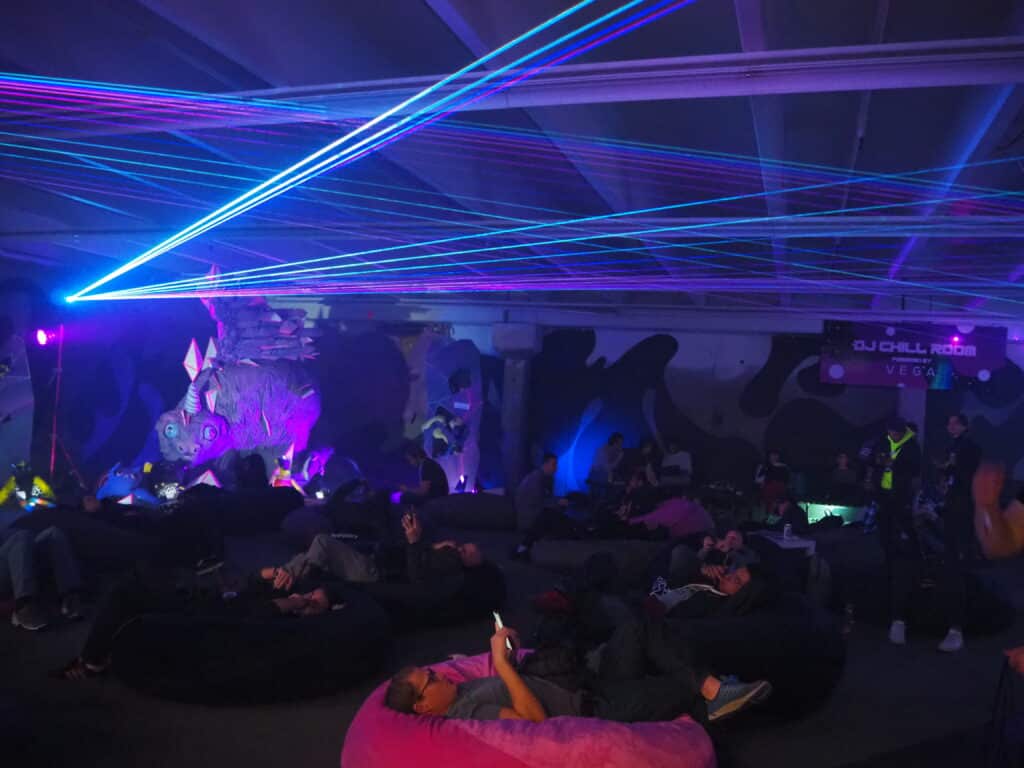 5. The term #BUIDL went mainstream at ETH Denver 2018
It was said that Kevin Owocki, Founder of Gitcoin originally coined the term. However, it wasn't well known until ETH Denver 2018 in the low of the bear market. Instead of investing and marketing, everyone was now focused on #buidling and #hodling. This was an incredible marketing tactic and a loud rally cry. It was likely one of the best hackathons in terms of quality projects being built.
#BUIDLWEEK was an awesome week dedicated to building during ETH Denver 2022. Buidlers brought their A game and wowed the judges, per usual. I'm biassed towards one project in particular called battlezips, which got in seventh place out of over 100! They built a cryptozombies-esque game that helps you learn and develop zk rollups. Have no clue what BS buzzword I just used? Check out this helpful explainer on zk rollups! It was one of the top 30 projects that presented in front of Vitalik Buterin and got criticism from the GOAT. Make sure to follow Battlezips on Twitter!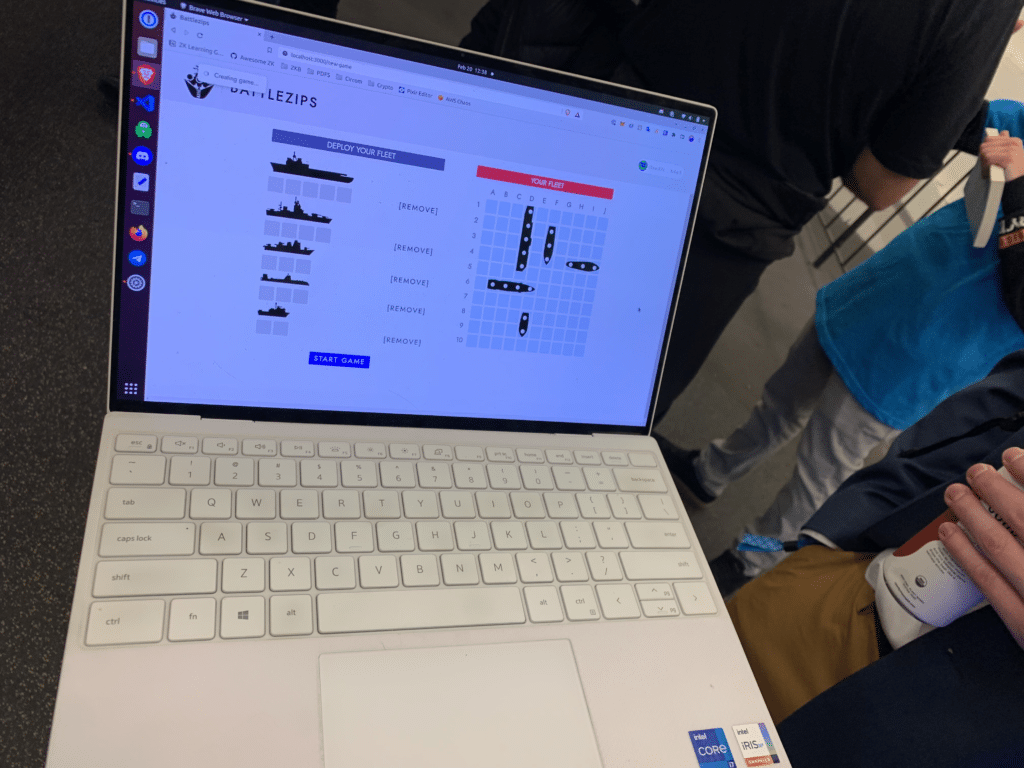 On a related note, one of the biggest highlights of ETH Denver was the incredible venues! My favourite place to buidl during #BUIDLWEEK was the NEAR Lounge. They had tons of awesome free swag, free food, a free coffee stand, good meeting rooms, and insightful talks and workshops from the biggest buidlers in the NEAR ecosystem.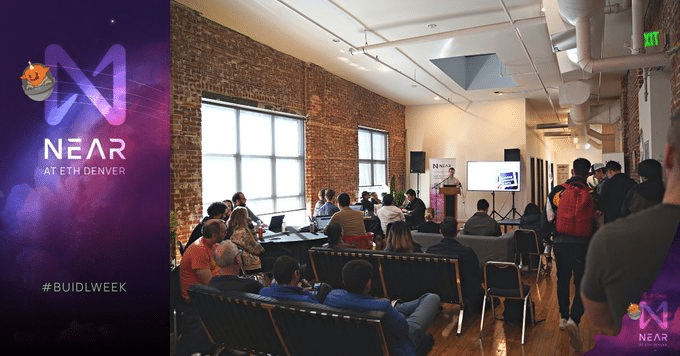 6. Custom Bathrobes make for the best possible kind of conference merch
My favourite side event was one called the Web 3 Party organised by some great companies like Osmosis, Injective, Burnt Finance, Harmony, and IoTeX. We walked to the back of the venue and to our surprise, there was just a long rack of incredible looking robes branded with the event logo. To date, this is my favourite Crypto swag I have ever received! The vibes were immaculate and the people were comfortable, you can't go wrong with that.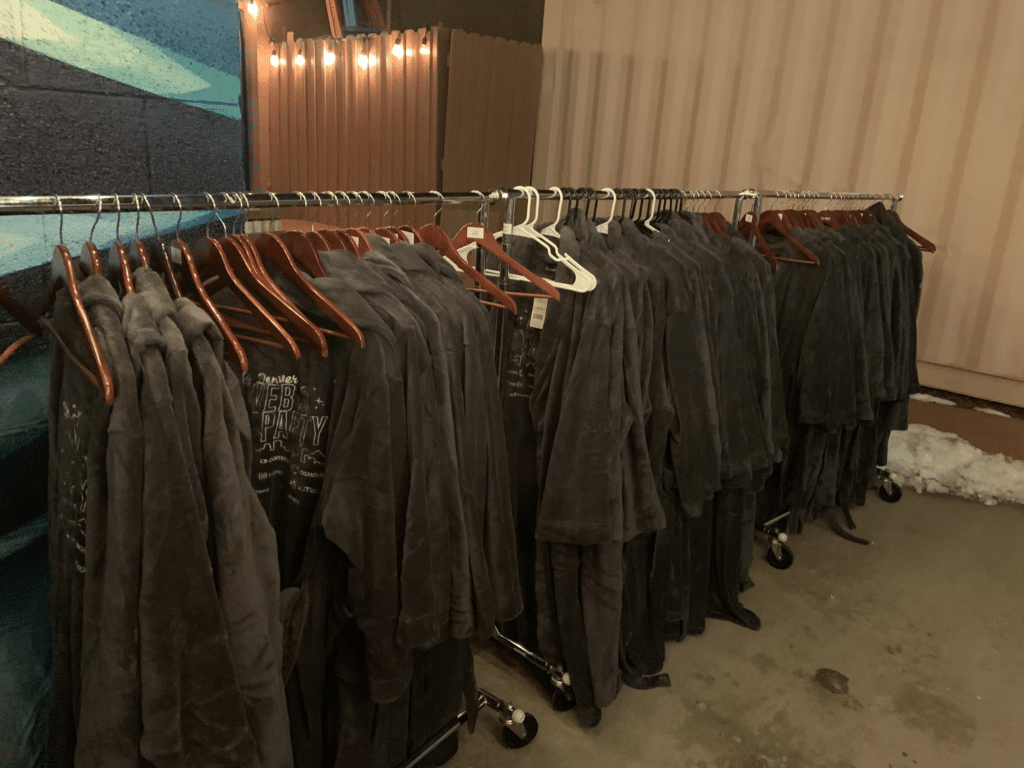 During the event, I met the amazing people at Mina Protocol, who are building an L1 with zk snarks included in the design of the architecture. They had some great cocktails, decent music and DJ selection, and tons of cool decor and chill areas throughout the venue.
Some other events I enjoyed were the multi-chain party with ANKR, Metis, Boba, and Polygon, the ETH Denver after party featuring Major Lazer, and the Web3 Marketing Meetup with Serotonin.
7. Skiing with Crypto frens is underrated
What you don't get from a typical conference is the ability to connect deeply and brainstorm with the new connections you've made unless you schedule specific meetings. A good way to get into deep conversations and have some fun at the same time is to go on a ski trip with them. Luckily, ETH Denver planned an awesome ski trip to the infamous mountain resort, Breckenridge.
While most people became ill with Bufficron (the ETH Denver COVID variant meme), those with strong immune systems went skiing and snowboarding! We spent 2 days shredding down mountains during the day and drinking at night!
From open bars and chalet parties, to doing shotskis in the middle of a day of shredding, you can't go wrong with a nice trip to the mountains with your new crypto friends.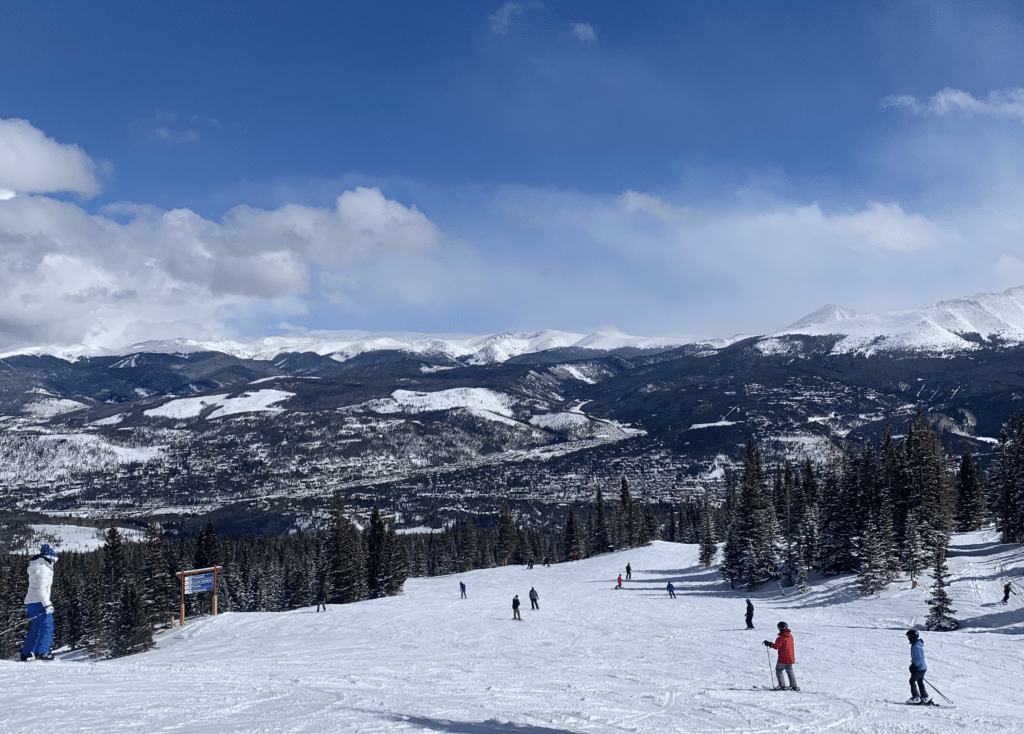 I hope you learned something new about ETH Denver and plan to attend next year if you weren't able to! If you're planning a Crypto event, keep the comfort of your guests at the top of your mind. These events can be extremely tiring, and having something like a bathrobe or bean bags makes the biggest difference! A future article of mine will dig further into organizing a great crypto event.
Inspired and wanting to book your ticket for the next big event? Don't worry because we have you covered! Go check out my most recent article, Top 10 Crypto, DeFi, and NFT Conferences of 2022.
I am travelling to all the biggest events this year and reporting on it all, right here on Crypto-News.net. Follow me on my journey on Twitter and connect with me on Linkedin to get exclusive event alpha straight from the source. Also, don't be shy to say hello and ask me to grab some coffee!