BTC/USD markets were shaken all about by whales dumping coins causing what was likely one of the largest sell offs in bitcoin's history, if not the largest. Prices dropped around 15% while trading volumes during the day's trading session surpassed all previous 24h records.
Major Signals
Incredibly large sell orders had a major impact on the market after the peak of $1166 was reached in Bitfinex BTC/USD markets.
Trading volumes have reached a historically high level. An achievement that might be overshadowed by how the immersive selling pressure appears to have overpowered the market's uptrend.
Bitcoin's price dropped down to $890 but the recovery from sub $900 levels appears to have been instant as buy ordered were triggered from the existing orderbook at the time that the particular whale appears to have unloaded bitcoins into the market.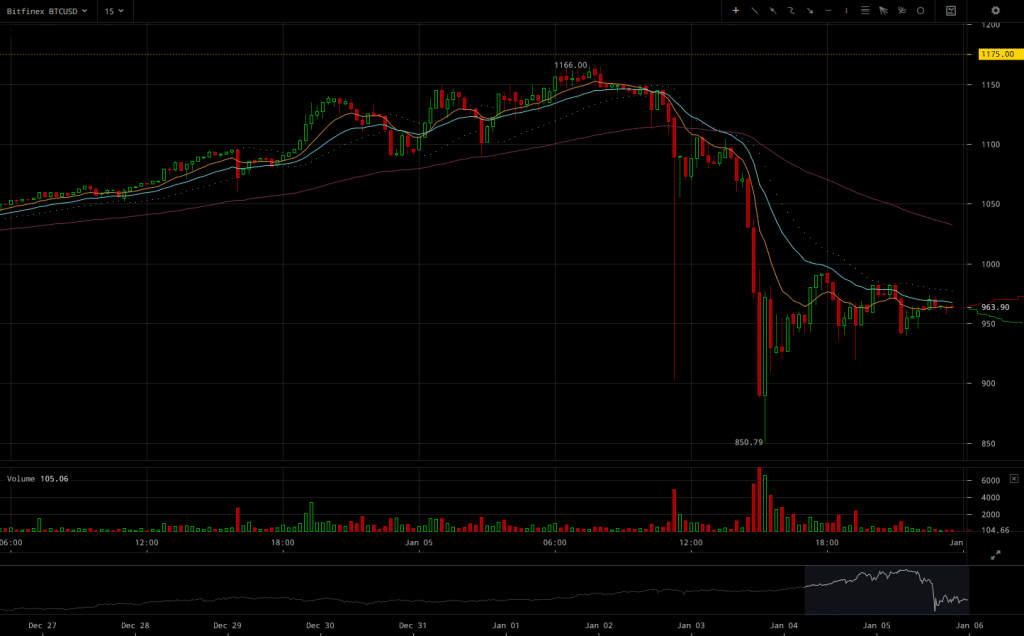 Bitfinex BTC/USD charts make it evident that some big players were certainly waiting for the rally's end to unload their bitcoin's at what they thought to be the peak. With all this selling pressure, the market doesn't seem to be keeping its bullish momentum, with BTC rated currently settled around $960 and no sign of return amidst a sideways trading trend.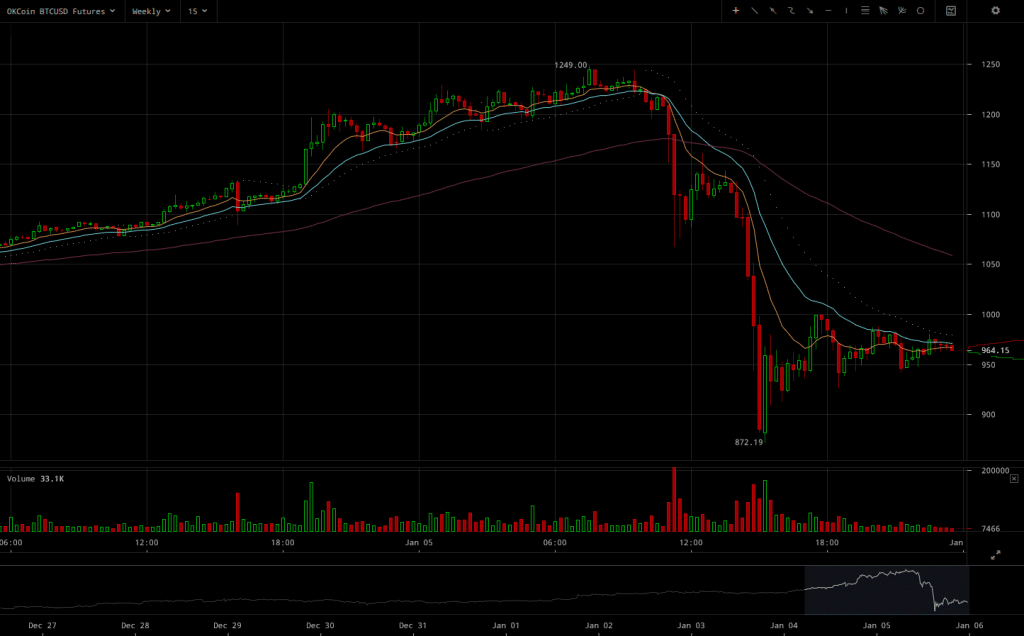 The outcome of today's trading session goes to show that bullish traders didn't have the trust, or funds to sustain the price's rising pattern when whales hit. This is also vital in regards to how traders reacted when selling pressure got a better grip on the market's movements. No buying pressure came up to counter the surprisingly large sell orders, and a short term recovery feels unlikely at this point.
Futures markets have of course stopped exaggerating live BTC/USD markets with an upward scale. As it becomes apparent in the above OKCoin BTC/USD weekly futures chart, the correction seems more severe for futures and the margin between them and BTC/USD markets has shrunk to negligible amounts as the market's sentiment is shifting so rapidly.