Bitcoin markets seem to be on a rapidly moving trail of volatility right at the time traders appeared to have been starting to get some rest. Just through yesterday's trading session, BTC/USD rates dropped down to $1110 levels with back to back sell orders leading bitcoin prices down to a negative spike. As of more recent developments,an upward swing has sent bitcoin prices peaking slightly above $1150 levels.
Major Signals
Volatility is certainly a strong force in bitcoin markets at the moment, with BTC/USD rates having reached to the extremes of a wide margin in a short period of time
The recent upward spike sent bitcoin prices above $1150 very briefly, finally putting the price around $1145 with slight support below that level
While resistance at this point it still outweighing support, the positive developments are helping the market's sentiment change for the better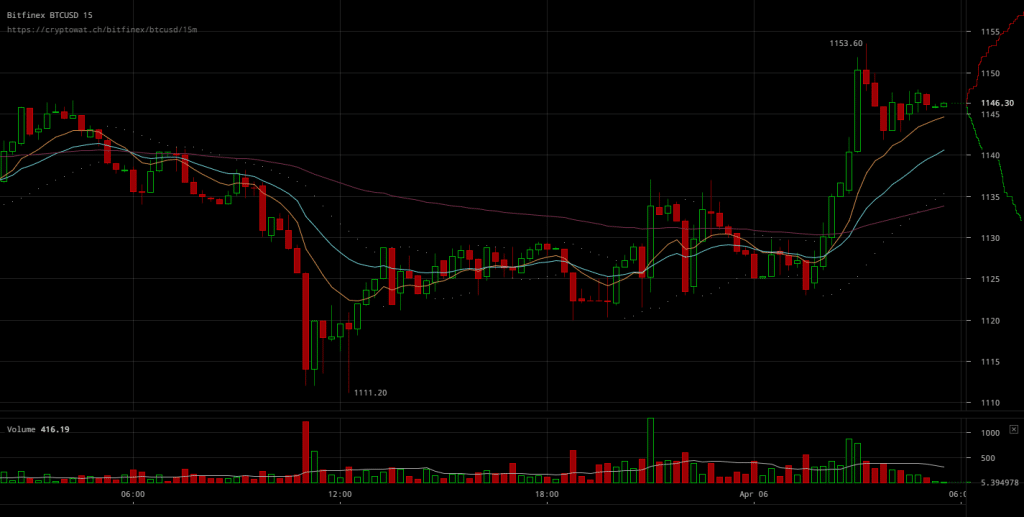 Bitfinex BTC/USD charts are indicative of how little tolerance traders have to bearish signals amid the current market sentiment. Not only were today's large downward spikes countered within hours, but the response pushed BTC/USD rates up rapidly through counter price spikes. Even after the price rise, BTC/USD rates didn't take a toll from selling, staying close to the reached levels.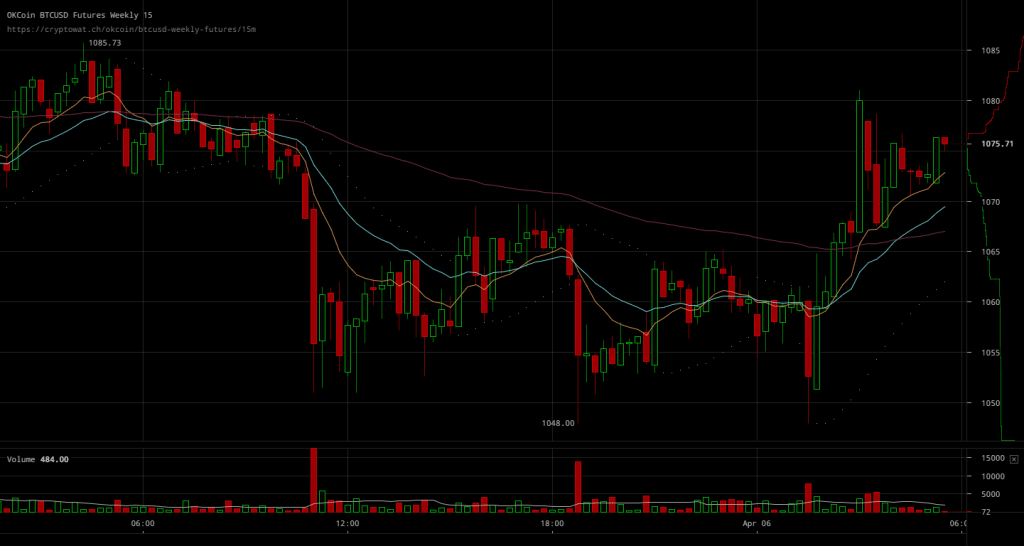 OKCoin BTC/USD weekly futures charts are indicative of the bearish market mood that sweeps futures markets through the last few days. Perhaps the fact that live bitcoin markets are still under the effect of volatility is making futures traders extra conservative when it comes to counting on future outcomes.
Overall, live markets are showcasing an improving market sentiment, while futures traders are continuously bearish with even the recent recovery not being able to entertain a grain of positivity. What's important to remember though, is that trading volumes have yet to drop close to daily averages, so it's natural for volatility to stay around with strong conflicting interests above bitcoin markets. Perhaps we'll see markets being eased of pressure if a bit of stability ensues.