BTC/USD rates spiked above $770 in today's trading session, yet the market's reception of this movement wasn't particularly bright. Volatility ensued and selling pressure started handling prices. Yet, the price keeps struggling in a fight to stay above $770 levels amidst all the volatility.
Major Signals
Volatility keeps strong as trade volumes keep being high when compared to trading sessions of previous weeks.
Buy spikes seem to be counteracted swiftly, yet buying pressure appears to have increased since yesterday.
Support at $765 is more apparent than in previous trading sessions yet it was just in December 8 than BTC/USD started trading above this level, so there's no strong support established yet.
Bitcoin's price might have not broken below $765 today but BTC/USD markets reached dangerously close to that level. Furthermore, strong sell orders have so far been counteracted, this way keeping the price close to $770. However, back to back sell orders within this trading session managed to lead the market to what appeared like a downtrend, only for it to be countered by large buy orders.
As seen in the above Bitfinex BTC/USD chart, back to back sell orders that the price kept going down with were only countered by a large order that pushed the price back to $770. This artificial pressure shows that few traders might counting on a price rise but the market sentiment is still not bullish enough to take on a continuous price rise.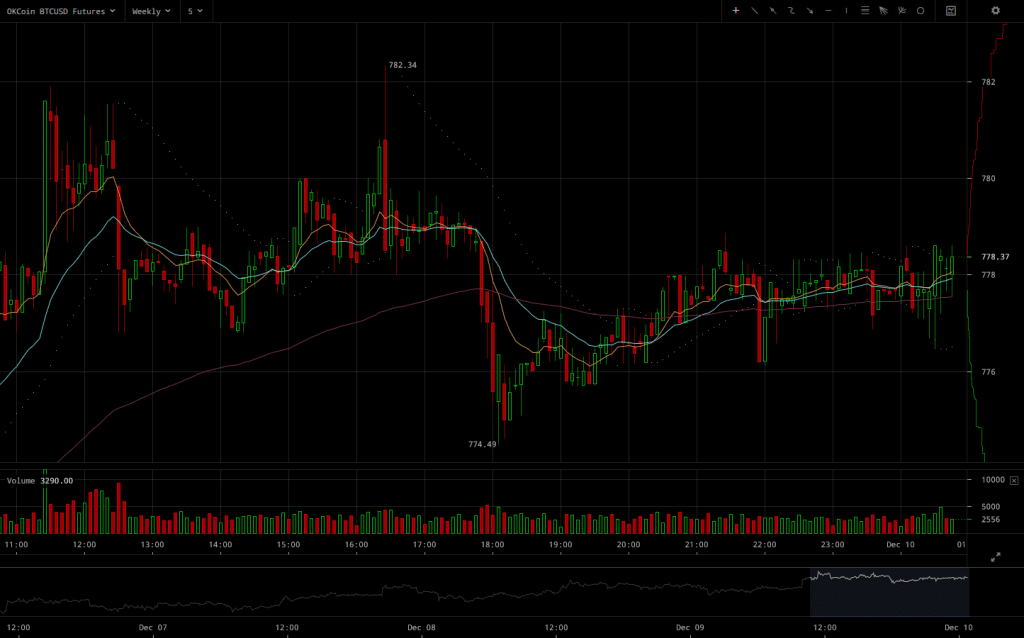 Futures traders appeared to have welcomed the shift in the mood of BTC/USD markets with extra optimism, yet this trend fell short after a few back to back sell orders caused a major drop in the market price.
Overall, the market sentiment is definitely better than the one of preceding trading sessions. A more bullish market sentiment appears to be ingraining itself in the markets, yet many traders appear to be sceptical of how far the price could go as profit taking still seems to have a great impact in price movements.