Now, frequent travelers have another option. It is now possible to make bookings for airfare and hotel accommodations using the controversial Bitcoin currency. The fact is this crypto currency can now be used to pay for airplane tickets, rent cars and book hotels in different cities worldwide. Many travel agencies are already using Bitcoin allowing many people to travel around the world.
Leading Travel Companies
Cheapair.com offers reasonably-priced low fares for Bitcoin holders. It introduced Bitcoin support three years ago. Cheapair.com is considered among travel agencies which first accepted the virtual currency for processing of payments. The chief executive officer of Cheapair (Jeff Klee) during that time said it will take time to travel purchasing easier and provide travelers with multiple options. The company was fascinated by the Bitcoin spectacle and was willing to help users in booking flights easily and securely.
The interface of Bitcoin is clear-cut and operations are similar to other web-based travel service providers. Travelers can reserve flights to any part of the world from various airports and major airline companies. Likewise, it provides hotel lodging as well as car hire. These services can be ordered with the digital currency through the company's shopping website.
BTC Trip based in New York also offers hotel accommodations and plane fares for multiple destinations globally. The user-interface is easy to use and includes departure/return dates. This agency accepts Litecoin and Dogecoin as payment.
Expedia, a full-service travel agency, has been operational since 1996 and said to be among the most popular travel firms with online capabilities. In June of 2014, the company told the public it was accepting Bitcoin for transactions. This was a boost to the crypto currency industry because of mainstream implications. Expedia collaborated with CoinBase to pave the way for Bitcoin settlement of flight and hotel services.
According to the co-founder of CoinBase (Fred Ehrsam), Expedia gave a broad community of consumers the chance to make hotel reservations using the website's list of hotel properties all over the globe. With its online platform, Expedia can select a particular flight, hotel and land transfers before paying with Bitcoin before checking out. The travel firm has a separate page (Terms & Conditions) specifically for BTC transactions. Said portal gives details regarding payment facilitation by CoinBase; informs clients regarding miners' fees; and, Bitcoin payments being permanent.
Other Providers
Many other agencies offer Bitcoin settlement for airfare. Those who wish to travel within Europe can opt for Abitsky which offers low-cost air fares and hotel rooms for Bitcoin users. Destinia Travel Agency introduced trip amenities for various destinations with virtual currency payments. It even offers five percent discount for travelers from Mexico to the United States. Meanwhile, Fluege.com (also a full-service travel company) accepts payments in Bitcoin currency. Air Baltic introduced payment alternatives in 2014. It flies to Baltic countries and operates in local airports.
Booking Flights with Bitcoin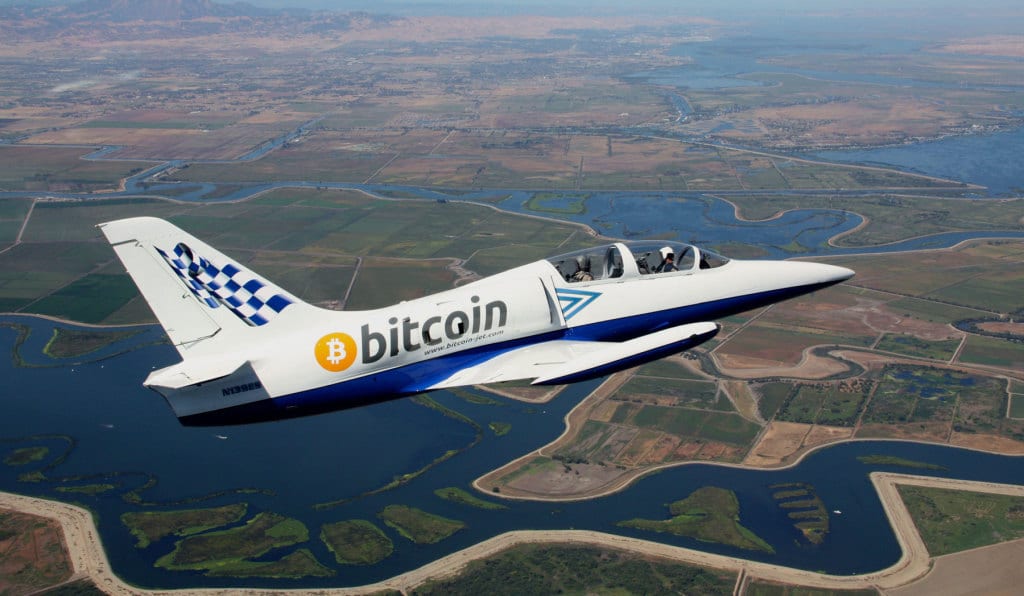 Here are several tips for travelers who want to book using the crypto currency:
It is advisable to reserve through CheapAir.com or BTCTrip.com. Said services interface with airline companies and handle Bitcoin payments like Expedia and Travelocity. Commissions are very low. There is no need to submit credit card information so security is not a problem.
Fly Air Baltic because the Latvian airline firm is the first company that accepted Bitcoin.
You can book through JetVizor, a private jet leasing company that posts single seats that should be filled at the last minute. It is not expensive contrary to common belief. Rates are almost the same as regular airlines.
There are Bitcoin for trade services such as Brawker which gives up to 10 percent money off on reservations. Passengers can save money on airline tickets. Unfortunately, Brawker shut down operations in 2015 due to tight competition and increasing requirements.
Why Use Bitcoin?
Only one currency is involved so everything is simple. Besides, there are no multiple exchange rates, excessive ATM fees and currency values to deal with. BTC is digital so you need not worry about notes and coins. The currency is decentralized and not regulated by large corporations. If there are fees, these are very low and transfers can be made instantly.
However, there are several downsides such as crypto currencies being highly unstable. Even then, volatility can be beneficial to consumers provide they keep track of market fluctuations regularly. Digital payments depend on the country's infrastructure so paying through electronic means can be a burden in the backside even in highly-developed countries. It is not an easy process after all if this is the scenario.
Not all people accept this type of currency. For them, traditional notes are still best for any form of economic transaction. If tourists and travelers cannot find any vendor or retail outlet who accepts the digital currency, the possibility is for them to go hungry and encounter more serious problems. Moreover, there is only a handful of Bitcoin Automated Teller Machines worldwide.
Finally, the traveler is at the mercy of electronic stuff.  Bitcoin exists only in the virtual domain. The user needs a digital wallet that holds private keys required to access the digital address where Bitcoin is kept. You cannot recover Bitcoin if ever your device breaks down before you can save the wallet file or the file is corrupted. You still need a back-up file for this. Hacking is also a possibility. You need to safeguard personal information. Otherwise, there are no banks where you can claim refunds. It is similar to the physical wallet full of cash and credit cards that is taken from you by thieves or pickpockets.
Considering these disadvantages, many people still find this new approach in travel bookings very cost-effective.