1. Introduction
Bricktrade is a blockchain-based digital marketplace that enables the tokenization of real estate. Aside from allowing properties to be traded directly between buyers and sellers, the Bricktrade platform also provides a vast array of funding opportunities for project developers.
The platform is based on a custom-built, permissioned private blockchain, combining the advantages of an immutable public ledger with the enforceability of smart contracts.
In this report, we explore the way Bricktrade aims to remedy the inefficiencies of the modern real estate market, what sets it apart from the competition, and the business model it believes will make it a go-to platform for asset tokenization in the UK.
2. Market
Bricktrade operates both in the property and finance industries, providing construction financing to property developers and fractional investment through tokenization to retail investors.
The global property market is estimated to be worth around £214 trillion. With interest rates at all-time lows, and equity valuations at historical highs, investors around the world have been jumping into real estate as they scramble to find consistent and reliable returns.
Historical performance of property prices shows that property is an excellent investment both in terms of absolute and risk-adjusted returns. Research also suggests that the future performance of property in many major markets, including the USA and the UK, will continue to be robust.
Bricktrade aims to jump on this future trend and exploit the power of blockchain technology to offer an innovative way to participate in the growing property market.
3. Technology
Bricktrade was initially designed to be launched on Ethereum. However, since the platform's inception in 2017, the blockchain environment has changed significantly, forcing the company to abandon its original plans. The company has been in talks with other L1 solutions and will announce its future plans at the beginning of 2022.
While real estate tokenization isn't a new idea, there are only a handful of companies on the market that managed to launch successful platforms based on the concept. Real estate has long been touted as the best use case for tokenization, but conquering the regulatory, legal, and technical challenges surrounding tokenizing real estate remains an incredibly difficult task. Influenced by UK fintech companies such as Monzo and Nutmeg, Bricktrade managed to develop a working product that addresses all of these issues.
Once launched, Bricktrde's product will drastically lower the barrier for entry into property investment, enabling users to participate in the real estate market with as little as £500. However, its unique selling proposition isn't the low cost of participation, but the removal of third parties from property trading. The blockchain technology that underlies Bricktrade removes the need for almost all of the bureaucracy surrounding real estate, cutting down the months of paperwork into transactions completed in just a few minutes.
The platform also offers innovation in the blockchain sphere. Unlike other similar products, which offer interest in cryptocurrencies, Bricktrade will enable users to accrue interest on their real estate investments in fiat, as well. Investors will receive fixed interest for delegating their tokens to staking pools, which will derive their value from being backed by real-world, income-generating assets.
All of this is possible thanks to Bricktrade's proprietary Tokenization Protocol. It eliminates the need for third-party brokers, lawyers, and banks by performing their functions such as listings, document flow, and payments. This is a significant step up from the current state of the real estate market in the UK, where registration of title deeds with notarized documents can take up to 12 weeks.
The protocol combines off-chain and on-chain proof-of-asset modules to provide due diligence activity and AML/KYC verification of its users. The protocol can be modified to ensure all listed and tokenized assets are legally compliant with any local and international AML/KYC regulations.
The team behind Bricktrade has been working on the platform since 2017 and has self-funded its development until their seed raise in November 2021. While the company still hasn't set a goal for a Series A, its IDO will be completed in early 2022.
To date, the company has developed a working minimum viable product (MVP) of the Bricktrade platform, as well as applications both for iOS and Android.
4. Tokenomics
The total token supply of Bricktrade's BRKT token will be 100 million. The token's initial circulating supply was set at 5.45 million—its public sale price of $0.10 putting its market cap at $545,000 upon launch.
The largest percentage of BRKT's total supply will be allocated to platform rewards—20%, which will be released linearly as the project grows throughout the years. Another 19.5% will be used to fund operations, while 15% will go to Bricktrade's team and advisors. A total of 10 million tokens, or 10% of the supply, will be allocated towards marketing, while liquidity provisions for the platform will receive 5% of the supply.
The pre-seed and strategic funding round received allocations of 5% of the supply, while the seed and private rounds received up to 10% each. Only 0.50% of BRKT's supply will be offered in the public sale.
The majority of BRKT's supply is subject to a vesting schedule. All of the tokens sold to investors will be vested over 10 months, with only 10% of the allocation released during the token generating event (TGE). The same vesting schedule will also apply to the funds used to fund operations. The tokens allocated towards marketing will be locked up for 1 month and then released over 10 months. The Bricktrade team and its advisors will have their tokens locked for a minimum of 6 months, after which they will receive 10% of their allocation every month.
To provide price support for BRKT, Bricktrade will introduce a buy-back program once the token launches and slowly reduce its supply over time.
The platform will also incentivize investors by offering them the ability to buy tokens using stablecoins. Users of Bricktrade's platform will also be able to choose whether to receive interest in BRKT, stablecoins, or fiat currency.
5. Team & Investors
The company is led by various tech and property professionals with over £3 billion in deals completed over the years.
Bricktrade was founded by Guv Kang, a veteran of the real estate market. His expertise lies in real estate redevelopment projects, property investment fundraising, and managing relations with housing authorities. Kang is also the founder of Waterfronts, a premium real estate agency based in London's Docklands. Mike Wilkins, the former CEO of the Ducane Housing Association and managing director at Octavia Group, is the company's COO, while BidX1's former COO Antony Schober is its commercial director.
The founder of Mattereum, Vinay Gupta, is Bricktrade's strategic advisor. Mattereum is a London-based startup that developed the legal, technical, and commercial infrastructure technology for on-chain property transfer and management. He also coordinated the release of Ethereum in 2015 and worked as a strategic architect for ConsenSys.
Bricktrade was incubated by Launchpool Labs, while Alphabit has been a lead investor in its seed round.
Guv Kang, Founder – CEO
Guv Kang is the founder and CEO of Bricktrade. He has more than 15 years of experience in the real estate sector as the founder of Waterfronts, a premium real estate agent located in London's Docklands. Guv's expertise is a real estate redevelopment projects, property investment fundraising and managing relations with housing authorities.
Mike Wilkins, COO
Mike manages operations. He was previously CEO of the Ducane housing association and managing director at Ocatavia living, the commercial arm of the Octavia group. As an expert in construction, he is also an advisor to modular design company ZedPods on new business development.
Antony Schober, Commercial Director
Antony has extensive experience in property asset management in Australia, Middle East, the UK, and Europe. He previously was COO at BidX1, property auctioneer, MD of Proptech company KEL computing, and International partner. Asset services EMEA at Cushman & Wakefield. Antony holds a Business management degree from Monash University.
Jasbir Channa, CCO
Jasbir is a professional cost consultant with extensive experience advising Major British firms, including Crossrail, Balfour Beatty, Bam Nuttall, and Turner and Townsend. He has managed over $18 BLN in assets over his career.
6. Partnerships
Since its inception in 2017, Bricktrade has formed a series of partnerships with companies across the UK. Real estate agency Waterfront is the company's premier property management partner, while Mattereum will aid the company in its blockchain development. Launchpool Labs and Fortescue Capital are Bricktrade's finance and investment partners, while all legal matters regarding the company will be settled by Harper James & Eversheds.
The company already has multiple other partnerships in the pipeline that are set to further increase the value of the BRKT token. These include new regulatory partners that will help Bricktrade become fully compliant with UK law, new marketing partners that will promote the Bricktrade brand, as well as other property developer partners that will enable it to bring more deals to its investors. Several new strategic advisors, brand ambassadors, and institutional finance partners are also set to be announced in the coming year.
Bricktrade is currently in talks with several exchanges, as well. As of December 2021, the company is in talks with KuCoin, Gate.io, and Archax, all of which are looking to list the BRKT token after the TGE.
7. Audits & Security
All of the smart contracts on Bricktrade's platform will be audited by Certik before being released to users.
All the legal work is done prior to the publishing of each project. The asset will originally be held in a proprietary structure, which we will tokenise and then fractionalize into crypto tokens. These tokens are directly linked via a legal contract and smart contract to the real estate asset. 
The company is also looking into providers who issue smart contract vulnerability insurance to cover their investors.
8. Product Roadmap
The company has set out a clear roadmap that will guide its development until mid-2023.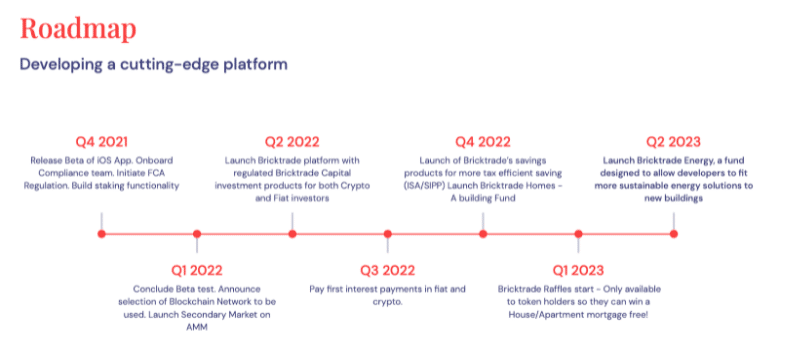 Bricktrade's roadmap (Courtesy Bricktrade)
In Q4 2021, the team released the beta version of the Bricktrade iOS app and build the staking functionality into the platform. The company is currently onboarding a compliance team, which will begin the process of complying with FCA regulations.
The beta test of the iOS app will be concluded in Q1 2022, which is also when the company is set to announce which blockchain network it will launch on. The second quarter of 2022 will be marked by the launch of the Bricktrade platform, while the first interest payments—both in fiat and in crypto—will be paid out in Q3 2022.
At the end of 2022, Bricktrade will launch proprietary savings products and Bricktrade Homes, a building fund. As the platform develops, it will introduce more functionalities to attract new users. The Bricktrade Raffles is expected to begin in Q1 2023, enabling BRKT token holders to win a house or an apartment debt-free. A fund designed to allow developers to fit more sustainable energy sources will be launched in Q2 2023.
9. Risks & Opportunities
Bricktrade's ambitious goal to revolutionize the real estate industry is a bold move, but with the experience of the team they have brought together, it's likely they will have a good impact. Despite having a minimum viable product (MVP) and an iOS app in beta, the company is yet to choose which blockchain network to launch its platform on.
If it chooses a liquid L1 platform such as Ethereum, it could suffer from high gas fees and congestion, drastically increasing the time and complexity of its transactions. Choosing a more scalable platform could limit its exposure to investors—those new to crypto could steer clear of a relatively unknown blockchain, while experienced investors might look for the robustness of an established platform. Bricktrade is due to announce which change they are using in Q1.
The fast-changing landscape of the crypto industry can be hard to keep up with, especially for teams used to the more structured and slow pace of the traditional real estate market. They will need to partner with some Blockchain veterans to help them navigate which route suits them best.
Bricktrade's platform will allow property developers to send them projects, they will then carry out in-depth due diligence on each one in regards to valuations, costings, timelines and ownership for the project and then these will be published for Investors to be able to invest fractionally into the construction finance of the project or into the properties being built. Their partner Waterfronts then rent and manage the property for the crowd of investors in each property.
A failed development project listed on the Bricktrade platform or a project that doesn't deliver as much yield as investors expected could also damage the platform's reputation and dissuade investors from jumping onto new projects, a lot of thought has gone into due diligence and assurance.
However, if the company manages to comply with UK regulations and create a strong brand that resonates with retail investors, it could see solid success. There are currently around 2 million investors in the UK looking to buy properties to rent out and another 1.8 million 25-34 year-olds looking to get onto the property ladder—all of which present potential customers. And with over 100,000 registered property developers in the UK, there is, at least on paper, no shortage of projects they could invest in. Once their model is launched, tested and refined, they could be ready to expand globally, giving them access to the 2.5 trillion sized markets of worldwide property assets.
10. Conclusion
Bricktrade has entered the market with bold propositions:
Reducing the barrier to entry for property investors from £500.

Accepting Crypto for asset-backed property investments & fractional ownership.

Reducing the property purchase transaction time which can be up to 6 months down to minutes.

Reducing the costs of property acquisition and trading assets.
However, unlike many other crypto startups, it has a unique advantage—its target audience is much wider than just crypto enthusiasts.
The company's proposition to tokenize real-estate assets enables fractional ownership, drastically reducing the barrier for entry to millions of investors in the UK. It also offers a direct financing channel for property developers, enabling them to fund their projects directly from customers. This removes most of the intermediaries involved in the modern real estate market, reducing both the cost and the time required to develop and purchase real estate.
Bricktrade is confident they will revolutionize the way property investments are traded in the UK and beyond. The platform can achieve solid success in the next few years as people are becoming familiar with blockchain technology and the concept of fractional ownership.