The past several days have been good for cryptocurrency values. Bitcoin has enjoyed a rebound, largely due to the BIP91 lock-in and avoidance of a dreaded chain split. As expected, as Bitcoin has risen, so have altcoins. Every altcoin with a market cap above $300 million has advanced in the last week, but that is where the correlation ends. Investors have played favorites, with some lesser altcoins far outperforming the major cryptos. A deeper understanding of these current trends may shed better insight into which of these currencies is set for a greater market share.
For the purposes of this analysis, Bitcoin's current advance will serve as a benchmark to measure against. Bitcoin has advanced 35% in the past seven days from a low of $2000 on July 15, to $2700 at present. Volatility is expected in the near future. Altcoins that have outperformed this growth are worth closer study. For those seeking to invest in the altcoin market, this data may help spot a good buy, or a coin that is overvalued.  
Iota
Iota, which was introduced in 2015, was having a disappointing Summer until this past week. Prices fell from $.60 in mid-June to $.17 on July 15. Prices rebounded this week to $.30 by Friday, for an increase of 76%. It has since retreated a bit, but is still in a good position. This jump in price was likely due to its adoption by SatoshiPay on July 18. Should more payment companies adopt Iota, the price will likely continue to rise.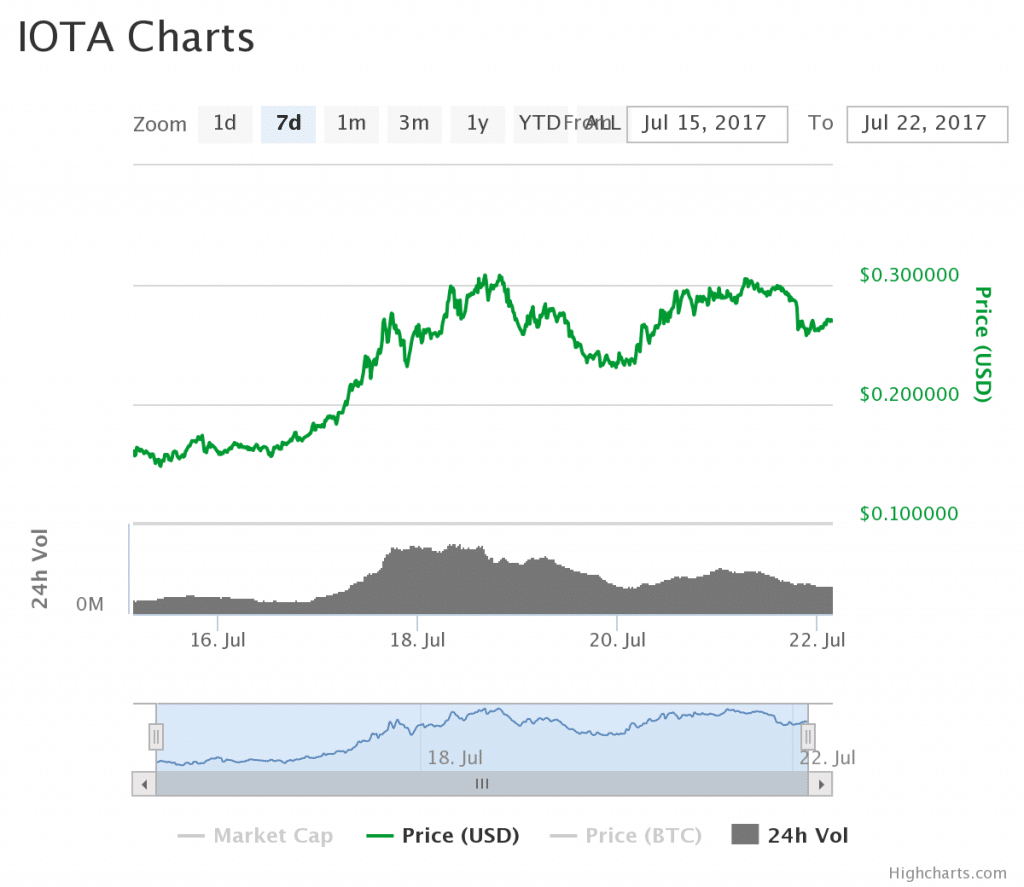 Stratis
Stratis peaked in early June at just over $11, but then began a slow, volatile decline. On July 15 it was trading at $3.20, and dipped below $2 at one point. It has emerged as a huge winner this week, as it is currently trading at $6. Stratis is now one of the top 10 cryptos in terms of market share. Be wary of investing, however, as Stratis prices are very volatile, even for cryptocurrencies. The incredible pace of growth has bubble written all over it.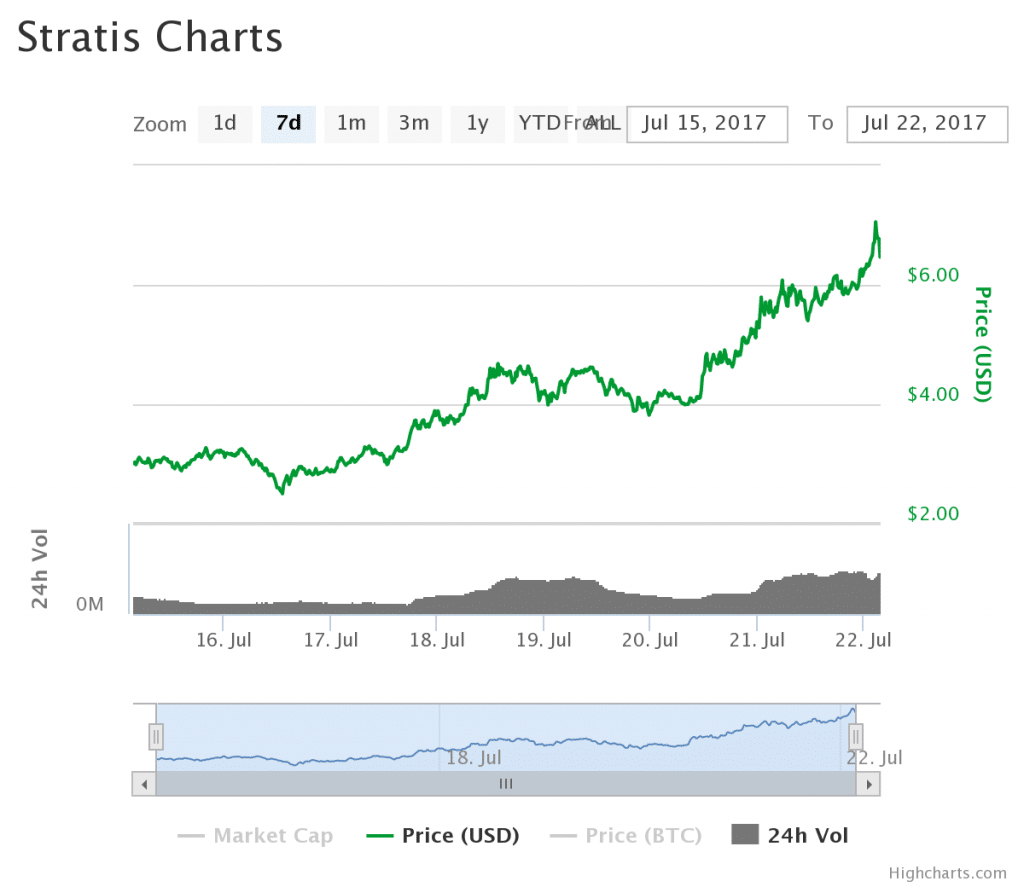 NEM
With a market cap of $1.3 Billion, NEM has also emerged from obscurity at the beginning of 2017 to claim a place as a top 10 crypto. It peaked in mid-June at just under $.28. It was trading at $.10 on July 15, and is now trading at $.15. With 33% growth in the past week, NEM has solidly outperformed Bitcoin. On the downside, NEM trading volume has been much lower than similar cryptos, which is a cause for concern.
Qtum
As the fourth over-performer worth discussing, Qtum has seen an impressive 80% increase in value since July 15. It is currently trading at $7.75. Although it hardly stands out in the pack of lesser altcoins, Qtum has experienced an impressive trading volume during this current resurgence. By Friday it was easily exceeding $40 million per 24 hour period, which is far above average. This is a clear indicator that someone out there is taking notice. Otherwise, its rise and fall over the past few months has more-or-less mirrored that of Bitcoin.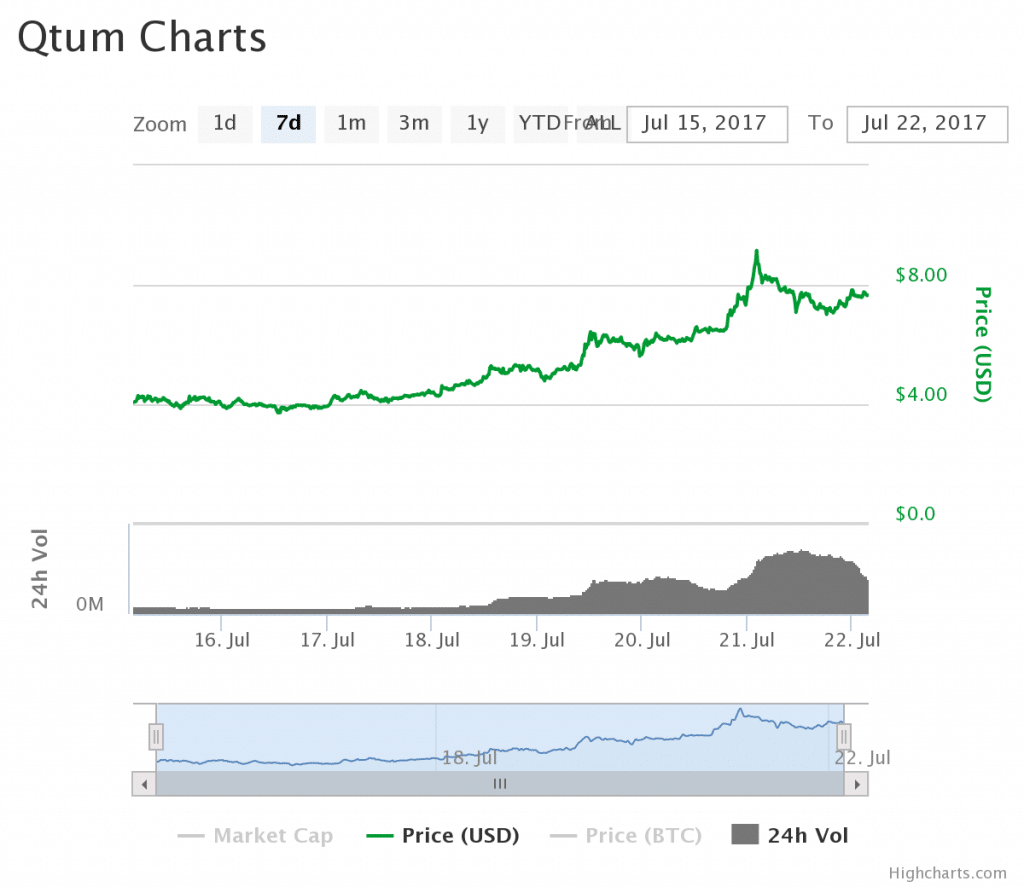 A discussion of altcoin performance cannot be complete without examining Ethereum, LItecoin, and Ripple. All of these have seen lesser gains than BTC. Ripple, in fact, had gained less than one percent by the weekend, although it is currently rising. The reason for this is unclear, but bear in mind that these cryptos are far better known, and more importantly, are far easier to trade than the aforementioned winners of the week. Perhaps because the larger exchanges only offer the major coins, many investors have had less choices and have decided that Bitcoin was the best option.
Of the dozens of altcoins that are growing in value, no doubt others have also had impressive price movements. More volatility is certainly on the horizon, but overall growth is still expected. It is now up to the investors to decide which few will rise to the top of the pack.