Apple has approved Dash for its app store, thus taking another step toward embracing the use of cryptocurrency in the multi-billion dollar app economy. This move is a reversal of Apple's rejection of Dash last August. Developers are now permitted to integrate Dash into apps, and an official iOS Dash wallet has been released.
Apple's notoriously rigorous review process has been exceptionally stringent for cryptos. In fact, Apple did not officially adopt guidelines for cryptocurrencies until mid-2014. To-date only a handful have been accepted. These include Bitcoin, Ethereum, Litecoin, Ripple, and a few of the lesser altcoins. Apple does not disclose its methodology for app store approval, but it is safe to assume that it places a high priority on security and scalability.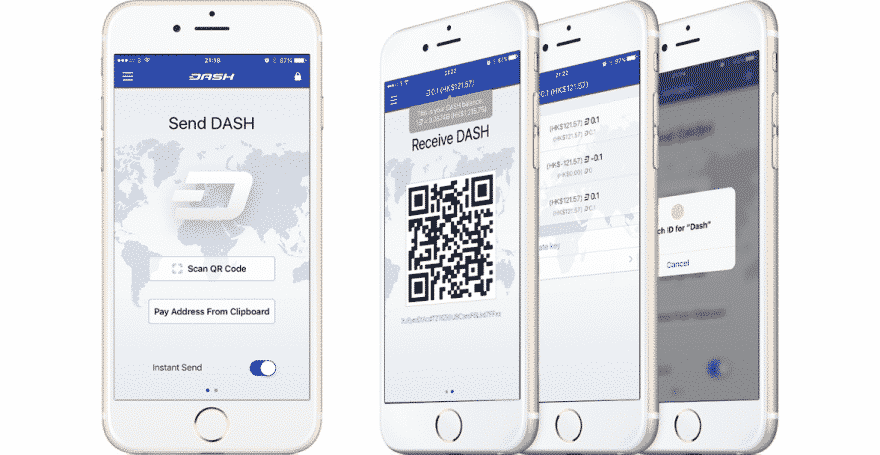 Dash core CEO Ryan Taylor has responded enthusiastically to Apple acceptance, stating:
"Dash's instant payments make Dash ideal for point-of-sale situations, which means mobile phone support for all our users is a must. The fact that Apple now recognizes the increased demand and importance of Dash speaks to the progress we've made in reaching larger and larger audiences."
Dash prices have also increased on the news, at one point advancing more than 40%. Its price peaked on Monday at $216, but has since retreated to below $200. 
This has been a good year for Dash, which has seen its user base expand significantly along with the number of merchants accepting it. Many Bitcoin ATMs now offer Dash, and a few are even Dash-branded. Dash advocates assert that Dash's fast confirmation times as well as its focus on privacy make it superior to Bitcoin, especially for micro-transactions and retail purchases where speed is a must.
With a market cap of $1.4 billion, Dash is the fifth most valuable crypto, although it is still far behind Bitcoin and Ethereum, which are worth $44 billion and $18 billion, respectively. Dash is also fifth in exchange trade volume. Like all cryptocurrencies, price volatility is all but guaranteed in the near future, but current growth has been very good for Dash investors. 
Although Dash is hardly the first altcoin to boast technical superiority to Bitcoin, its acceptance by Apple adds a level of legitimacy that gives it a significant advantage over its rivals. Over the next few months Dash's presence in the app environment is certain to be seen. Although Apple will likely approve more cryptocurrencies in the future, for now this move puts Dash in a position to gain greater mainstream acceptance.