Welcome to the sixth rendition of the weekly curated news article where we provide you with the widest possible overview of the most important events that have transpired in cryptocurrency and blockchain developments. We've made sure to analyze all of the news reports available on the internet and reviewed them for relevancy. This article is best suited for weekly traders and people with a packed schedule that want to satisfy their interest in cryptocurrency and blockchain with minimal time expenditure.
Weekly overview
Every week there are some events that attract a lot of attention. Safe to say, QuadrigaCX has appeared on every single day this week, making it one of the most popular news stories, for all of the wrong reasons. The exchange's loss of funds has affected more than 100k people, so the attention the story generated is completely understandable.
However we will not focus on QuadrigaCX's situation, as there are other emerging topics and developments that are also important. In short, in this article we will mainly talk about some illegal images that were discovered on the Bitcoin SV blockchain, enabled by the increased block size.
We will talk about Telegram TON the long-awaited cryptocurrency that will be used within the popular messaging app, which is almost complete according to the company's founder Pavel Durov. Interestingly, we will cover some art, or specifically graffiti which are usually temporary and sometimes beautiful pieces of art, but now they are going to be forever embedded on aeternitiy's blockchain.
The FDA is also setting the foundation for enabling all stakeholders to track the origin of drugs, a feat attempted by many ICOs in the past. Kaspersky Labs reveals some research that states one-in-ten people use cryptocurrency (out of a 12,000+ sample). And last, but not least Oracle adds more capabilities for developers on their blockchain platform, a story which was well received and shared by many on February 12th.
Weekly Bitcoin Price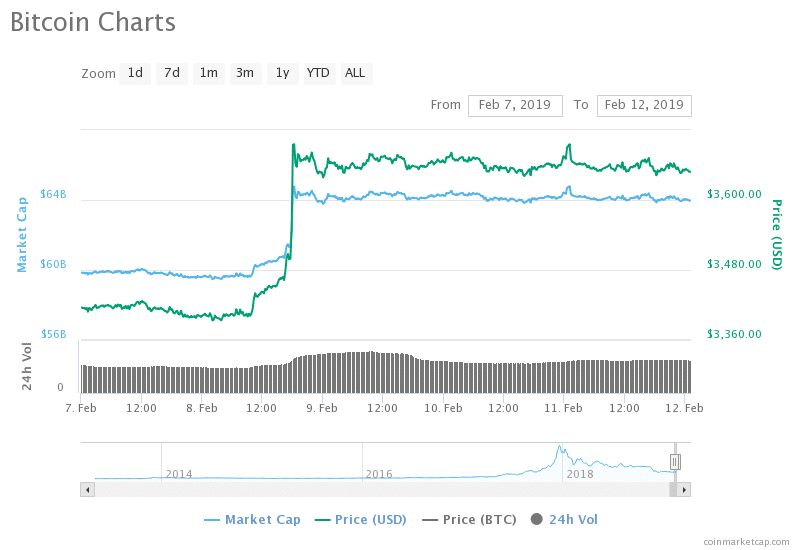 Bitcoin's price saw a sharp uprise between the 8th and 9th of February, caused by an influx of over $10 billion USD into the market. The price change seems to be of speculative nature, as there are no news stories in the period which could reasonably have affected the markets in this way. Most likely a whale moving back into Bitcoin, but if you have any information as to which event may have contributed, let us know in the comments. We tried to discover, but found no conclusive information that could have caused such a sharp price rise.
February 6th
Child abuse and sexual imagery, a combination punishable by law for many obvious reasons. Not so obvious to the individual which decided to upload child pornography images to the Bitcoin SV's blockchain.
The developers as well as authorities were appalled to discover the images though a blockchain explorer which has since ceased its operations until the situation has been resolved. The developers as well as the explorer's owners cannot be blamed for the actions of the individual that uploaded the illegal images, but they have committed to helping law enforcement find and sanction the miscreants.
Most likely failing to understand the public nature of blockchains and the data that is being recorded, the individual has inadvertently created a direct evidence link to himself (or herself), which can be connected with their wallets as well as potentially their identity. Unfortunately for us, there is no closure just yet, as the story is still developing, but most likely we will be hearing more about this in the future, once the criminals have been found and charged. Hopefully some children will also be liberated from the clutches of slavery.
Other news:
February 7th
After raising over $1.6 billion USD through an ICO, Telegram is getting closer and closer to the final release date. The ICO was only available to pre-chosen investors, most of them institutional capital companies. On January 28th, an update was published to the investor base, and it was recently leaked to the public. It is available for your viewing pleasure below. The investor update is only 4 pages long, but it does contain some interesting information.
It reveals some interesting details about the TON network, details to which we haven't had any access to in the past. There is a clear plan to make the TON network a platform through the TON Virtual Machine, in a way similar to what Ethereum has done in the past. That means that TON will be able to execute smart contracts, i.e. be able to handle dApps. The update reveals that the project is still a ways off, but from the looks of it the TON and the native GRAM token will be ready for main net launch on the projected date in March 2019.
For now, the priority is getting a test network operational, even if it lacks some of the major security features that are mandatory for an official release. That is where the team is focusing on, and they seem to be working hard on taking Telegram to the next level, and provide a hyper connected hub space on the phones of millions around the world.
Other news:
February 8th
If you've been using MetaMask on your phone, you will want to read this part. An application that was recently available on the Google Play Store for android phones contained a "clipping" feature which enabled the developer to steal and modify information which is copied onto the clipboard (the memory bank used to store copied information).
The discovery was made by ESET, an anti-virus software company which alerted Google of the malicious app, ensuring that the uptime of the application would be short-lived. Since their report, the app has been removed from the store, but if you have installed MetaMask on your phone in the past two weeks, it would be wise to delete that application.
ESET provides some security tips, among which one is extremely valuable. Always check the official website, and if a link to the application is not present, consider that a major red flag.
Other news:
February 9th
One of the most common applications for blockchain technology is to make information verifiable and more permanent. In a similar fashion, a blockchain project is entering a collaboration that will literally paint the way forward for the art community. The project is highly ambitious and strives to combine IoT and blockchain technology to create a precise graffiti drone, one that will be able to spray paint any image sent to it via an application.
The drone would take a photo of the art, together with the usual data found on a blockchain entry, such as a timestamp. While it has not been confirmed, the fact that graffiti tend to stay around for a while before being repainted, could lead to the drone also collecting geographical data such as latitude and longitude coordinates. The collaboration consists of aeternity, Voliro AG, DRONEMASTERS, SPH Engineering, and All City Canvas. The founders hope to create a new way for street artists to create art in previously unreachable locations, as well as preserve the art forever on a blockchain.
Other news:
February 10th
Supply chains have been moving forward rapidly in their adoption of blockchain technology, and have since provided interesting results. Implementations around food and material resources have been successfully trialed, adopted, and implemented in the working systems of companies in their respective industries.
Now, the FDA, i.e. the U.S. Food and Drugs Administration is taking a major step forward towards increasing the security of pharmaceutical products on the marketplace. They have begun to lay down the foundation for creating a system for tracking, which is not the most difficult part. Getting all of the companies to adopt the system is the main challenge, but they have opened the doors for all of the manufacturers interested to join in for a pilot.
The doors remain open until March 2019, after which the initial implementation process will begin. However, this is far from ready, as the projected completion date is around the year 2023. For now, the FDA is focused on bringing together the companies and communicating with them to learn what are the most important pieces of information and how much information they are willing to share.
If successful this project will lead to the elimination of fraudulent medical products in hospitals and stores across the country. The market is considered to be substantial, and many ICO-backed projects have proposed solutions. Unfortunately none of them were really in a position to do anything about fraudulent drugs, so they never received any traction.
The FDA however is a completely different type of organization and with it being a regulator it finds itself in a favorable position to deal with these issues. The plan is to use blockchain, but there are no other revelations in terms of which companies will write out the code, and what other technologies will be used.
The overall event suggests that the FDA are just starting out, and are going through a discovery process, one that may indeed lead to saving a significant number of lives lost due to fraudulent drugs.
Other news:
February 11th
One of the world's leading anti virus software companies has shared the results of their annual global survey that studies consumer attitudes towards money and financial security online.
The survey itself goes deep and wide into the topic of security and people's habits around spending online, but one of the questions involved what kind of payment solutions people use. Out of 12,448 survey takers, 1618 of them said that they have used cryptocurrency. The sample itself is small, but it consists of people all around the world, random users of the Kaspersky Anti-Virus software. 1618 is 13% from the total, and that's not really a small number.
Cryptocurrency and blockchain technology have grown in the past few years, and discoveries such as these are just another testament of the immense struggle these new payment channels have endured over the years to get to this stage. They've grown so rapidly and strongly that now the majority of the world has at least heard about Bitcoin, while a couple of years ago it was a word reserved for computer geeks.
Other news:
February 12th
The latest wave of innovation among major computer technology companies and corporations has been to start providing blockchain services, platforms, and cloud solutions.
Oracle is not an exception to this trend, as they joined the race about 7 months ago. Now with a big update to their platform, they have enabled developers to use their existing programming skills to code and create blockchain applications. The way they achieved this is by enabling their blockchain solution to support traditional code structures, opening the door for older programmers to join in on the blockchain hype wagon.
In addition, they've also added support for Hyperledger 1.3, the use of external identity providers, improved REST API, the ability to translate transaction data and extract analytical information from their databases. The news story received a lot of attention of the public, and was massively republished across the internet, giving blockchain just the boost it needs to get to the next level.
People are starting to understand the difference between blockchain and cryptocurrency, a fact that is paving the way towards mainstream adoption of these payment methods. Companies such as Oracle, IBM, Microsoft and others are all contributing in their own way for the success of others. Non-tech companies are looking at blockchain and learning about the technology, trying to understand the potential benefits their organizations can generate by implementing the trending solution.
We feel that we are past the era of "any problem can be solved with blockchain", and getting into a mature space where information, support, and security are readily available for all those that demand them.
Other news:
---
That's it for this week. As always, share your opinions about the most interesting ones or link those stories we might have missed in our collections, which you found interesting and noteworthy over the week. You can also send us suggestions of stories to include in the next list if you find something interesting over the next days.

Featured Images via Pexels, ESET's WeLiveSecurity, Wikimedia Commons, and Unsplash. Market data from CoinMarketCap.